We've said it before, and we will repeat it. It is hard to narrow down the "best of" in Iceland's seven regions because you could spend a lifetime exploring each.
From Iceland's tallest waterfall, many significant historical sites of Viking settlement times, and some of Iceland's most recognizable landmarks, West Iceland is chock full of memorable experiences for you to have. Here is a list (not in order of importance) to help get you started with ideas.
From the top of Akranes Lighthouse, visitors can enjoy picturesque views of West Iceland year-round. The original and smaller lighthouse closer to the water was in service from 1918 until 1947. Today, the current lighthouse still shines for mariners and also serves as a unique venue to host concerts and art exhibitions.
Hallgrímskirkja Saurbær Church
The church Hallgrímskirkja in Hvalfjörður was built in 1957 to commemorate Hallgrímur Pétursson (1614-1674), a distinguished poet and priest. Reykjavík's prominent Hallgrímskirkja is named in his honor. He wrote "Passion Hymns," which many consider an Icelandic masterpiece of devotional poetry.  
Reykholt: Home of medieval writer Snorri Sturluson
Reykholt was the home of Iceland's best-known author Snorri Sturluson from 1206-1241. Snorralaug (translates as Snorra's bath) is an ancient geothermally heated pool built out of cut stones still on the premises. It is one of the few remnants preserved from Iceland's medieval period.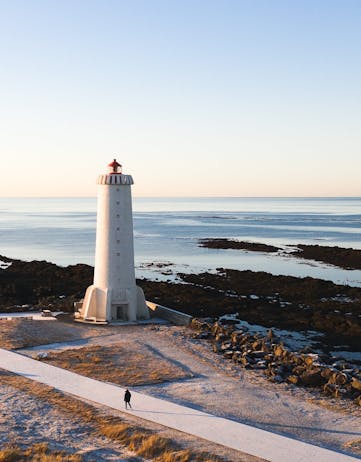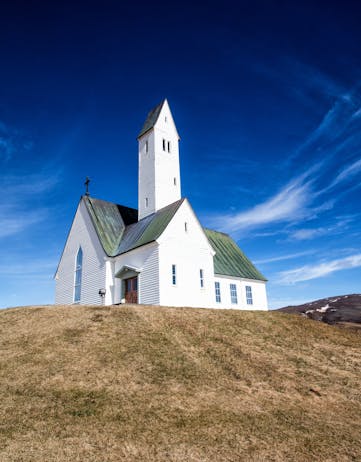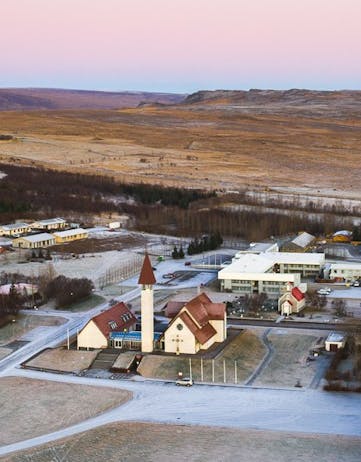 (L to R) Akranes lighthouse, Hallgrímskirkja Saurbær church is in Hvalfjörður (Whale Fhord), and Reykholt, where Snorri Sturluson wrote and soaked in his hot spring. Photos: Visit West Iceland, Kristín Jónsdóttir, Garðar Ólafs.
Deildartunguhver Hot Spring
Seeing hot water naturally gushing out of the ground is a miracle for most. Deildartunguhver thermal spring is next-level. This is the largest hot spring in Europe, with 180L/sec (50 gallons/sec) of 100°C (212°F) boiling water emerging from the ground. Heating utilities draw off hot water and pump it locally and to Akranes, 60 km (37 miles) away, for district heating.
You have probably never seen a waterfall quite like Hraunfossar. Hraunfossar translates as "lava falls" and is a gorgeous series of waterfalls pouring out of the porous lava cliff in a long line into the Hvítá River.
Arnarstapi – Hellnar Scenic Walk
It does not get much more picturesque than Arnastapi. Basalt columns, ravines, and grottos surround Arnarstapi's harbor and pier full of small fishing boats. Walking along the coastline among the magnificent lava formations between Arnarstapi and Hellnar is a must-do and only 2.5 km (1.5 miles).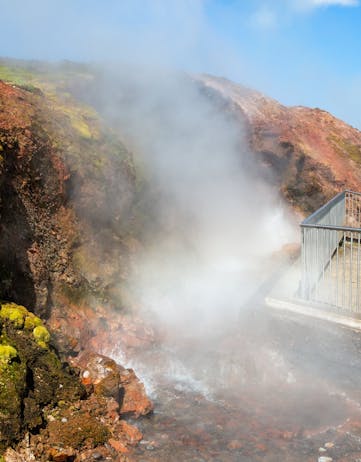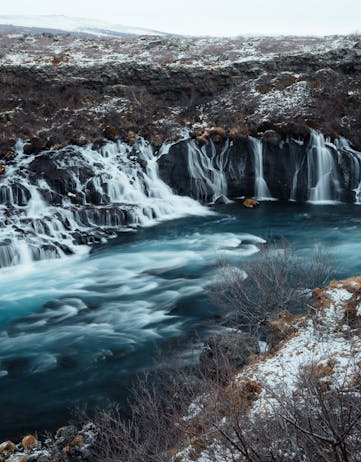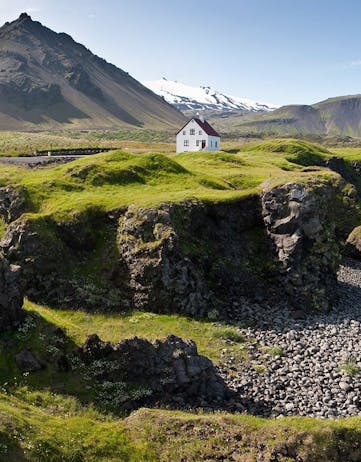 (L to R) Deildartunguhver hot spring, Hraunfossar waterfall, and scenic Arnarstapi in West Iceland. Photos: West Iceland/Tjarnargatan, Business Iceland/Hello Emilie, Jason Charles Hill, and Visit West Iceland.
The striking Kirkjufell Mountain is 463m (1,520 feet) tall and one of Iceland's most famous landmarks. Many say Kirkjufell is the most beautiful in Iceland—a tough call in a land full of impressive mountains. A classic picture is a photo of Kirkjufell with its namesake waterfall in the foreground. 
Svöðufoss is a beautiful 10m (30 feet) high waterfall that cascades over basalt columns. This waterfall is less frequently visited but makes for stunning photos.
Step back to the Viking Era and immerse yourself in the sights, sounds, and smells of Eirík the Red's farm, also the birthplace of Leif the Lucky, believed to have discovered North America. Modern-day Viking interpreters demonstrate and educate visitors about life 1,000 years ago through stories, crafts, and research.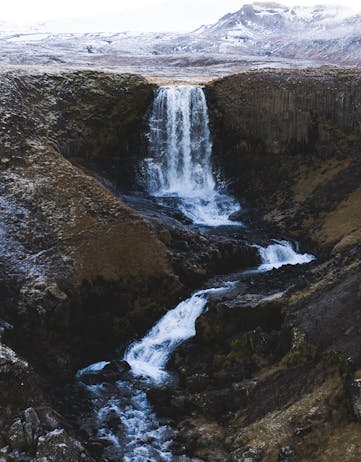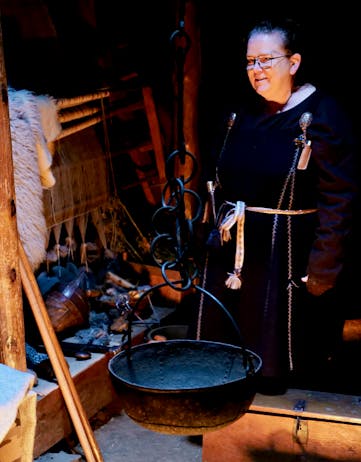 (L to R) Kirkjufell Mountain and waterfall are well known from Game of Thrones, Svöðufoss waterfall, and the turf home of Erik the Red. Photos: Visit West Iceland/Tjarnargatan, Visit West Iceland, and Parker O'Halloran.
Snæfellsjökull National Park
Established in 2001, the park covers an area of 183 km2 (71 m2). Its varied landscape includes moss-covered lava fields, sheltered coves, pebbled beaches, thriving native plants, and rugged cliffs with abundant seabirds. The park's dominant feature is the magnificent ~700,000-year-old glacier-capped stratovolcano Snæfellsjökull. 
Klofningur Mountain drive
There is a deep cleft in Klofningur Mountain near Búðardalur, which route 590 threads through. Be sure to stop at the viewpoint, with breathtaking panoramic views of Breiðafjörður Fjord and its thousands of islands.
Marvel at the power of geology up close. Grábrók is an approximately 3,000-year-old crater in the Grábrókarhraun lava field. Grábrók is the largest of three spatter cone craters along a short volcanic fissure. A marked wooden walkway and stairs make this an easy ascent.
Iceland is divided into seven geographical regions, each differing slightly in culture and landscapes, but all are distinctly Icelandic. The regions are South Iceland, East Iceland, North Iceland, the Westfjords, West Iceland, Reykjanes, and the Reykjavík capital area.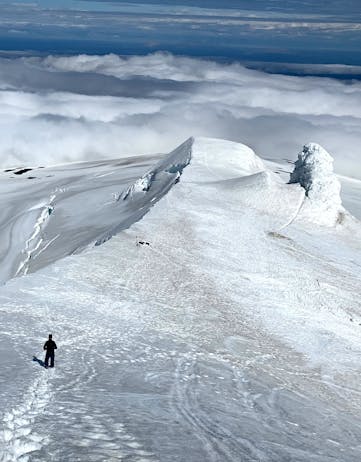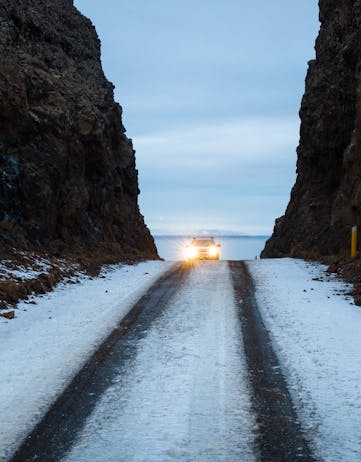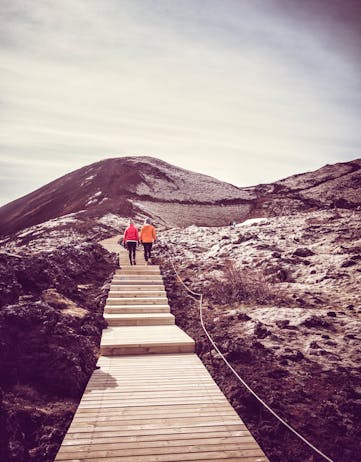 (L to R) A view from the glacial peak of Snæfellsjökull volcano, the road through Klofningur drives right through the split in the mountain, and the steps leading up to Grábrók Crater. Photos: Parker O'Halloran, Visit West Iceland/Haukur Sigurðursson, Visit West Iceland/Kristín Jónsdóttir.