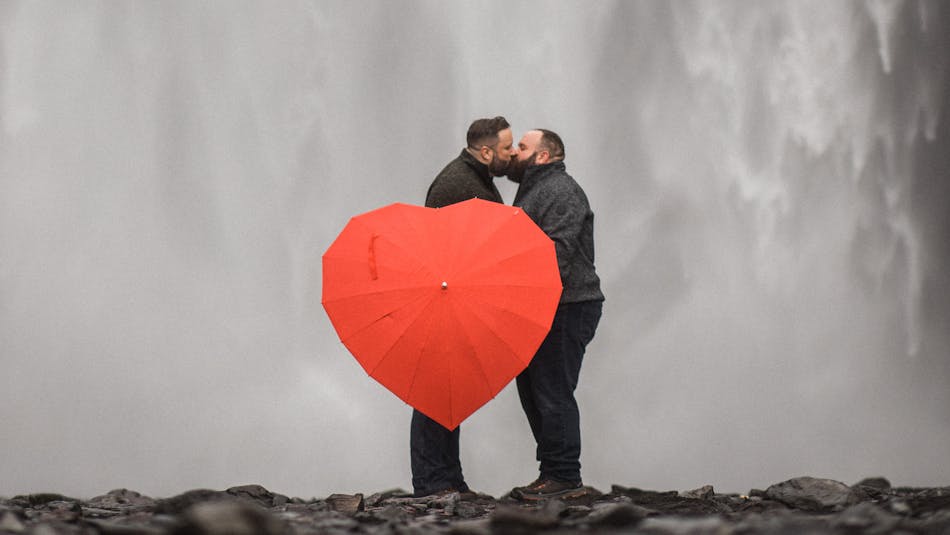 Love is in the air, on the glacier, and by the waterfall in Iceland
A destination wedding is undoubtedly one of the most unique ways to get married. Iceland has many perfect locations for a dreamy and unforgettable ceremony.
Looking for a wedding that is not like all the others? How about saying your vows in a hidden cave, behind a waterfall, or on a majestic glacier? "Iceland is a place where you get an intense experience—in a good way. Your friends and family will bond over a wedding weekend where they see amazing nature and stay somewhere beautiful and remote," says Birna, founder and owner of wedding planning company Pink Iceland. Since 2011, gay and lesbian-owned Pink Iceland has organized over 600 weddings working with couples worldwide to marry in Iceland. Their dedication to ensuring incredible experiences has earned them top reviews over the years.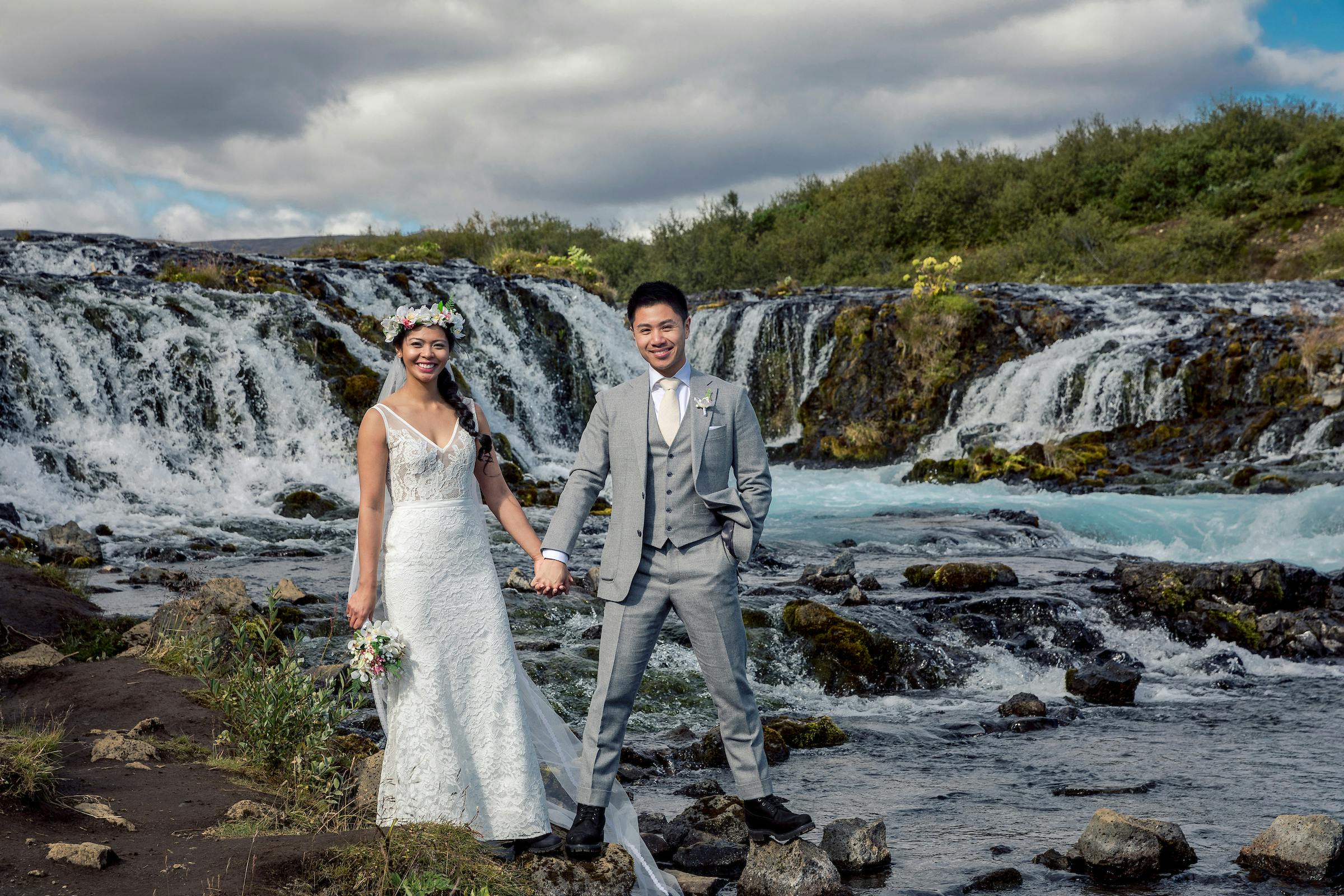 Valerie & Adam Photo: Bragi Thor at Iceland Wedding Photo
If you have your heart set on an Icelandic wedding, there are plenty of wedding planners that will help you with the logistics. One of the wedding experts is Vigdís, who started her Lux Wedding company in 2016. Since then, she has helped over 120 adventurous couples plan their weddings in Iceland. "Planning and styling a wedding abroad can be a challenging task," says Vigdís. "It's our passion for Iceland, paired with our experience in creating magical and memorable weddings, that drives us to create an authentic and timeless experience," she adds. 
First things first - popping the question in Iceland! 
Getting engaged is one of the most notable events of our lives, which is why you want to make it perfect! Iceland's epic landscapes make it genuinely unique when popping the question to your significant other. "When we assist people with the engagement—that's one of my favorite things to organize. There is plotting, planning, and innocent little lies to make the one being asked not to suspect a thing. For example, they think they are taking a special cocktail and culinary tour of the South. So when they see a pop-up bar by a waterfall and a piano in the middle of the field, they never suspect their significant other—who they didn't even know was in the country—is sitting there playing their song," says Birna.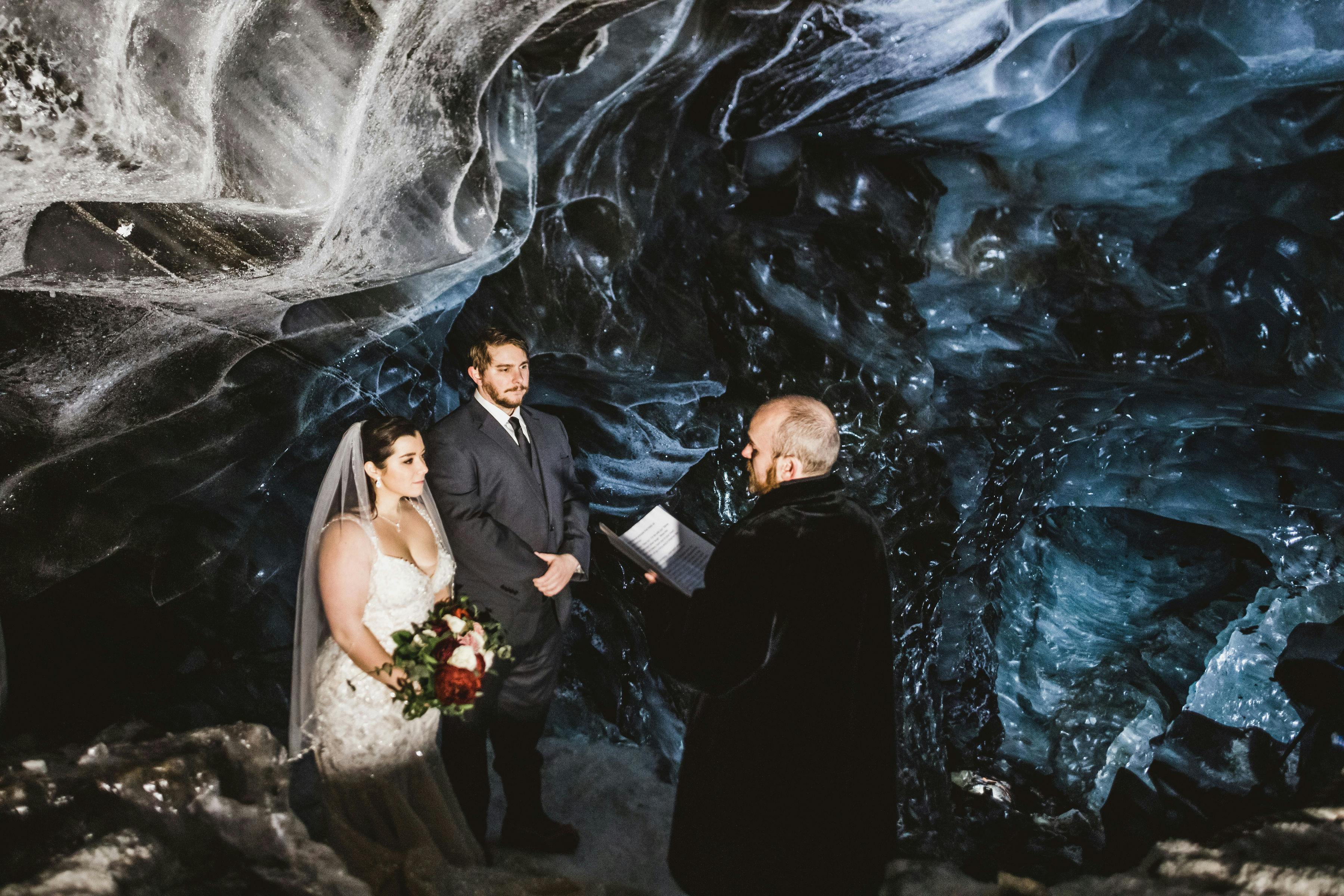 Ashley & Zac's Ice cave ceremony. Photo: Kristín Maria
There are many elaborate ways to pop the question depending on the season. Suppose you are traveling around Iceland during summer. In that case, a field of blooming lupins is impressive, or in a dramatic rock fissure between two continents will stand out. "During the summertime, we have almost 24 hours of daylight, making Iceland such a great spot," says Vigdís. Wintertime is perfect for getting engaged under the surreal spectacle of dancing Northern Lights or on the famous black sands and glacial ice chunks of Diamond Beach in the South. 
Why do people choose Iceland for a wedding?
"The natural extremes attract people for that once-in-a-lifetime opportunity. Last month, we took a couple snowmobiling over a glacier. We then hiked in knee-deep snow to the opening of a newly discovered glacier cave. We climbed in, popped open the changing tent, got the couple dressed in their wedding clothes, and they got married then and there. Imagine that experience!?" says Birna.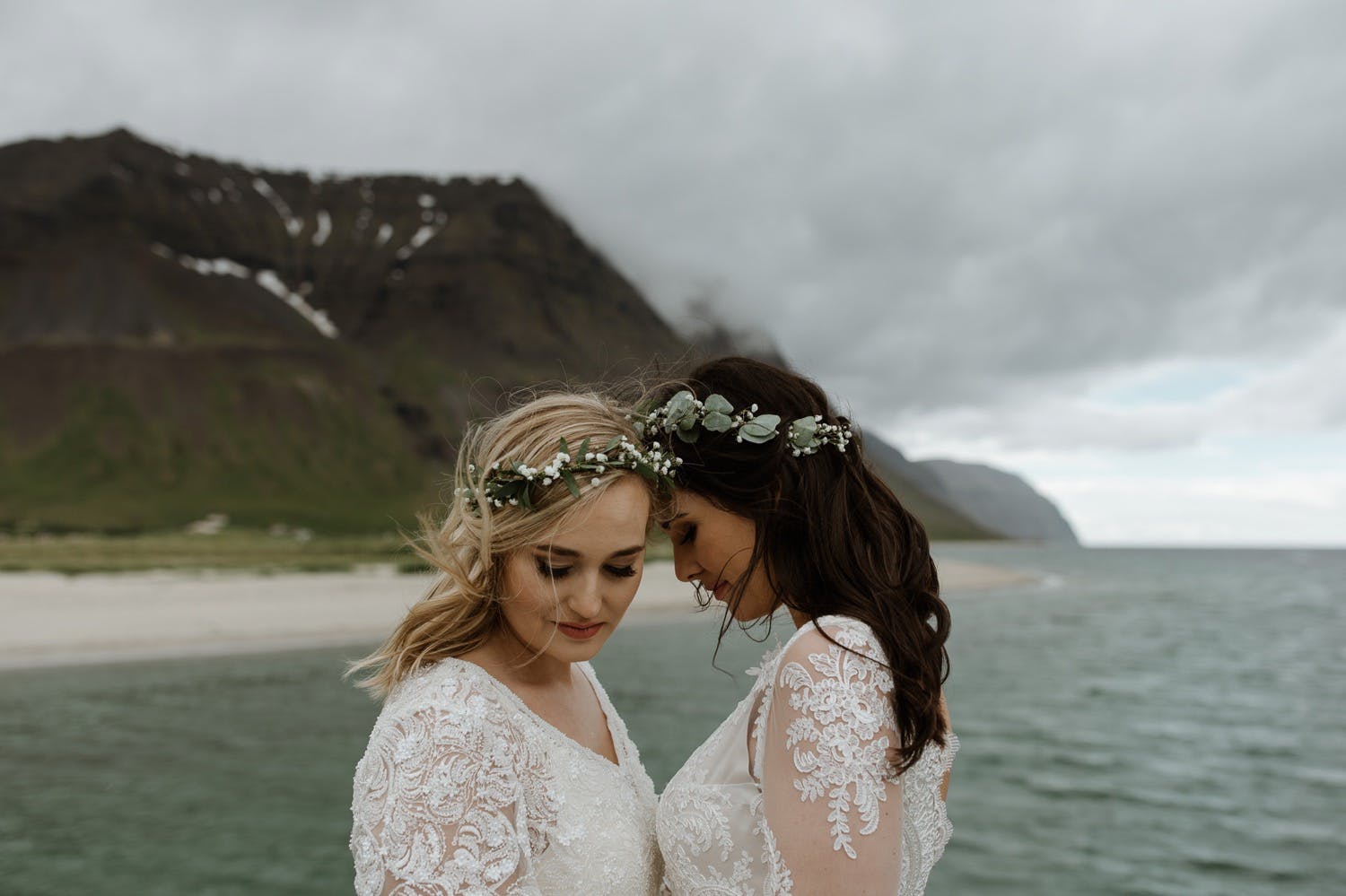 Photo: Styrmir and Heiðdís
Iceland's extraordinarily diverse and dramatic landscapes make the perfect setting for wedding photos. However, it is not the only reason to plan your ceremony here. "The geographical location of Iceland, being in mid-way between North America and Europe, is perfect for people who have guests traveling from North America and Europe," says Vigdís. More recently, with the challenges of the pandemic, it is worth noting that you can easily avoid crowds while traveling around Iceland. "I think during—and after the pandemic—people will really appreciate the space and freedom they can have in Iceland," Vigdís adds. 
Remember: love is love. Iceland is LGBT-friendly, and same-sex marriages are legal here.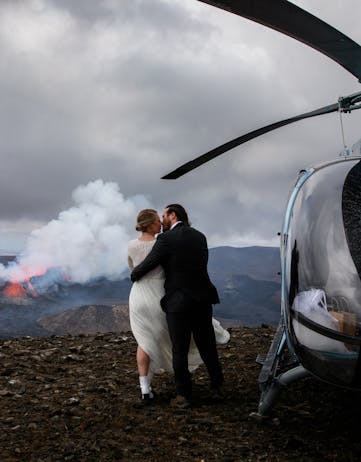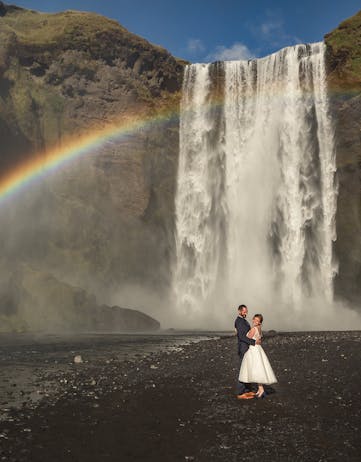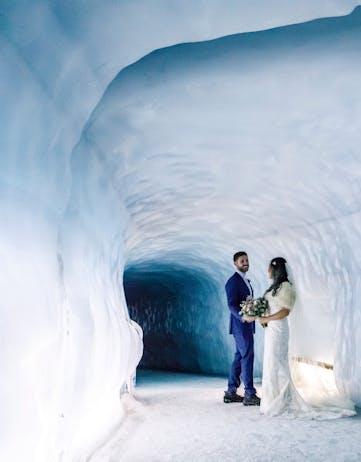 Photos above: Bragi Thor at Iceland Wedding Photo
Can foreigners get married in Iceland?
The answer is yes! You can get married legally or symbolically. The choice is yours. If you wish to legally wed, there are a few legal documents required: 
Birth certificate 
Passports
Certificate of marital status (issued within eight weeks before the wedding date) 
Marriage notification form (Hjónavígsluskýrsla in Icelandic) from the District of Magistrate in Reykjavík,
Divorce documentation (if applicable)
Widow/er certificate (if applicable)
Airline tickets 
Marriage officiant in Iceland
Licensed Icelandic officiants can perform your ceremony, including ministers, priests, rabbis, Icelandic Civil officers, and even pagan priests! 
For those interested in a symbolic wedding, you can hire a local Icelandic officiant, bring your own officiant, or simply say your personal vows without someone leading the ceremony.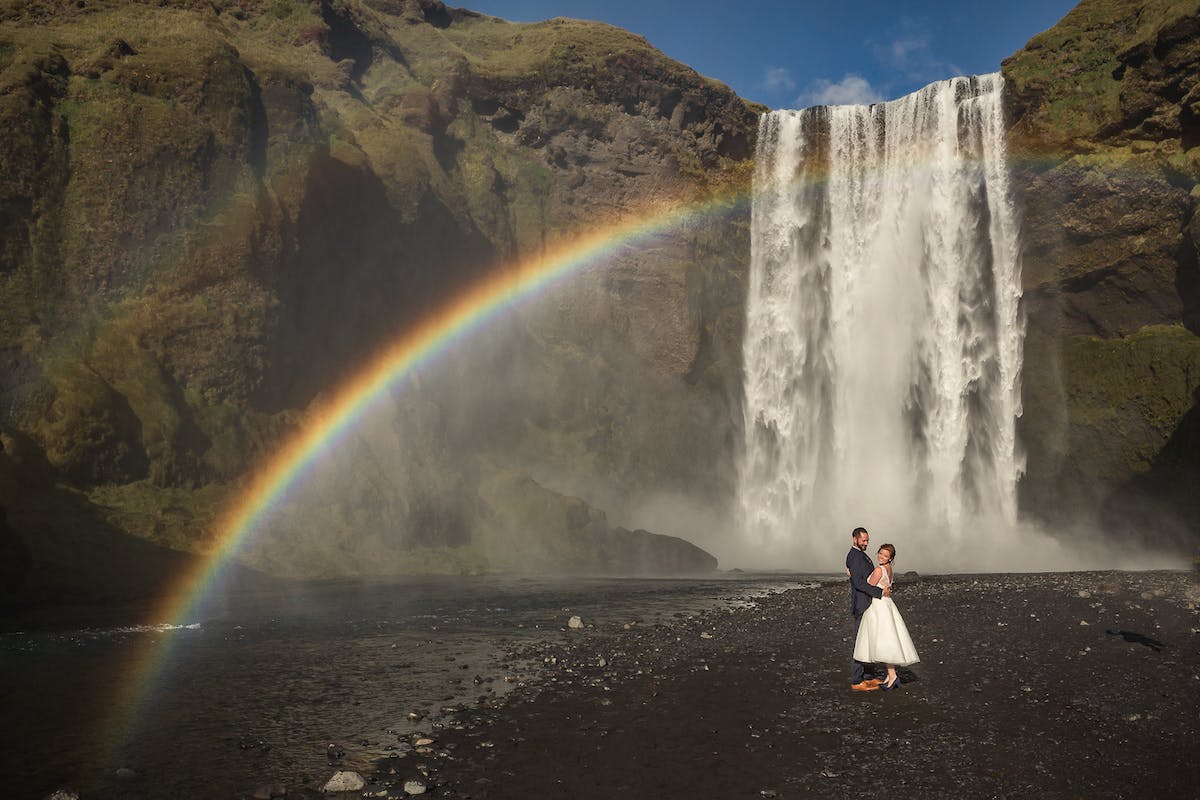 Photo: Bragi Thor at Iceland Wedding Photo
What happens after the wedding? 
Iceland is also a fantastic place for a honeymoon, no matter where you are married. The rugged and ethereal landscape offers countless travel destinations and activities. You can cozy up in one of the numerous geothermal hot springs or seek the enchantment of the Northern Lights from your own hut. Ready to change out of formal footwear and into hiking boots? There is so much to explore together, including epic waterfalls, a fantasy-like ice cave, or horseback riding across mossy-covered lava fields. Once the sightseeing is done, Reykjavik's vibrant restaurant scene is perfect for a romantic dinner date.