From wonderful waterfalls to expansive glaciers, South Iceland is seemingly brimming with natural wonders unfolding at every turn.
Iceland is split into seven geographical regions, each differing slightly in culture and landscapes, but all are distinctly Icelandic. The regions are South Iceland, East Iceland, North Iceland, the Westfjords, West Iceland, Reykjanes, and the Reykjavík capital area. Here we will break down the Top 10 things to do and see in South Iceland—if that is possible!
1. The Golden Circle – Gullfoss, Geysir and Þingvellir
The Golden Circle area possesses a stunning variety of attractions, but the main three are Thingvellir (Þingvellir) National Park, Gullfoss, and Geysir. These sites are rich in spectacular scenery, history, and geological extremes. It offers various activities such as horseback riding, jeep safaris, glacier tours, sailing, salmon and trout fishing, golfing, hiking, and other exciting activities. It is accessible all year round.
2. Selfoss
Some towns are old, and some are new. But in Selfoss, the past connects with the present in a truly unique way. Thirty-five historic buildings, previously damaged by fire or in disrepair, are being reconstructed to form a unique cultural center. Advanced architecture is set against the panorama of Icelandic history, within a one-hour drive of all of Iceland's major natural attractions in the south. Opened in 2021, Selfoss Centre hosts shops, restaurants, hotels, and cultural activities of different kinds. The Old Dairy in Selfoss (Mjólkurbúið in Selfoss) is a proper food hall with eight restaurants, a beer garden, a wine bar, and an exhibition on the history of skyr.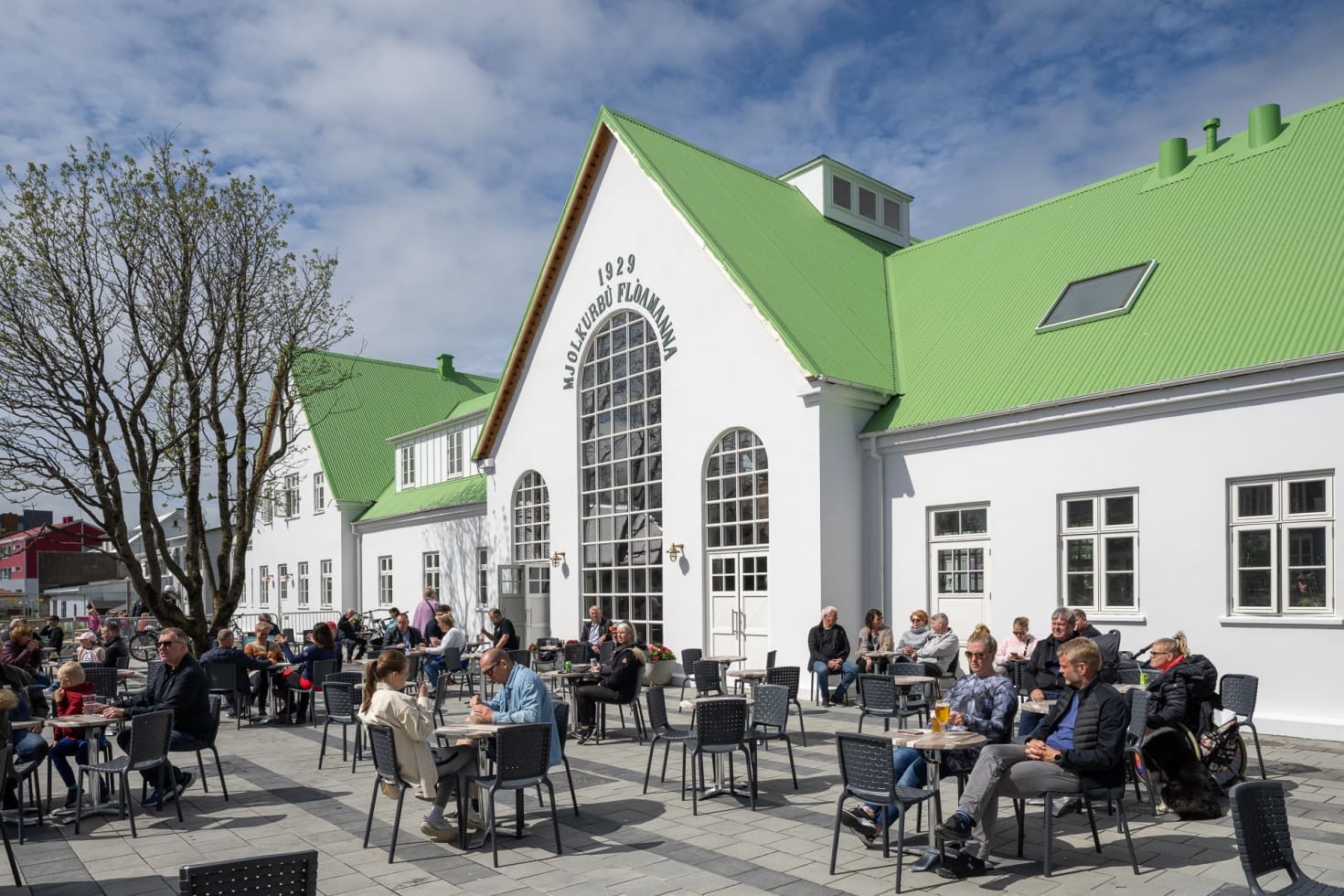 Mjólkurbúið - The Old Dairy Selfoss highlights the revitalized Selfoss town center.
3. Seljalandsfoss
A unique waterfall in Seljalandsá River, 60 meters high (200 ft), with a footpath behind it at the bottom of the cliff, but with a thin cascade. It is the only known waterfall of its kind where it is possible to walk behind.
(L to R) Strokkur Geyser, Gullfoss, and Thingvellir (Þingvellir) are highlights of any Golden Circle tour. All images courtesy of Visit South Iceland.
4. Skógar
Skógar is a small village with about 25 residents. Despite its small size, it has various accommodations and restaurants. The breathtaking view of Skógafoss waterfall, picturesque surroundings, and the snow-capped heights of two towering glaciers are Skógar's major summer attractions.
Close to the stunning Skógafoss is the Skógar Folk Museum, which preserves the cultural heritage of Southern Iceland through its collection of tools and equipment, handicrafts, old buildings, books, manuscripts, and documents. Next to the museum is the start of the beautiful Kvernufoss path. On the slopes above the museum, there is the Völvuskógur forest which has various trails. One of the most popular trails at Skógar, though, is the Fimmvörðuháls trail which starts at Skógar and goes between the Mýrdalsjökull and Eyjafjallajökull glaciers and descends in Þórsmörk.
5. Vík
The town of Vík is situated in the center of Katla Geopark and is also Iceland's southernmost village. The Vík area is truly a place of outdoor adventures. Mýrdalsjökull glacier offers guided glacier hikes, year-round ice cave explorations, glacier-lagoon kayaking, and snowmobiling near Katla volcano. The adrenaline will surely kick in on an ATV tour on the black sand beaches of Sólheimasandur, zip-lining down a canyon, or floating in the air in a thrilling paragliding adventure. For those who prefer their feet on the ground, there are numerous hiking trails and a beautiful golf course on the outskirts of Vík. Lastly, a horse-riding tour along the black sand beach overlooking Reynisdrangar sea stacks is an unforgettable experience.
Reynisfjara and Reynisdrangar are must-see. Black volcanic sand beaches, smooth pebbles, unique rock formations, basalt columns, sea spikes, and puffins make this a uniquely Icelandic natural attraction. Not far away, there is Dyrhólaey, a 120-meter-high (400 ft) promontory. The place got its name from the massive arch that the sea has eroded from the headland. From the top of the promenade, you can enjoy staggering views over black beaches, complemented by the glittering waves of the Atlantic on one side and distant glaciers on the other.
(L to R) The walk behind Seljalandsfoss Waterfall is a damp but exciting experience. See Icelandic history in a very scenic location at the Skógar Folk Museum, and Reynisdrangar basalt sea stacks are an impressive sight from the black sand beaches. All images courtesy of Visit South Iceland.
6. Fjaðrárgljúfur
A magnificent and massive canyon with sheer walls about 100 meters (330 ft) deep that is winding and narrow for about two kilometers long. The bedrock in Fjaðrárgljúfur is mostly palagonite from ice age periods and is approximately two million years old.
7. Skaftafell
Scenic nature, favorable weather conditions, and a network of hiking trails make Skaftafell in Vatnajökull National Park an ideal destination for outdoor activities in Icelandic nature. Short and easy trails lead to the waterfall Svartifoss and Skaftafellsjökull glacier. For those looking for longer routes, look into Morsárdalur Valley and Kristínartindar Mountain peaks.
8. Glacier activities
Many tour agencies specialize in different kinds of glacier activities. You can explore all four of the South Coast's glaciers all year and in various ways. One of the most popular is a super jeep tour, where you drive up onto a glacier. Also popular are snowmobile tours and powering yourself to the glacier with guided hiking or climbing tour. You might see a surreal blue ice cave or kayak through a glacier lagoon while up close and personal with icebergs. Glacier exploration makes for an unforgettable experience that is suitable for anyone looking for a bit of excitement and adventure while in Iceland.
9. Jökulsárlón
Jökulsárlón is a glacial lagoon along the ring road. Its milky blue waters filled with icebergs are a sight not to be missed. Ice calving of Breiðamerkur Glacier, a part of the immense Vatnajökull Glacier, makes its way through the lagoon to the ocean. There are guided lagoon boat trips and kayak tours that weave among icebergs made of snow that fell over a thousand years ago.
The lagoon flows through a narrow gateway into the Atlantic Ocean, where large chunks of ice float out to sea, and some wash back to the beach. The diamond-like pieces of ice glitter and mesmerize in the black sands and surf.
10. Vestrahorn
Vestrahorn is approximately a ten-minute drive away from Höfn. The horn-shaped area below the aptly named Vestra-Horn is a 454-meter (1,500 ft) mountain. It is an interesting geological site composed of un-stratified plutonic rock, mostly gabbro but with some granophyre. At Stokksnes, you can feel the power of the Atlantic Ocean as the waves pound the rocky shore with massive force.