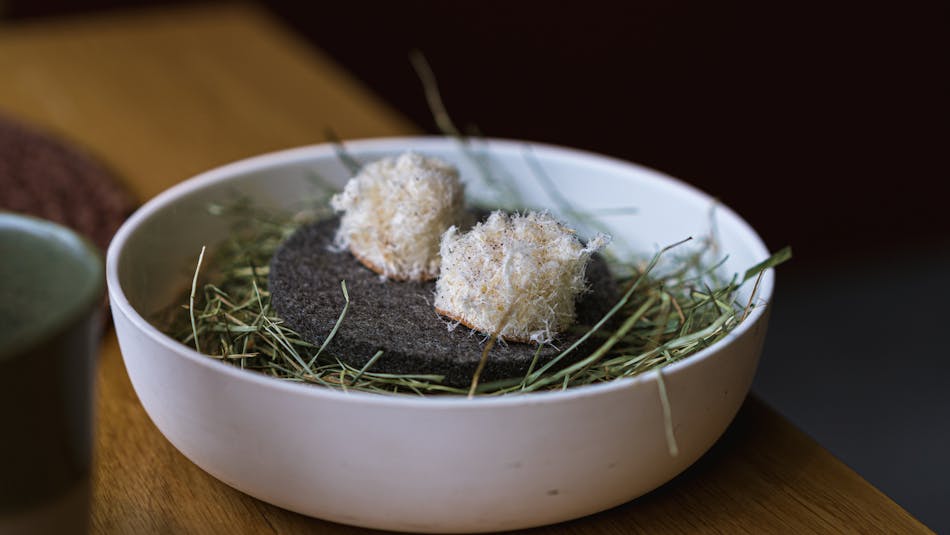 Reykjavík Food Map
Reykjavik may be a small city, but it is a growing culinary destination! Anders Husa and Kaitlin Orr are international food, travel, and influential restaurant bloggers based in Copenhagen, Denmark. They recently stopped in Reykjavík for a gastronomical tour of the city and shared some of their favorites with us here at Inspired by Iceland.
Anders & Kaitlin's interactive map highlights just a few of the many fantastic places to eat and drink in Reykjavík. Follow their path and take a bite out of the Reykjavík food scene. The following article was written by Anders & Kaitlin but edited slightly for our format. Bon appétit—or as we say here in Iceland, "Gjörðu svo vel!" 
The capital of Iceland is a small city with a mighty food scene. Reykjavík is home to approximately 130,000 people, but given its position halfway between the US and Europe, it's an extremely popular tourist destination. Whether you have a quick layover in Iceland and are looking for some good places to eat, or you're on an adventure exploring the island's volcanoes, lagoons, glaciers, and hot springs, we've got your food itinerary covered! In this guide, we have gathered all our Reykjavík favorites. You'll find everything from ambitious fine dining restaurants to specialty coffee shops, natural wine bars, and, of course, the city's best hot dog. Navigate the map quickly by scrolling through the list on the right or clicking the map's points. Places are listed in geographical order.
Our favorite restaurant in Reykjavík is the least likely location: inside a food hall at a bus stop at the far end of the main walking street. Skál is not your typical food court restaurant. Danish head chef Thomas Lorentzen has a background at Kadeau Restaurant in Copenhagen, so you can expect high-quality food. Grab a seat at the counter and order the whole menu – it features local, seasonal ingredients, and every bite is tastier than the last. We especially loved the raw Icelandic scallops with mussel broth and buttermilk, the salt-baked beets with homemade mascarpone and licorice salt, and the baked Arctic char with caper onion butter. This is modern Scandinavian comfort food in a fun, rambunctious setting. It's a chef's hangout, a place where the industry goes on their day off to get their grub on and guzzle natural wine. The nighttime is when the party takes place, but also drop by for lunch to try the flæskesteg (pork belly) sandwich.
Dill is Iceland's most famous restaurant and the first of its kind in the country. It was first opened in 2009 by chef Gunnar Karl Gíslason and received a Michelin star in 2017. Dill's inspiration is to highlight Icelandic food culture, bring it into the spotlight, and preserve time-honored traditions that otherwise might disappear. Come with an open mind! you'll try some dried and fermented foods you might not have tasted before, such as dung-smoked trout (an ingredient that sounds intimidating but actually is quite tasty). Sustainability is a big focus of the restaurant, so the chefs try to use every part of the animal when possible. The wine pairing is all-natural, and their non-alcoholic pairing is made of locally produced kombuchas. Dill is a must-visit when in Reykjavík.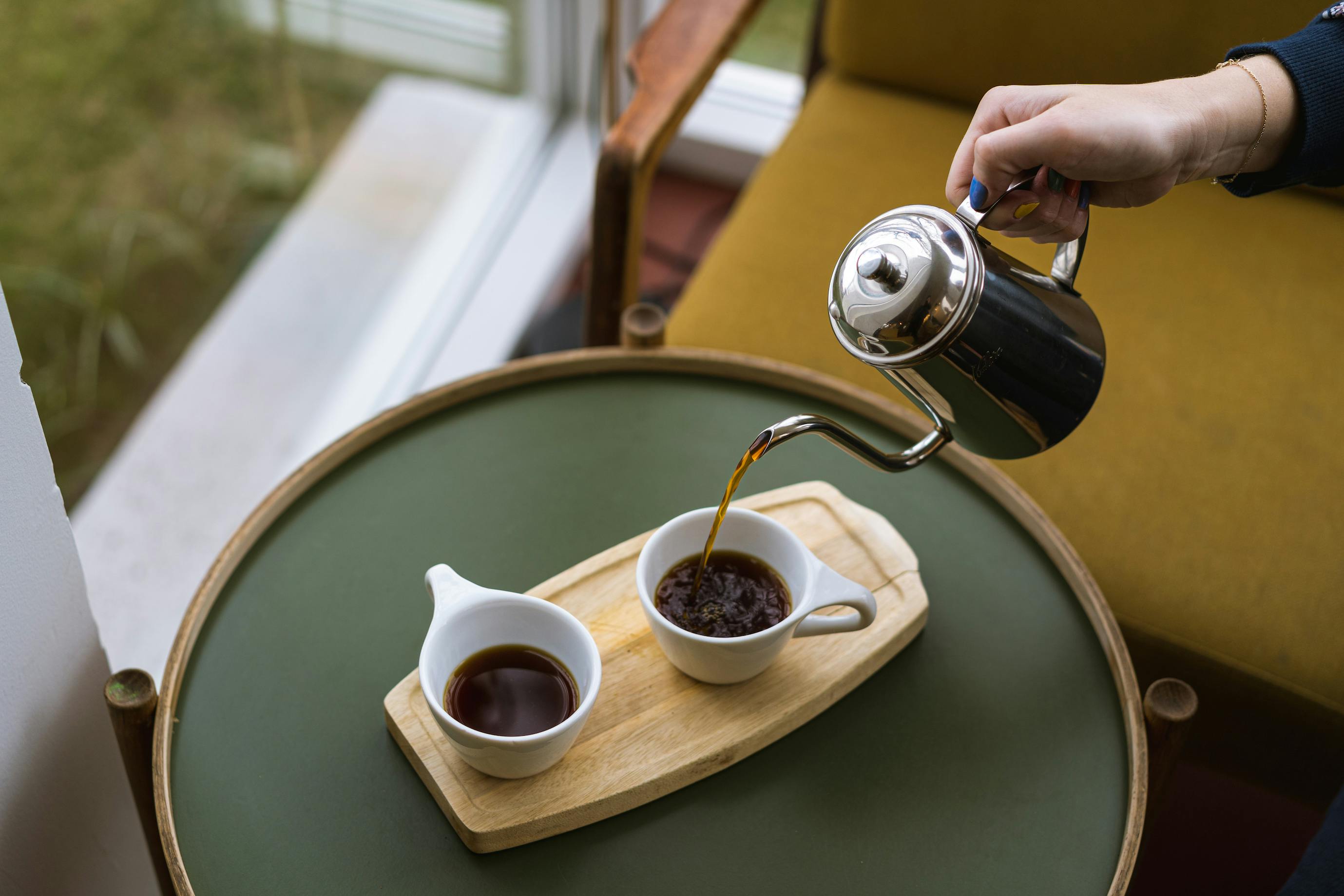 Looking for caffeine? Reykjavík Roasters serves excellent coffee around the city.
Iceland's most renowned coffee chain is Reykjavík Roasters, founded in 2008 and has four locations around the capital. Our favorite café is the original location, a cozy spot right next to Hallgrímskirkja, the iconic church at the top of the city. The interior is filled with an eclectic mix of vintage furniture, and the coffee is served in equally charming kettles. We tried a few different pour-overs during our time in Iceland, including their Brazilian coffee, which has notes of molasses and plums, and their natural Ethiopian coffee, which is more light and floral in flavor.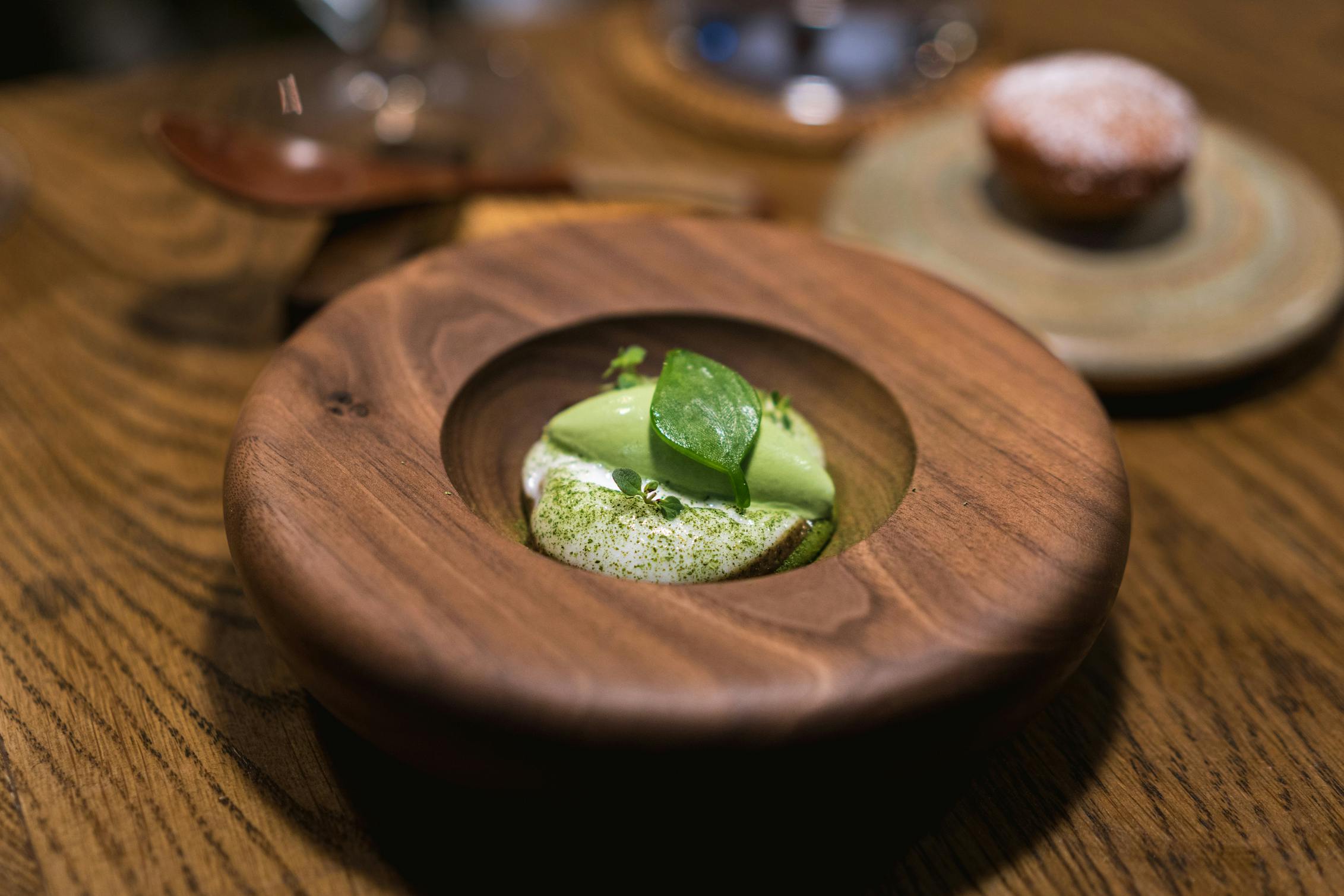 Just one of the twenty dishes you may be served at Óx.
Restaurant ÓX is a small, speakeasy-style restaurant from chef Thrainn Freyr Vigfusson, tucked away in the back of his casual restaurant, Sümac. In contrast to the big, bustling dining room it's hidden inside, the interior at ÓX is not much bigger than the eleven-seat counter it houses. The space instantly makes you feel at home because the kitchen is originally from Vigfusson's grandfather's old farmhouse. Now, the rustic cabinets and appliances have been transplanted into this fine dining restaurant; the setting serves as a fun juxtaposition to the stunning presentations of the tasting menu. ÓX only has one seating per night, with a total of three chefs preparing and serving 20 dishes showcasing local Icelandic ingredients. It's dinner and a show – the chefs love interacting with the guests and are eager to go into detail about any ingredient or technique. ÓX received its first Michelin star in 2022.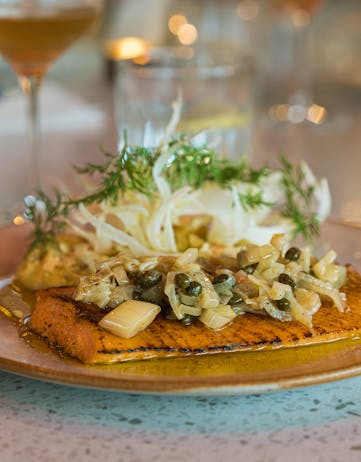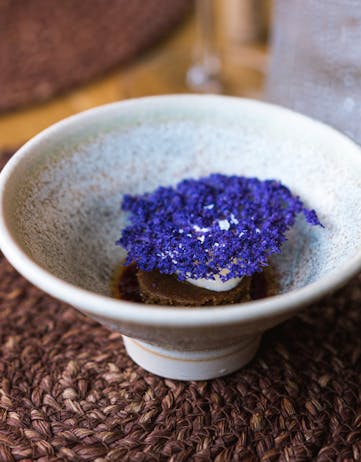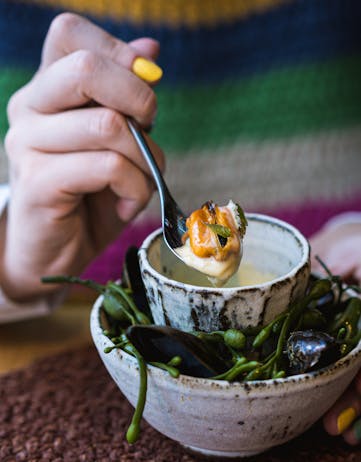 (L to R) Skál!'s baked arctic char, caper onion butter, mash, fennel, & dill. Dill's potato cake, brown buttermilk ice cream, blueberries, and a potato chip. Dill's blue mussel emulsion, grilled blue mussel, & blue mussel and beurre blanc sauce. Photos: Anders & Kaitlin.
Sümac is the casual Middle Eastern restaurant from Chef Thrainn Freyr Vigfusson. The open grill is the beating heart of the restaurant, with most dishes touching the fire before hitting your table. Menu highlights include the flatbread with za'atar and hummus; grilled oyster mushrooms; carrots with whipped feta, honey, and cumin; the grilled shrimp skewer with chili and preserved lemon; and the beef short rib with onion, fennel, and hazelnut dukkah. The creative cocktail program highlights Middle Eastern flavors like rose, arak, turmeric, and sumac.
The city's best natural wine bar is located on Laugavegur, the main walking street in Reykjavík. Step downstairs into a cozy basement, and you'll find many crowded tables filled with thirsty customers and wine bottles on the shelves. The offerings change frequently, but on our visit, we spotted wine from Le Coste, Gut Oggau, Claus Preisinger, Vej, Meinklang, and Christian Tschida on the 200+ bottle list. There are also simple tapas, sandwiches, veggie dishes, and cheese plates if you're feeling snacky!
Reykjavík's newest foodie hotspot is Baka Baka, a charming cottage smack in the city's center, serving pastries by day and pizza by night. Naturally, we went twice so we could try both! The pastries are easily the best in town, with inspiration from Hart Bageri in Copenhagen. We feasted on cardamom buns, doughnuts, ham and cheese croissants, and chocolate chip cookies. (The only thing we weren't wowed by was the coffee, so head to one of the local roasters instead to get your java fix.) The pizza was as impressive as the pastry selection, with a fluffy dough and seasonal toppings. We ordered the Bianca II with oyster mushrooms, truffle dust, garlic, onions, and a delicious white sauce. Added bonus? There's a nice selection of natural wine to go with your pie.
Welcome to the Jungle! There are fun party vibes at Jungle, but we were most impressed by the high level of drinks at this high-volume cocktail bar. The friendly bartenders shook us up a Pisco Pogo, one of their signature cocktails with pisco, passionfruit, orange, and green apple. We also tried the Baby Zombie, their spin on the classic Tiki serve, with various rums, pineapple, orange, and spices. Jungle also has a few pre-batched taptails, including the Rumaway (rum, elderflower, lime leaves, and tonic) and the Gina (gin, Aperol, lime, and grapefruit lemonade).
Coffee shop Kaffi Ó-le might be new to the Reykjavík specialty coffee scene, but boy, did they start off with a bang! This is some truly excellent coffee. Kaffi Ó-le gets their beans from local roaster and wholesaler Kaffibrugghúsið, located just up the street. We tried two Ethiopian coffees, one natural (with notes of honey and orange) and one washed (with notes of flowers and coconut), and a honey-processed coffee from El Salvador. All of the coffees were exceptionally brewed by friendly baristas. On the food side, they have convenience store-style sandos in a fridge for those looking to grab-and-go and a small selection of pastries.
The former head chef of Dill, Ragnar Eiríksson, leads the kitchen at Brút, where the seafood is the star. Alongside him as co-owner is sommelier and restauranteur Ólafur Örn Ólafsson. (The pair also owns the wine bar Vínstúkan, so you know that wine is a big passion of theirs!) The wine offerings at Brút come in a small book rather than a list, with chapters dividing the different sections based on your interests. Whether you're in the mood for some "funky shit" or something "plump and reliable," they've got a bottle for you. On this occasion, we enjoyed a bottle of Theodora from Gut Oggau, but we were also tempted by some favorites from Gabrio Bini in Italy. On the food side, Brút delivers high-quality casual comfort food with fish as a focus. We adored the Parisian-style gnocchi with mushrooms and parmesan, the Icelandic scallops with tomato and lemon juice, the skate with brown butter and capers, and the lemon sole with beurre blanc. Save room for the dessert trolley!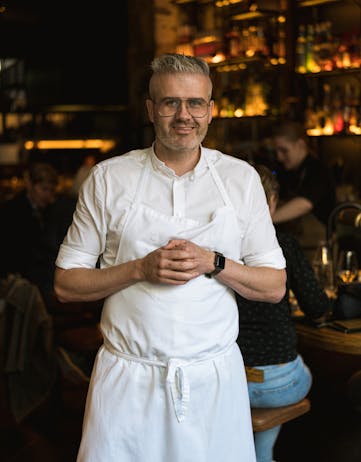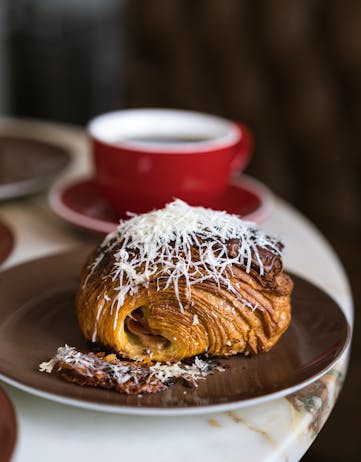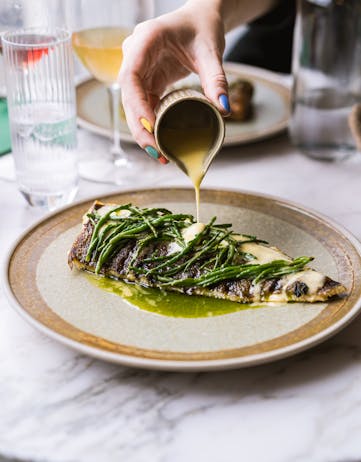 (L to R) Chef Thrainn Freyr Vigfusson ÓX of Sümac, get a morning start with a Baka Baka croissant, and Brút's lemon sole, beurre blanc, and samphire. Photos: Anders & Kaitlin.
For a quick bite on the go, head to Bæjarins Beztu Pylsur (The City's Best Hot Dogs) for, well, just that! This hot dog stand has been open since 1937 and has served thousands of hungry locals and tourists alike (including Bill Clinton!). You'll want to order it with everything: crispy onions and fresh onions on the bottom, and their special brown mustard, remoulade, and ketchup drizzled on top. The best part? It's open until 1 AM, so it's perfect for when those late-night cravings hit.
Whether you're staying at the EDITION hotel or not, Tides is worth a visit. This is one of the best hotel restaurants we've ever been to, mainly because Chef Gunnar Karl Gíslason of Dill is the executive chef. Another talent in the kitchen is head Chef George Halldors, who previously worked at ÓX. We loved our dinner here, which displays modern Icelandic cuisine and the best local ingredients. Highlights included the bread serving: a mix of brioche and Japanese milk bread served with salted butter and caviar; the Icelandic scallops with coffee oil, brown butter, and a langoustine sauce; and the grilled Iceberg lettuce with an aji amarillo hot sauce, Thai basil, and egg yolk.
Baker Markús Ingi Guðnason grew up in the States, where he developed a passion for doughnuts, bagels, and burgers. So, when he moved to Iceland, he gave the people what they deserved – good bagels, doughnuts, and burgers! We're so glad he did because these are the best doughnuts we've found in the Nordics. The cruller is our all-time favorite here, although we also love the cream-filled creme brûlée doughnut. Deig also makes bagels and bagel sandwiches – try the everything bagel with cream cheese!
Three cooks (kocks) with a fine dining background opened a high-quality street food restaurant. You guessed it, Le Kock is owned by the same people who own Deig (and it's located directly next door). This is, by far, our favorite cheeseburger in Iceland. The buttery buns are made in-house at their bakery and topped with everything bagel seasoning. Inside the toasted bun are a medium rare beef patty, cheddar cheese, Kock sauce (chili mayo), pickles, red onions, and lettuce. On the side, they serve delicious roasted potatoes in lieu of fries, topped with various sauces. 
For a simple, Californian-inspired breakfast, visit The Coocoo's Nest, a family-run restaurant that's been operating in Reykjavík for almost ten years. Their menu is chock-full of local, organic produce and has many vegetarian options. Taco Tuesday is a popular time to drop in for dinner, but our personal favorite is their weekend brunch, served Friday-Sunday. Try the pancakes, the breakfast burrito, or the eggs Florentine! They have some natural wine, cocktails (we love the Limoncello Sour!) and playful lattes, like rose and pitaya.
Reykjavík's premier chocolatier, Omnom, is Iceland's first and only bean-to-bar producer. They source single-origin cacao beans of the highest quality to make their small-batch chocolate bars, which come in a variety of fun flavors – from sea salted almonds, licorice raspberry, and cookies and cream. The bars are cleverly designed to break apart in geometrical shards instead of traditional squares and are wrapped in colorful packaging with eye-catching graphic designs. You can also try their ice cream sundaes at their chocolate shop, with flavors based on their candy bars. All are based on vanilla soft serve and are drizzled with caramel, served with candied nuts, or topped with a torched marshmallow.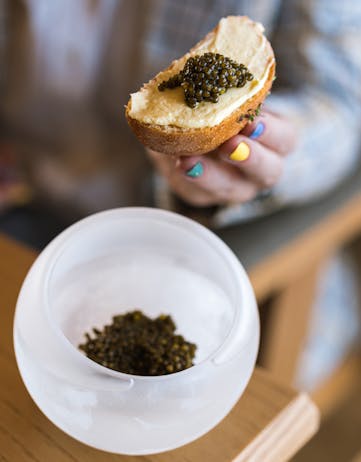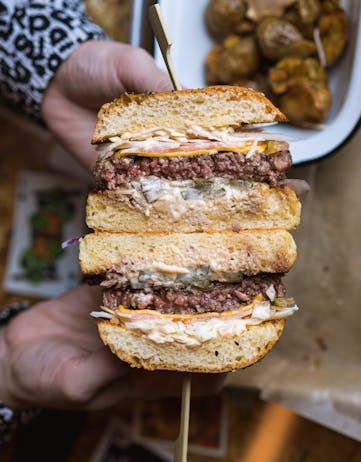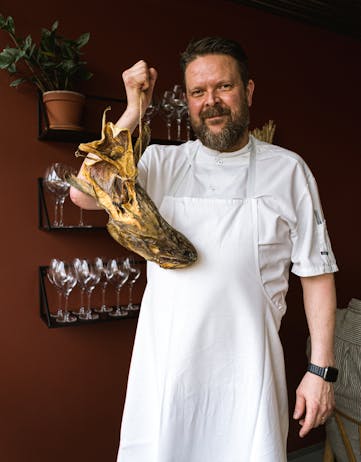 (L to R) Tides Restaurant at the EDITION Hotel serves up a blend of brioche and Japanese milk bread with a dab of caviar. Le Kock grills a winning cheeseburger. Icelandic Chel Chef Gunnar Karl Gíslason of Dill and Tides restaurants holding up a dried fish head. Photos: Anders & Kaitlin.
For more on Anders & Kaitlin's trip to Reykjavík and their other amazing food destinations click below.