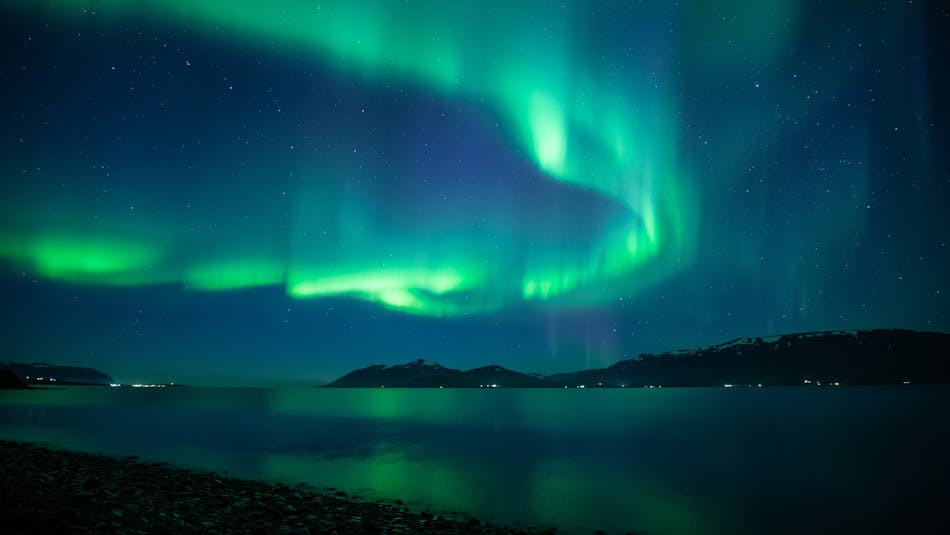 It is hard to narrow down the "best of" in any of Iceland's seven regions. You could spend a lifetime exploring a single area.
While this is by no means an exhaustive list, here are some highlights when traveling in North Iceland. From charming villages and intriguing museums to the raw power of Icelandic nature, there is something for everyone. Head North!
1) Akureyri
Akureyri is a beautiful place to start. Home to the country's second-largest urban area (a whopping 19,000 people), Akureyri is nestled deep in Iceland's Eyjafjörður Fjord. Akureyri is the capital of the north, and the town offers a wide range of activities and fascinating places to see and experience. Lots of museums, a botanical garden, exceptional swimming facilities (a kid favorite), a skiing area, fantastic hiking trails, an excellent variety of restaurants, and much more!
2) Dettifoss waterfall
Dettifoss is one of the most powerful waterfalls in Europe. With its torrent of greyish meltwater flowing north from Europe's largest glacier, Vatnajökull, this magnificent waterfall is 100 meters (330 feet) wide with a drop of 45 meters (150 feet) into Jökulárgljúfur Canyon. It is a force of nature to see and hear.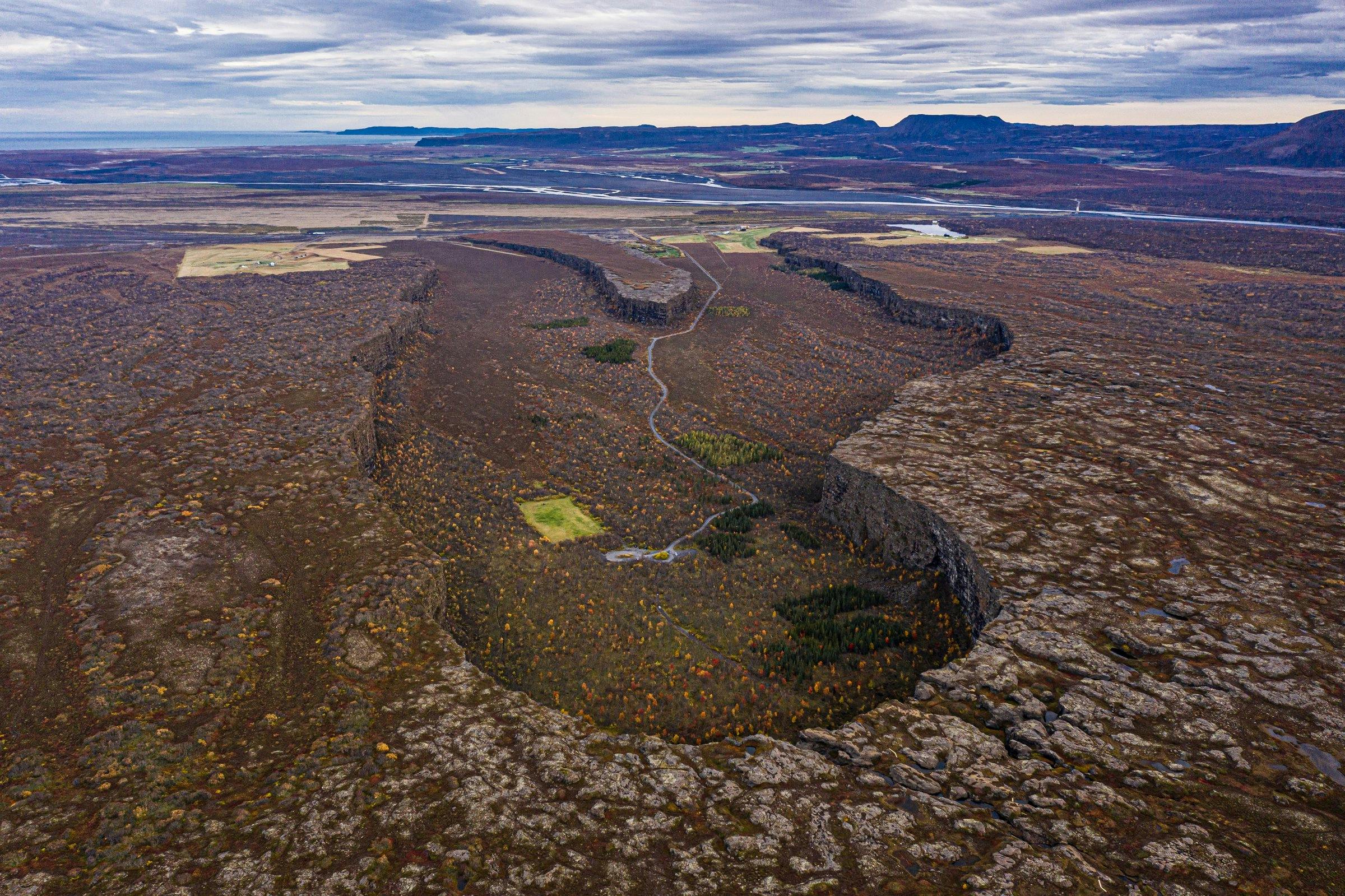 A bird's eye view of Ásbyrgi Canyon provides a sense of the scale of the glacial floods that created this canyon.
3) Ásbyrgi Canyon
The horseshoe-shaped Ásbyrgi Canyon is part of the Vatnajökull National Park and formed during catastrophic glacial flooding after the last Ice Age. The canyon's sheer walls are impressive. Legend state that the canyon was formed from the hoof of Sleipnir, Odin's eight‑legged flying horse from Norse mythology.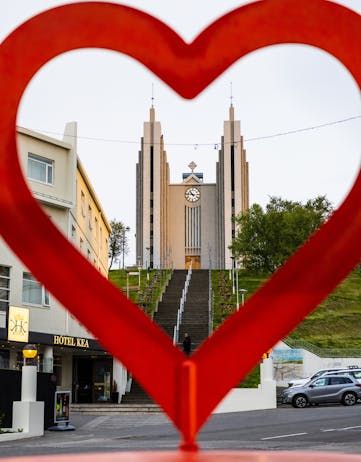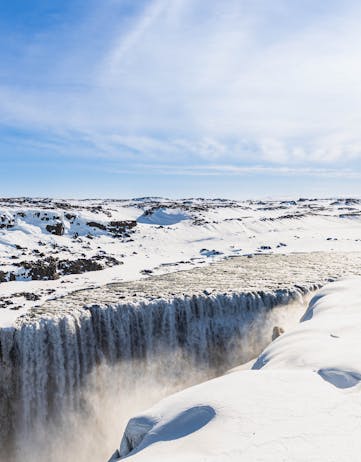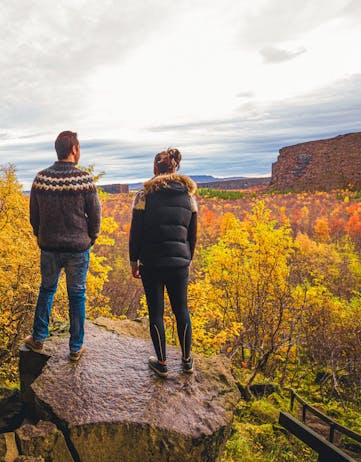 (L to R) Downtown Akureyri, Dettifoss waterfall, and Ásbyrgi Canyon in autumn. All photos courtesy of Visit North Iceland.
4) The Arctic Henge
The Arctic Henge is in Raufarhöfn, one of Iceland's most remote and northernmost villages along the Arctic Coast Way. Inspiration for this mystical landmark is from Norse Mythology and the Edda poem Völuspá (Prophecy of the Seeress).
5) Whale Watching
Whale‑watching excursions are available widely around North Iceland. During the summer, the rich waters become a veritable feeding frenzy for multiple species of large marine mammals. Visitors stand an excellent chance of observing these magnificent creatures in their natural habitat.
6) Hvítserkur
This majestic rock formation has a unique shape, making it a perfect spot to visit. The 15-meter (50 feet) high basalt monolith is part of the Vatnsnes Peninsula and is a well‑known seal‑watching location.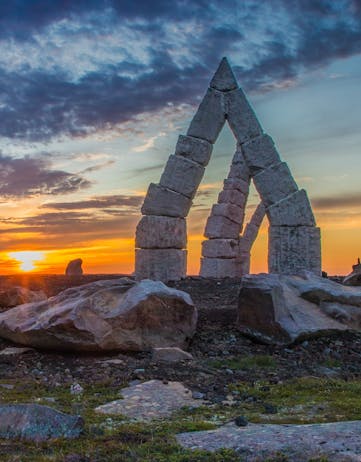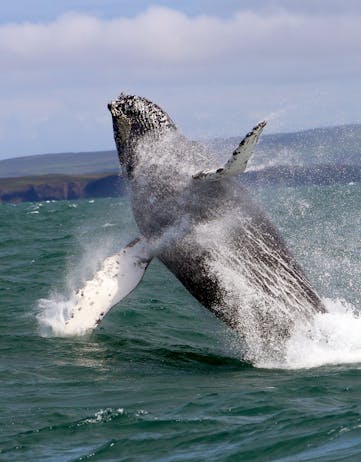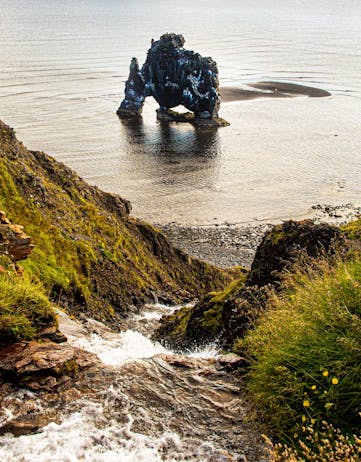 (L to R) The Arctic Henge in Raufarhöfn, Whale watching in North Iceland can be up close and personal, and the basalt monolith Hvítserkur on the Vatnsnes Peninsula. All photos courtesy of Visit North Iceland.
7) Kálfshamarsvík
Kálfshamarsvík is a small cove in the northern part of Skagi, with unusual, beautifully formed sea cliffs of columnar basalt formed approximately two million years ago.
8) Kolugljúfur
For a breathtaking walk, check out the viewing platform at Kolugljúfur Canyon and watch the river's calm waters suddenly leap and tumble down an impressive series of waterfalls – a sight that will leave no one unmoved.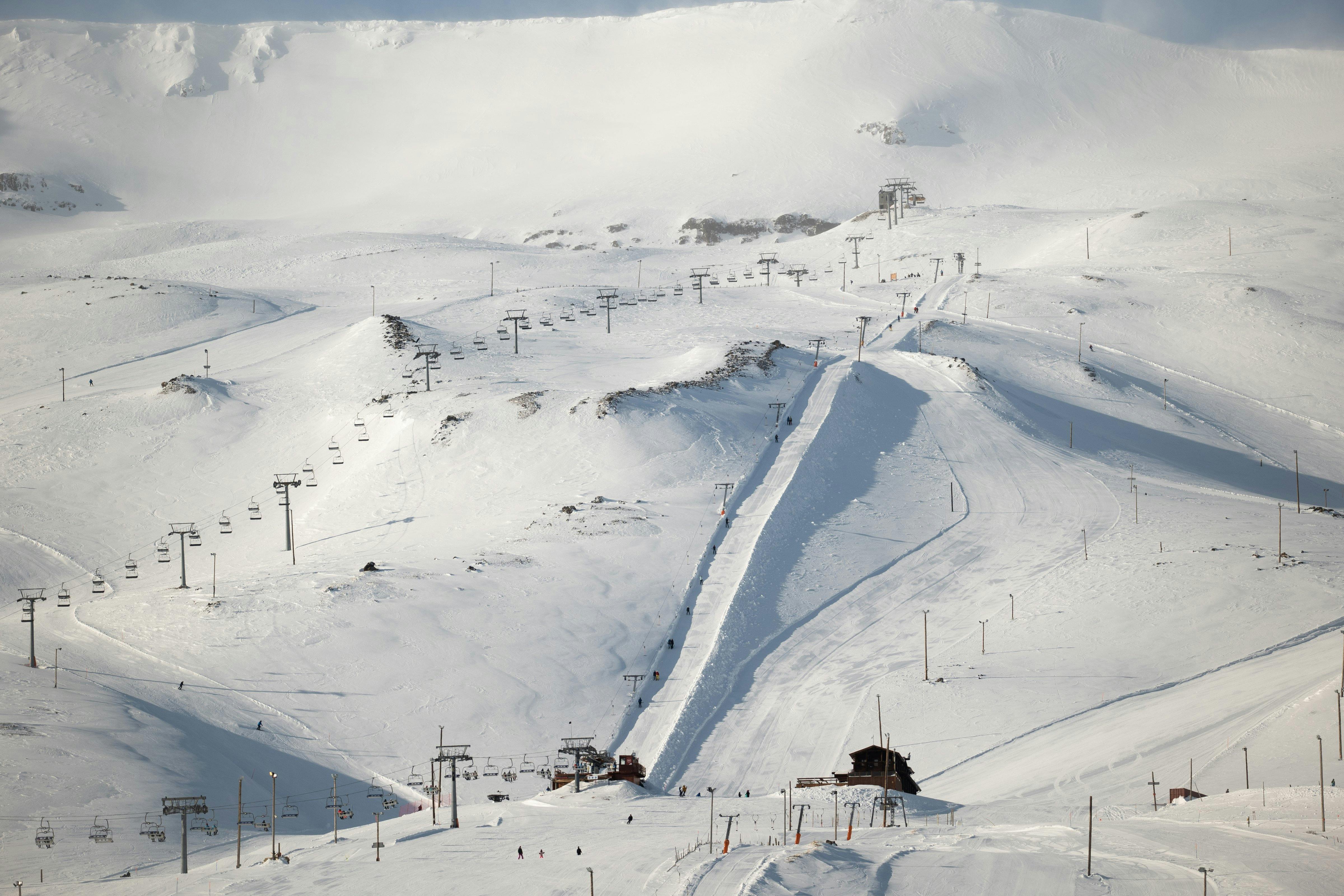 9) Ski Iceland
In North Iceland, there are seven family-friendly ski resorts open from November to May. The areas are well-lit for the seasonal darkness and often open in the evenings. There are ski and snowboard rentals and lessons for all levels. Love XC skiing? There are many popular areas for cross-country skiing across North Iceland.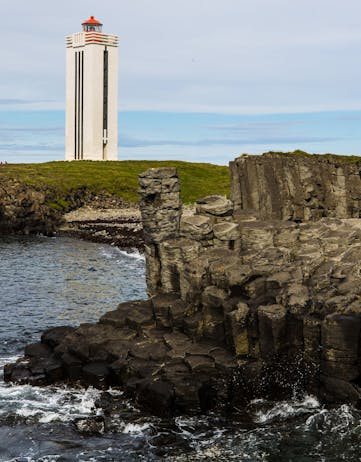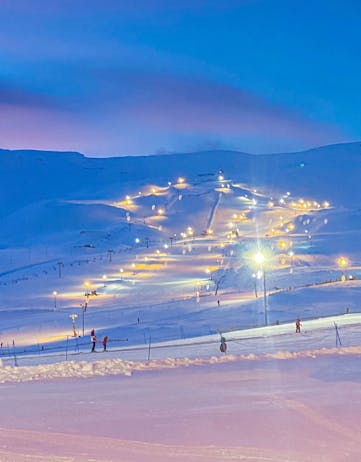 (L to R) Kálfshamarsvík lighthouse and columnar basalt formations, Kolugljúfur waterfalls in winter, and Hlíðarfjall ski area in Akureyri is the highest ski resort in Iceland. All photos courtesy of Visit North Iceland.
10) Plenty of bathing opportunities
Across North Iceland is a wide range of bathing experiences. Pick your bath: there are beer baths, warm seawater baths, and of course, plenty of geothermal baths surrounded by forests and lava fields. Get out and enjoy your soak!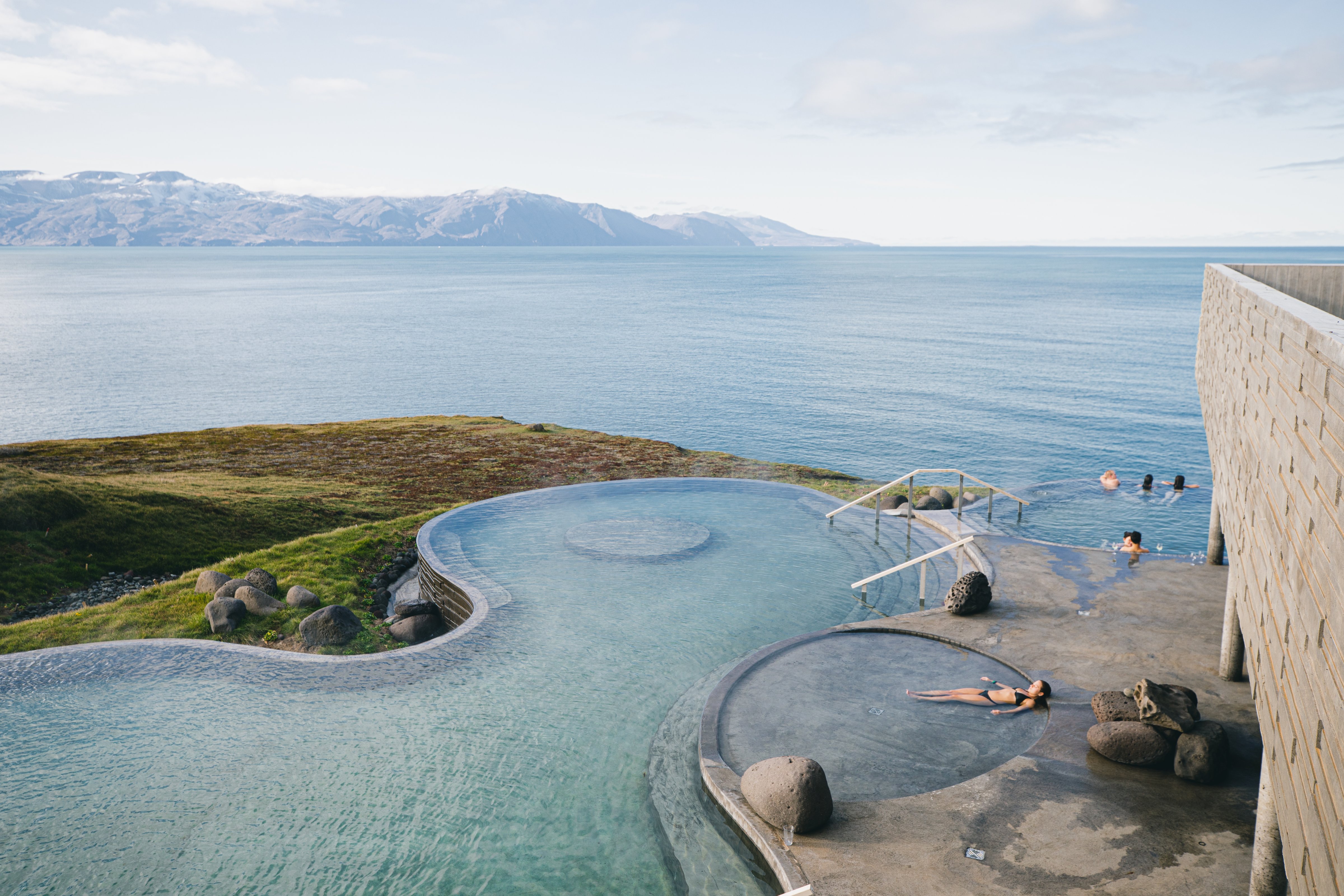 11) Northern Lights
Northern Lights are visible across North Iceland from late August to mid-April. Seeing the shimmering dance of colors across the sky is unforgettable, and we've done the math. The chances of seeing the Northern Lights in North Iceland are 66% during a three-night stay and 90% for a five-night stay. Take a chance on the Northern Lights. 
12) Museums
North Iceland is known for its rich history. Many museums and cultural centers across North Iceland have received well-deserved recognition domestically and abroad for their exhibits ranging from art, transportation, industry, fishing, fauna, and nature. There is something for all ages.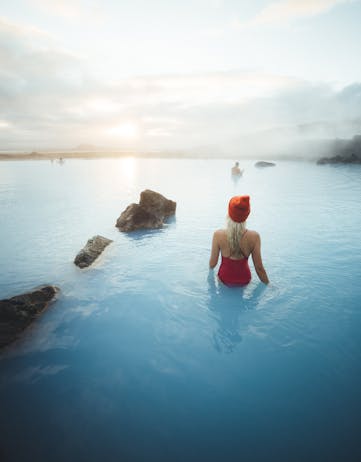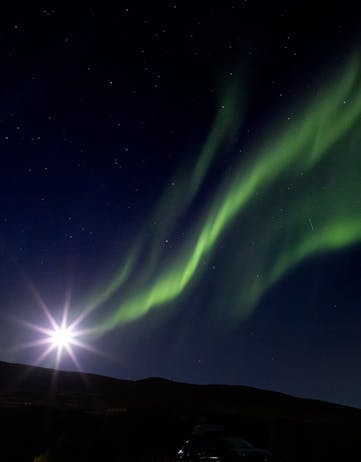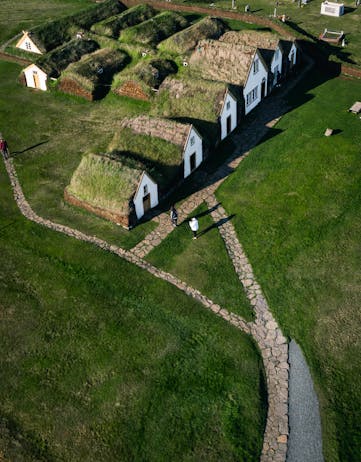 (L to R) The surreal blue waters of Mývatn Nature Baths in North Iceland, you stand a very good chance of seeing the Northern Lights in North Iceland during a 5-night stay and the historic Glaumbær Museum. All photos courtesy of Visit North Iceland.