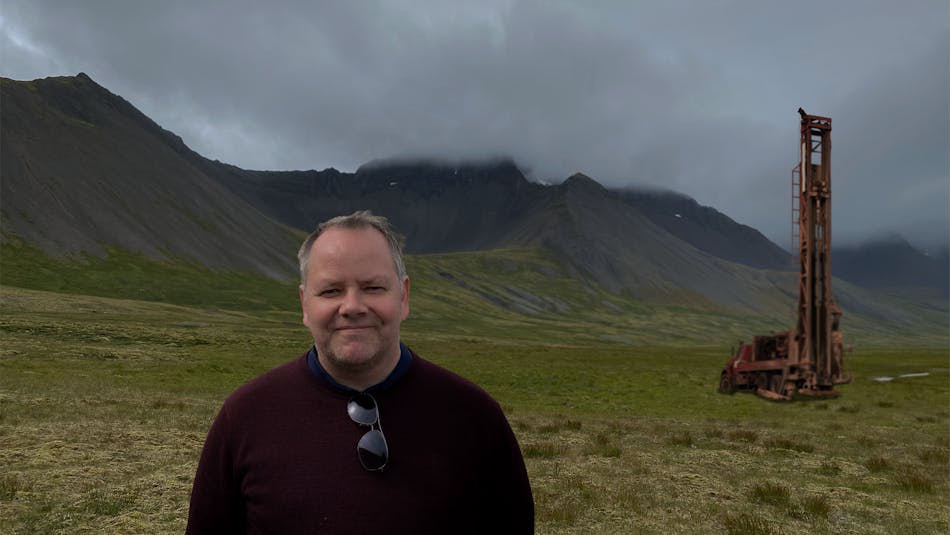 Volcano vacation destination
Heading east out of Reykjavík on Iceland's famed Ring Road presents a lot of stunning scenery. The landscape is practically treeless, and Iceland's geological past reads like an open book.
The flat-topped mountains of subglacial volcanic eruptions and cinder cones of more recent volcanic eruptions dot the landscape. The road cuts through layers and layers of lava laid down as recently as 1,000 years ago—a nanosecond in time in geological terms. In the distance, great billows of steam erupt out of the ground from the Hellisheidi Power Plant, the third-largest geothermal power in the world. Soon after the power plant, I turn right and head south to a farm called Orkabaer to meet an eccentric farmer and engineer named Sigfús Thor Jónson, who is drilling for lava. Yes, you read that right.  
The road indicating the farm is easy enough to find, but no farm is in sight! I pass a sheep fence, drive over the livestock gate, and follow the dirt road back towards the mountains for about a kilometer. The area is stunningly beautiful in early spring with the grass starting to green. The driveway skirts boiling mud pots and steamy water in great pools. Clearly, Sigfús lives in a geological hot zone.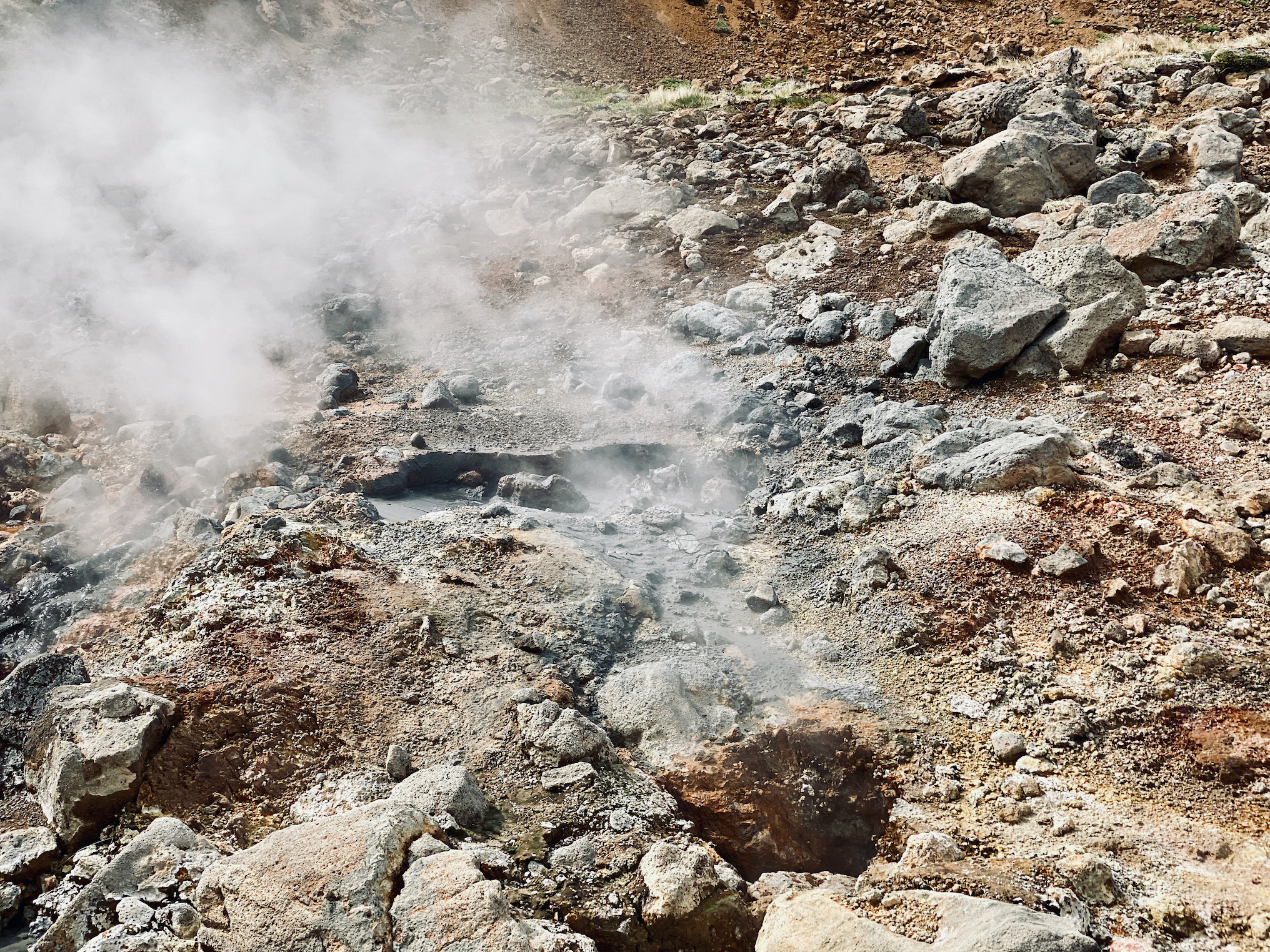 Watch the ground around Orkabar Farm
In the distance, I see a spread of buildings, a house and two barns, and a giant drilling rig that looks entirely out of place in this setting. When I get out of the car, an Icelandic sheepdog immediately comes at me full speed and barking loudly. After investigating me, the dog appears bored and silently disappears. Sigfús comes over in a bright green vest and greets me with a firm we-think-Covid-is-over handshake. Within minutes Sigfús, in thick rubber boots, begins to guide me across his property and tells me his strange saga. 
"You know, I have been around long enough to see a few volcanos here, but the Geldingadalir eruption last year on Reykjanes (Pennisula) amazed me. It really opened my mind. It was small enough to get close and feel the heat, but none of the ash nuisance that stops airplanes like we had in 2010."
Sigfús went on to add, "While watching the volcano and sipping on my kókómjólk (delicious Icelandic chocolate milk), I thought I could engineer my own fissure-style eruption. Difficult, yes. Impossible, no!" Having hiked to Geldingadalir several times myself, I nodded in complete agreement. It was a once-in-a-lifetime experience. Sigfús adds, "#1 The lithosphere is thin in Iceland and particularly on my property, and #2 The key is to drill deep as fast as possible and avoid groundwater—that is what causes the ash." I asked why the drill rig was silent today. He smirked and replied, "Union rules. The team is six days on, one off. Nothing I can do about that!" 
Sigfús' dream is to "induce" a micro eruption where periodic fountains of lava will jet out in a breathtaking natural display. He goes on in detail, "When I saw the people flocking to Geldingadalir last year, I got to thinking, 'How can I engineer this same experience at scale?' Naturally, it would be good for the area to funnel some tourists out of Reykjavík for economic development on my property. I mean, we are 50 minutes from those downtown design shops! Access is easy right off the Ring Road, and I will have plenty of parking—paid but with free restrooms. Maybe I'll even establish a Volcano Diner and sell designer puffin sweaters!" 
As we approach the towering rig, I can hear the hiss of gases, and the smell of rotten eggs hits me. A current of steaming water pours out from under the equipment's frame. I ask Sigfús where he got this rig, and he explains, "West Texas. It's not very old, and in mid-2021, you could get them cheap. I just had to change the drill bit to one that it will cut the "soft" basalt rocks here in Iceland. Here is where the civil engineering background comes in handy. Sigfús estimates that if he hits a decent-sized plume of lava and the borehole stays clear, it should deliver four cubic meters of lava per second (1050 gallons/sec). While this sounds like a lot, it is just a fraction of Geldingadalir's. According to Sigfús would take approximately 30 years before the lava left his property. "I might lose that sheep shed over there," he says, extending a finger. "But I have not used it since 2006, so I can live with that."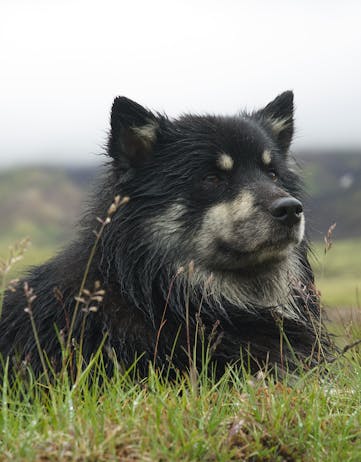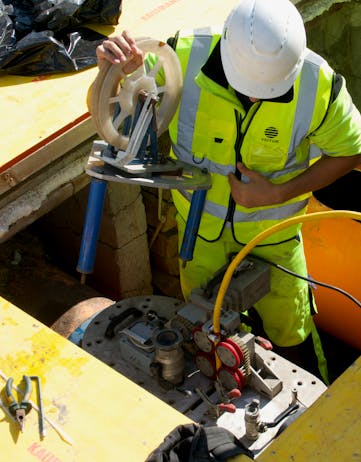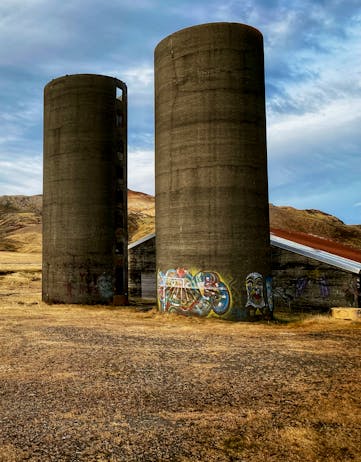 I asked Sigfús what the project's biggest challenge was, and he smiled and said, "Paperwork. Lots of paperwork! It took months for the environmental impact assessment. Then the drilling permit took just as long. I got approval on January 21st and started drilling on January 24th—my wife's birthday. Fortunately for me, no one in Iceland had drilled for lava before, so there was no permit process for that. I feel bad for the next guy, though!" 
When I ask about how much a project like this costs, Sigfús, for the first time, is not as open. He readily shares that it is "crazy" expensive, and none of it would have happened without help. There was some support from a regional grant and the European Funding Scheme called "Ambition, Innovation, Stimulation, Motivation, and Sustainability Horizon 2030" but it hardly scratched the surface. Sigfús will only add that outside investors were eager to get in on the project when they saw his business plan and the projected returns on investment. He will say that investors are from the US, China, and bewilderingly one investor "whale" from Newfoundland, Canada. Rumors spread fast in Iceland, and I asked him if there was any truth behind the one that Don Trump Jr. heard the investment pitch. Sigfús shakes his head and gives me that sly smile, making me think he has an ace up his sleeve. 
As we walked the 30 minutes back to my car, I asked Sigfús when I should come back for the show. "According to my estimates, and our brilliant geologist—my cousin Vigfús—we should see lava by late summer or early autumn 2022. "Of course, you never know with mother nature. But next time you come back, the rig will be covered in lava, and you will see quite a show!" He laughs heartily and even promises me a free meal in the Volcano Diner when I come back. "What about a sweater?" I ask him. "Don't push your luck," Sigfús says. For more information, see: