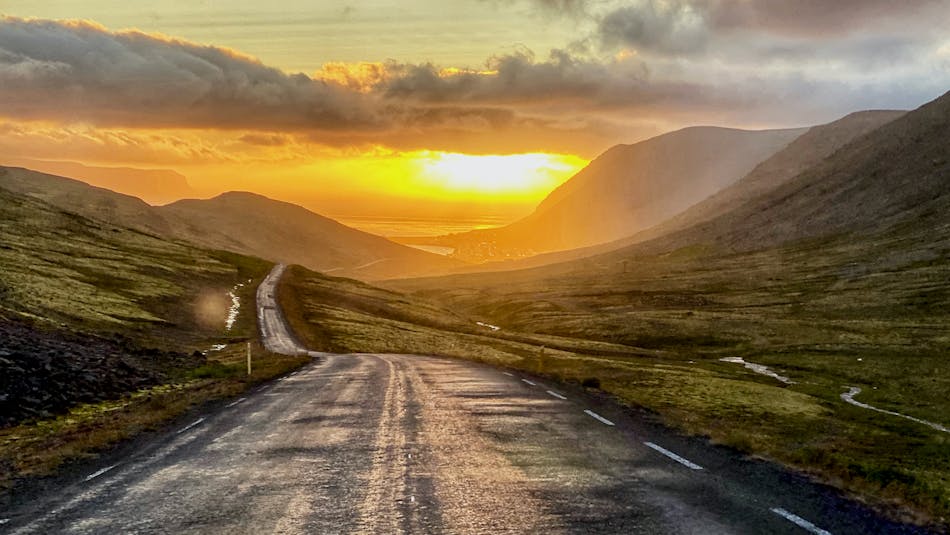 For first-time travelers to the furthest reaches of the northern hemisphere during the summer, the lack of a proper sunset is both amazing and disorienting.
I have been lucky enough to spend time in places close to the Arctic Circle and lived in Iceland long enough not to notice much anymore. However, mowing my lawn at 10 PM is nice when I fall behind on my chores. Still, I have spoken with many visitors who cannot quite grasp the fact that the sun only dips below the horizon after midnight and that there is still plenty of light to go for a hike, paint the house, or even play golf, as many Icelanders do this time of year. 
Those living in the far north try to embrace the light and make the most of it. Soon enough, the inverse will be true. The equinox in Iceland—when day and night are equal lengths—happens on March 20th. After that, the earth's tilt favors the north, and the days grow longer by about six minutes and 40 seconds a day until the longest day—the summer solstice—on June 21st. The all-night chirping of aroused birds and the lowering of blackout shades all signal the arrival of the midnight sun in Iceland. During the summer months, curfews are extended, and children play late into the evening. My children will complain that it is too early to go to bed with plenty of light at 10:00 PM. (They never seem to ask to go to bed early during winter, though) 
For those traveling to Iceland, the midnight sun is a captivating time to explore places that would otherwise be off-limits. Waterfalls, scenic routes, hikes, and hot springs after dinner? Why not! As the sun dips lower in the sky, the low-angle light will give the landscapes a stunning glow. There is a reason photographers and filmmakers flock to Iceland. The magic "hour" of light in more southerly locations turns into magic "hours" up north. (Not to exclude any latitude, but of course, the same is true close to the Antarctic Circle in December). Reykjavík's downtown restaurant and bar scene can be lively all year. However, it is surreal for observers to see migration home at the 3 AM closing time and patrons stumbling under the rising sun.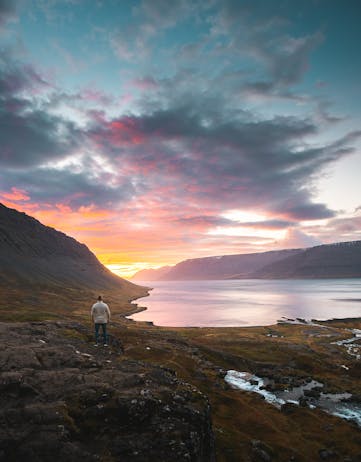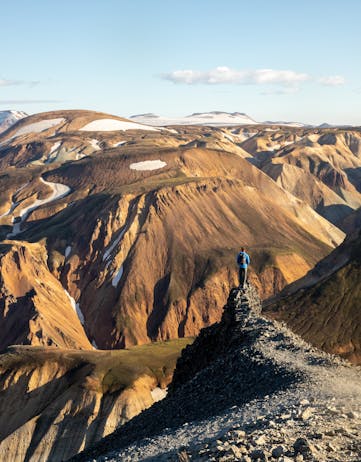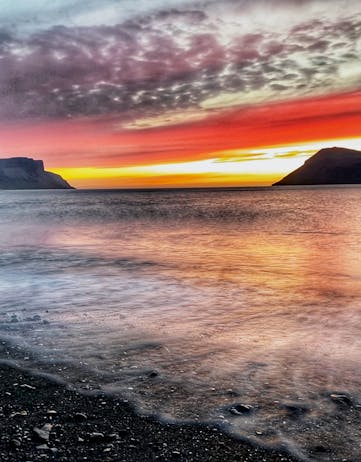 Photos (L to R) Arnarfjordur sunset by Garðar Ólafs, Landmannalaugur evening hike by Gunnar Freyr, Þingeyri sunset at 10:33 PM by Parker O'Halloran.
On June 24th, Scandinavian churches celebrate "Jónsmessa," or the birth of John the Baptist, perhaps better known as Midsummer Night. Folkloric traditions and festivals are rich on this day—and night. Rolling naked in the dew-covered grass on Midsummer Night is considered exceptionally healthy in Iceland. Animals are not exempt from the power of Midsummer Night either. Cows supposedly gain the power of speech, and seals become human for the day. Girls brave enough to know who they will marry should pick flowers, put them under their pillow, and dream of their future partner on this night. The Icelandic tradition of sitting at a crossroads where all four roads lead to separate churches on a Midsummer's Night is less far-fetched. If you wait at the intersection long enough, elves will seduce you with food and gifts. Good luck refusing the elves.
While it is no coincidence that Iceland is often most busy during the summer months, it is a fantastic time to explore further afield and take advantage of the midnight sun. Many tour companies offer "midnight sun" excursions such as whale watching, hiking tours, midnight soaking, and even Golden Circle tours. Even though your body clock might tell you to go to bed, there is much to see after hours. Trust me. You will enjoy seeing Iceland in a new light.