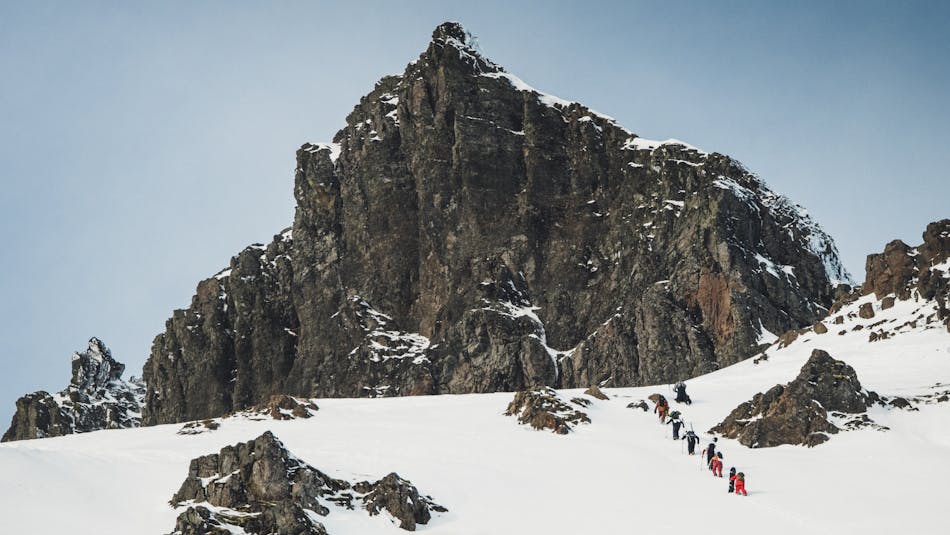 Austurland Freeride Festival 2023
If you looking for an opportunity to see Iceland by ski or board, look no further than the Austurland Freeride Festival!
While you will not hear yodeling and the thump of aprés-ski huts throughout the mountains, you will find demanding terrain, spectacular views, and crowd-free mountains. The Austurland Freeride Festival is an annual backcountry skiing and snowboarding event in Eskifjörður, East Iceland. Many of the events will start at the local Oddskarð ski area. Local mountain guides, ski/snowboard pros, and enthusiasts created the festival in 2020.
The schedule for 2023 is starting a bit earlier than previous to accommodate two unique guided 3-day tours.
First, there is a tour to Vöðlavík with Rúnar Pétur, where skiers/boarders will go from the top lift of Oddsskarð ski area and skin to Vöðlavík, where they will stay for two nights exploring the region and finding lines in the surrounding mountains. The tour ends with skiing from the top lift of Oddskarð down to Randulffs-sjóhús in Eskifjörður.
Second, there will be a tour guided by Skúli Júlíusson and Óskar Wild Ingólfsson that starts with a drive to Borgarfjörður eystri. From there, skiers/boarders will go to Loðmundarfjörður, where they will stay for one night. From Loðmundarfjörður, we tour towards Seyðisfjörður and stay there for one night. On the last day, the group will drive up to Fjarðarheiði pass from Seyðisfjörður. From there, the group will skin across Gagnheiði (high plateau) and ski down to Mjóifjörður. Next, the group will travel across Mjóarfjarðarheiði and Fönn to Eskifjörður.
Both of these tours start on March 1 and end on March 3. To participate, you must register with Sævar at Mjoeyri tel. +354 698 6980 or mjoeyri@mjoeyri.is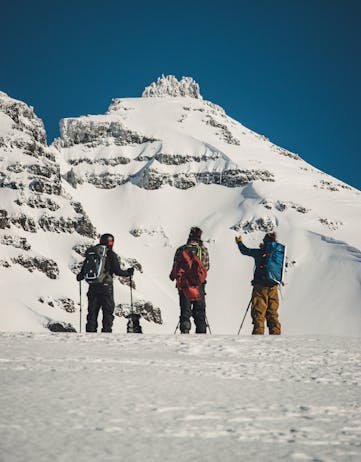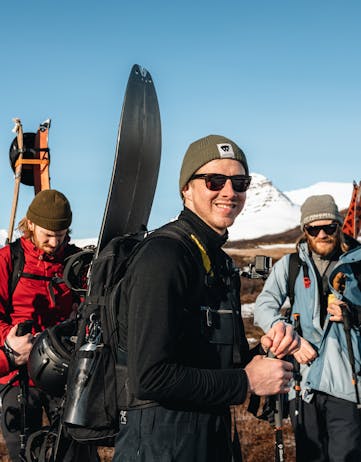 (L to R) So much terrain and so little time. Photos: Mirto Diego. Splitboarders get ready to climb. Photo: Þráinn kolbeins.
Not ready to take on a three-day tour? No worries. There will also be a general program full of fun activities throughout the weekend, with various events taking place, such as the ski cinema in Valhöll showing "Seeking Asgard," Aprés-Ski (Kvöldvaka) at Randulffssjóhús, and a party with FM Belfast.
Experienced mountain guides Jón Gauti from Fjallaskóli and Sævar Guðjónsson from Mjóeyri will be available to help people with choosing routes based on Iceland's variable snow and weather conditions. Seasoned mountain guides Skúli Júlíusson and Rúnar Pétur Hjörleifsson will handle backcountry ski and snowboard trips.
Fjallakofinn outdoor store, Icelandic experimental creative alliance Advanced Shelter, and Wildness will be demoing their ski and snowboard gear and new apparel all day at Oddsskarð ski area on Saturday and at the aprés ski event in the evening at Randulffssjóhús.
Everyone is welcome at all events, but it is necessary to register for all trips.
Naturally, backcountry skiing and snowboarding are inherently dangerous—participants in the festival do so at their own risk.