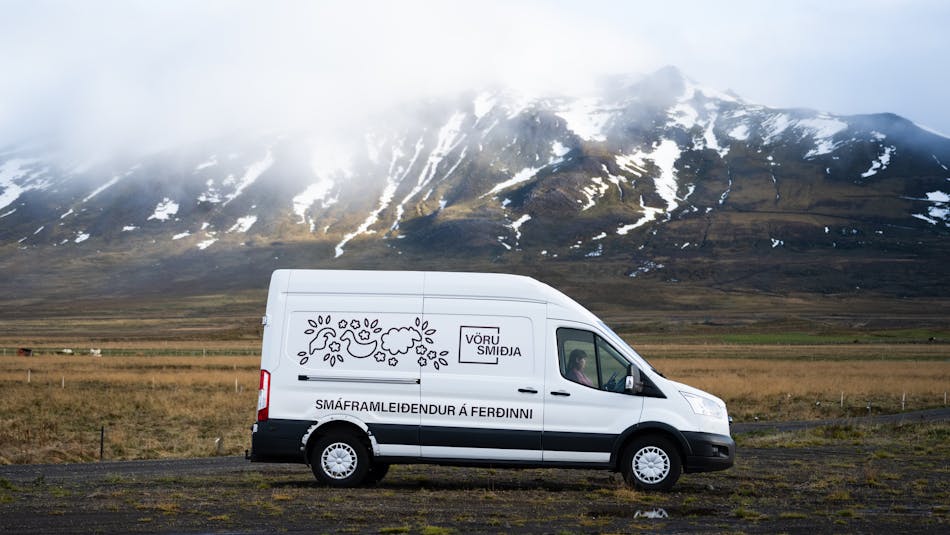 Vörusmiðja: Playing with Food 
Creativity is rife in the windblown fishing village of Skagaströnd. It's home to NES Artist Residency and Vörusmiðja, which offer food workshops and certified product development and production facilities. Vörusmiðja's food truck helps small-scale producers reach customers over a large area of Iceland.
People are busy cutting steaks and grinding meat as the photographer, and I enter Vörusmiðja. The food workshop and production space are in a defunct freezing plant in Skagaströnd, a 500-person fishing village in Northwest Iceland. Farmers, chefs, and other meat enthusiasts are about to finish their course in deboning sheep, led by professional meat processor Páll Friðriksson. 
Founded in 2017, Vörusmiðja is run by master chef Þórhildur María Jónsdóttir, or Tóta, as she's called. "We realized the need for education in deboning, sausage making, curing, smoking, and other food processing, and we now offer 18 courses a year. We teach the basics on which attendees can build." 
In addition to attending courses, small-scale producers can rent certified facilities for product development and production. "It's a place where people can experiment, develop, and manufacture their products without investing in their own equipment," explains Tóta. 
"It's amazing to observe how far we've come in five years. In the first year, the producers weighed everything and wrote tags by hand. Now we have a printer so that they can print their own labels. In the beginning, no one sold their products in stores, but now they all have barcodes. These steps are revolutionary for small-scale producers." 
Tóta is also amazed at the tremendous variety of products, including a range of jams and jellies, meat products, cheeses, fish, vegetables, berries, cakes, and food supplements. "We've opened an online store. We sold Christmas packages for the first time in 2020. Instead of baskets, we used freezer bags and filled them with all sorts of goodies, offering packages in different price ranges." 
Tóta adds that the best thing about Vörusmiðja is the sense of community and collaboration created in the process. "It's a forum where you can discuss your ideas with others in the same situation." She stresses that her role at Vörusmiðja is to guide small-scale producers and assist with licenses and such but emphasizes that "The ideas are always theirs!"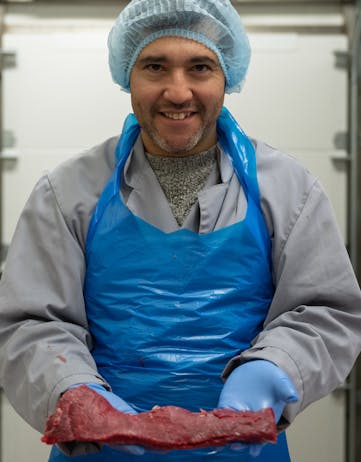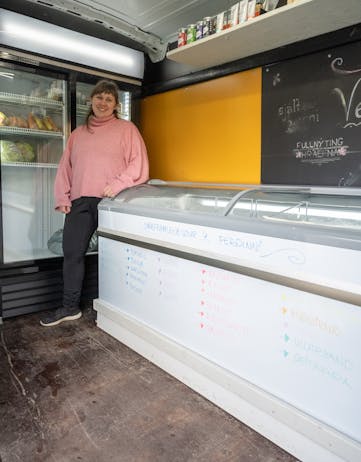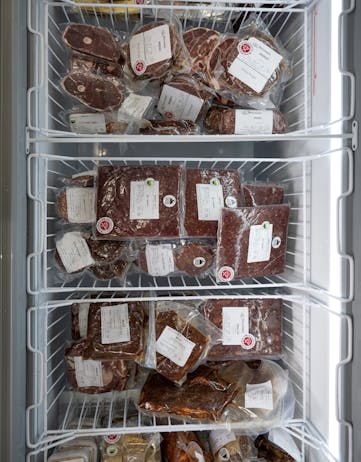 (L to R) Vörusmiðja courses train aspiring butchers, "Abba" Guðjónsdóttir inside the Vörusmiðja food truck, and the freezer section of the Vörusmiðja food truck is full of goods from local producers. All images: Joe Shutter
Deli on Wheels
Tóta's sister, Auðbjörg Ósk Guðjónsdóttir (Abba for short), drives the white Vörusmiðja food truck. It's a deli on wheels that carries the goods of 20-30 small-scale regional producers—and further afield. "There are up to 200 different products onboard, including jams, vegetables, fish, meat, and swedes (rutabagas) from a 90-year-old farmer," Abba adds, that until recently, he used to drive around the region himself, delivering his five kilo (11 lbs.) bags of swedes. 
The deli van is an example of resourcefulness born during the pandemic. "We applied for a grant, and the prerequisite was that the project would create jobs and benefit the community," explains Tóta. "It could have gone both ways, but it turned out to be a complete success. People like having the goods brought to them because they find it difficult to locate all the small-scale producers on their own." 
Due to restrictions during the pandemic, many producers could not sell their goods elsewhere. Abba meets the producers at specific locations to pick up their goods and then drives around the countryside from late May through the end of August, stopping at places advertised on Vörusmiðja's website. People buy whatever they fancy on-site, or they can order specific products on Vörusmiðja's website and pick up their goods when the van arrives. 
The truck connects farmers and residents in Northwest Iceland and beyond, reaching some sparsely populated areas where grocery shopping can sometimes be a logistical challenge. In addition to helping small-scale producers sell their products and supporting the local economy, the truck catches the attention of travelers. Tóta states, "The truck has created an image and sense of awareness that exceeds the monetary value."