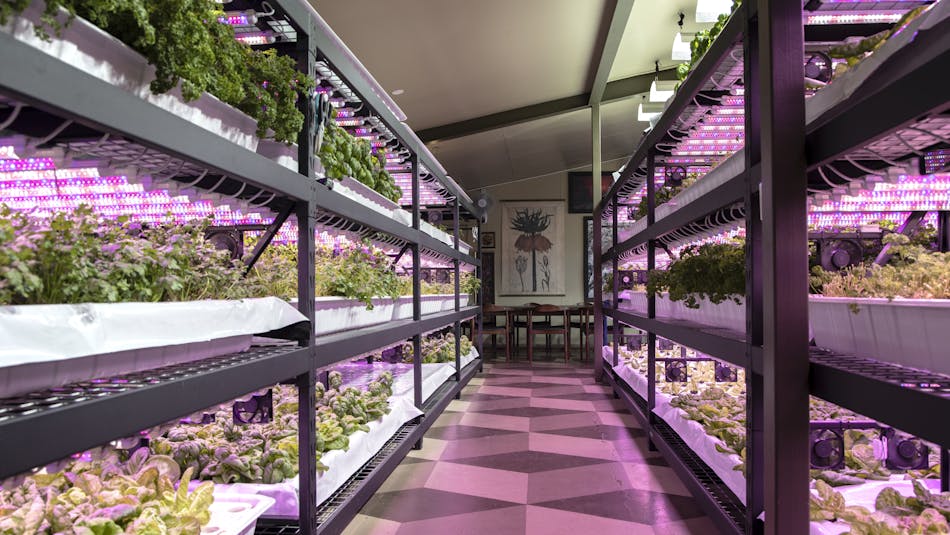 It's autumn in Akureyri. The foliage on the forested hill behind Hótel Akureyri creates a copper-golden backdrop for the stately black-and-white building in the oldest part of town. The seasonal harvest is over, and soon enough, winter will arrive.
Yet eternal summer is imminent at this hotel in the high north. Workers are busy setting up Akureyri's first high-tech greenhouse inside a most unusual place—the hotel's old laundry room, which was a box factory before that. Giacomo Montanelli from Italy is fixing old freezing pans sourced from a fish factory in the East Fjords with tubes. These pans will be placed in racks on many levels and filled with water in which various herbs, sprouts, and leafy greens will grow.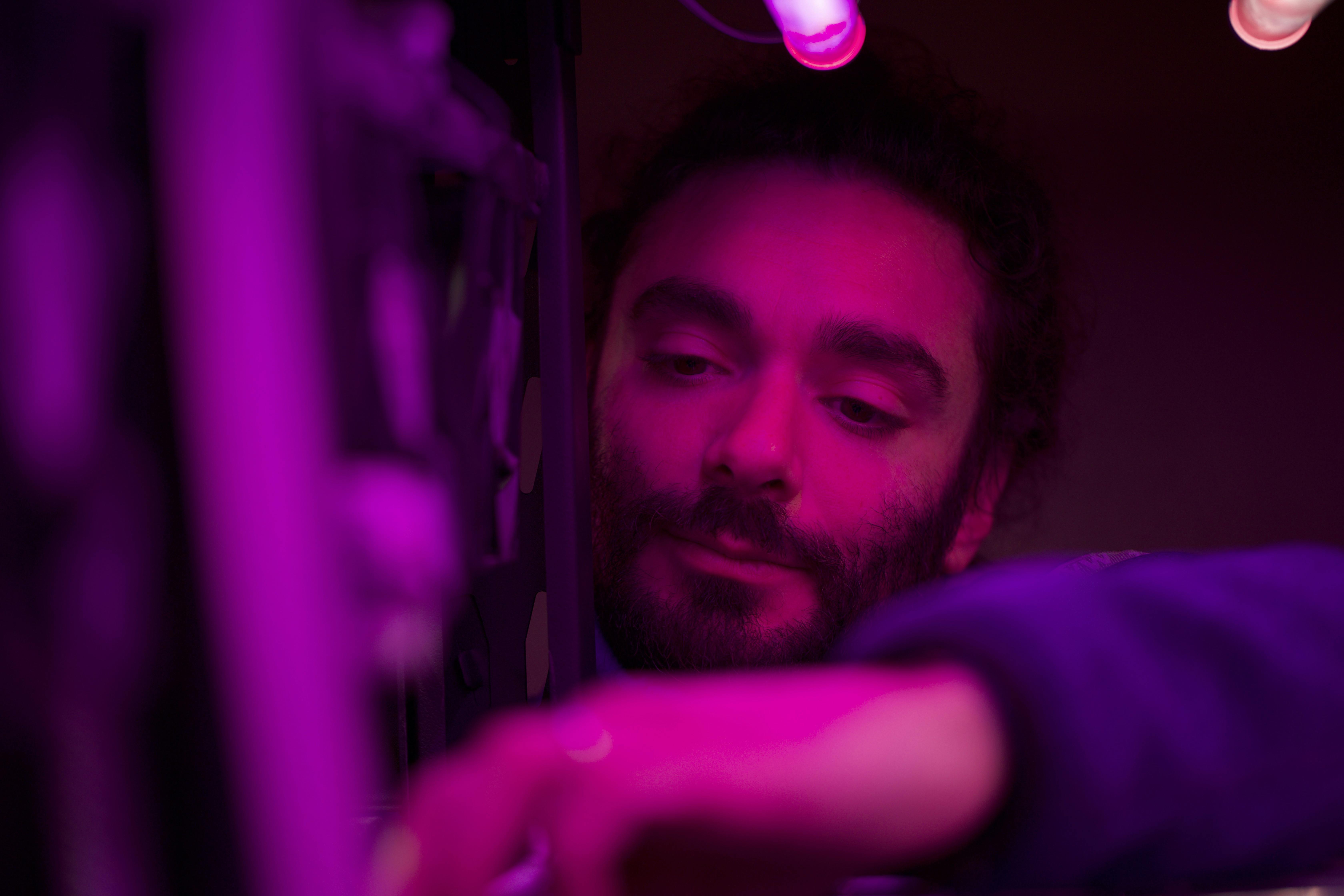 Giacomo Montanelli of Urban Farms Akureyi. Photo: Urban Farms Akureyri
Entrepreneurial Aspirations 
Daníel Smárason is the entrepreneur behind Urban Farm Akureyri. He runs Hótel Akureyri with his family. After buying the hotel in 2012, day-to-day operations kept them busy, and the pandemic came as a bit of a breather. "It gave us time to pause and think: 'How can we make this a better hotel? What is our specialty?' And we came up with this combination of hotel and greenhouse farming. We want to tell our guests the sustainability story and serve them food grown using renewable energy—in a country where the entire cycle is environmentally friendly." 
After receiving a grant for developing entrepreneurial solutions in agriculture, Daníel sought advice online, leading him to entrepreneurs and vertical farming specialists worldwide, including Israel, the United States, and The Netherlands. 
"It will be a fully automated farm," Daníel excitedly says. There is no soil to be found at Urban Farm Akureyri. Instead, they are implementing a hydroponic system where water is continuously circulated. The plants float in water, and fans keep the water moving to prevent mold growth. The electricity for lighting and power is from sustainable hydropower.
"The air comes from the hotel—so even the carbon dioxide exhaled by hotel guests does not go to waste—and heating is from the geothermal water first used to heat the hotel. After heating the greenhouse, it is used for deicing (radiant heating) the streets outside. Eventually, it will heat a bench where people can sit and relax year-round." 
Farm-Fresh Produce 
When I caught up with Daníel a year later, in October 2022, he explained Urban Farm Akureyri's first harvest was a few months behind schedule. The greenhouse was officially up and running in March 2022, rather than in late 2021, as initially planned, but it is everything Daníel had hoped for. "The system works perfectly. The computer that controls the greenhouse is functioning better than expected, and the produce quality is amazing. We use no pesticides, pure water, and optimal lighting conditions to control the growth. It's so potent—the oregano has such a strong flavor that your mouth stings. We also grow the world's hottest pepper, Carolina Reaper, which is hardly fit for human consumption, but it's cool to grow it here, in the far north."
They are keen to grow plants not common in the local supermarkets, like lemon-mint, Thai basil, and chilis, and in the second stage, they plan to grow oyster mushrooms. "Giacomo has been brilliant at finding new and interesting plants for us to grow," says Daníel. Inside the greenhouse, there will be facilities for meetings and farm visits. "Part of the experience of having meetings in the high north will be the quirkiness of cutting mint for your tea that was grown right here."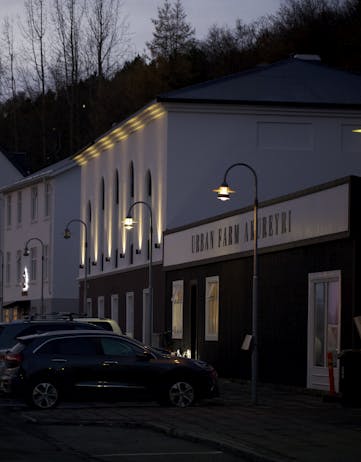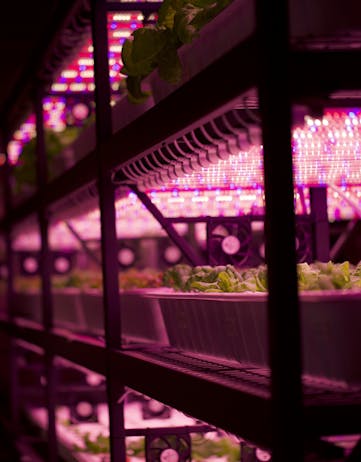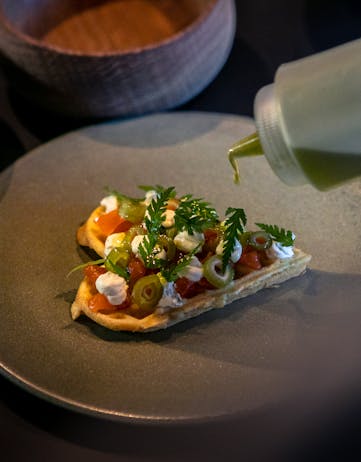 They also sell products made from the herbs grown in the greenhouse in the hotel's store. "We started to sell pesto and sauces that we had made but soon found out we couldn't produce enough to stock the lobby store consistently. So, we turned our gaze towards the rural regions around Akureyri and discovered various goods from farmers and small-scale producers that we could sell, from rhubarb grown by a retired kindergarten teacher to cheeses made at a farm in Fljót in Skagafjörður. Then we started to order goods made all over the country: Honey, sauces, syrup, sodas, and all kinds of delicacies. Therefore—rather unexpectedly—our little hotel shop doubles as a farmers' market." Daníel states that the store has proven a success. Guests are interested in the products, which add another layer to the sustainability story on which their whole concept is based.
"Half of the proceeds go towards offsetting carbon. Our goal is that at least half of the proceeds from the greenhouse will go to green projects or charity."
Another of the Urban Farm's objectives was to provide townspeople with fresh produce by subscription. "Quite a few individuals have signed up and receive weekly paper bags filled with greens," says Daníel. In keeping with the sustainability ethos, all products are delivered by electric car. 
Michelin-Star Chef Comes Knocking 
The Urban Farm also led to an unexpected connection. "Gunnar Karl Gíslason arrived and took over the hotel's restaurant, taking it to a level we would never have reached on our own," says Daníel. "The chef in question is one of Iceland's most celebrated gastronomes, a champion of New Nordic Cuisine, and founder of DILL, Iceland's first Michelin-star restaurant. NORTH at Hotel Akureyri is DILL's sister restaurant. 
"When he called me up with this suggestion, I thought it was a prank call!" admits Daníel. NORTH opened in mid-summer. The name references Gunnar's first book, the Nordic culinary tradition, and North Iceland, where Gunnar hails. The ingredients come from the North Iceland countryside and—naturally—the hotel's greenhouse. "It's a tiny restaurant, seating about 20. It was completely refitted to reference DILL. It looks great. The atmosphere is cozy and relaxed," describes Daníel. "The master chef himself comes and pours broth from my grandmother's gravy boat over a slow-cooked beef shoulder, which he's been working on for a week. The food is out of this world! This is a new dimension to cooking, which I never knew existed," he raves. 
The restaurant focuses on seasonal produce and designs the menu according to the qualities of each ingredient at each given time. "Like when the potatoes are new, they're good for certain dishes, and then when they're older and starchier, they can be used for something else," he explains. Daníel adds, tongue-in-cheek, "Although we're cheating a bit by having a greenhouse—we can enjoy fresh tomatoes in winter." The addition of a high-tech greenhouse adds to the appeal of the restaurant and the classic hotel setting. Daniel proudly adds, "The most interesting part is that this is where the old and new meet: An old-fashioned Icelandic dinner party and a 21st-century greenhouse."