'Tis the season to peep through your neighbors' windows, lick the food scraps from their pots and pans, and gorge yourself on sausages.
On second thought, maybe leave such escapades to the Yule Lads. Here is some of the quirky lore and tasty tradition that makes Christmas in Iceland so special.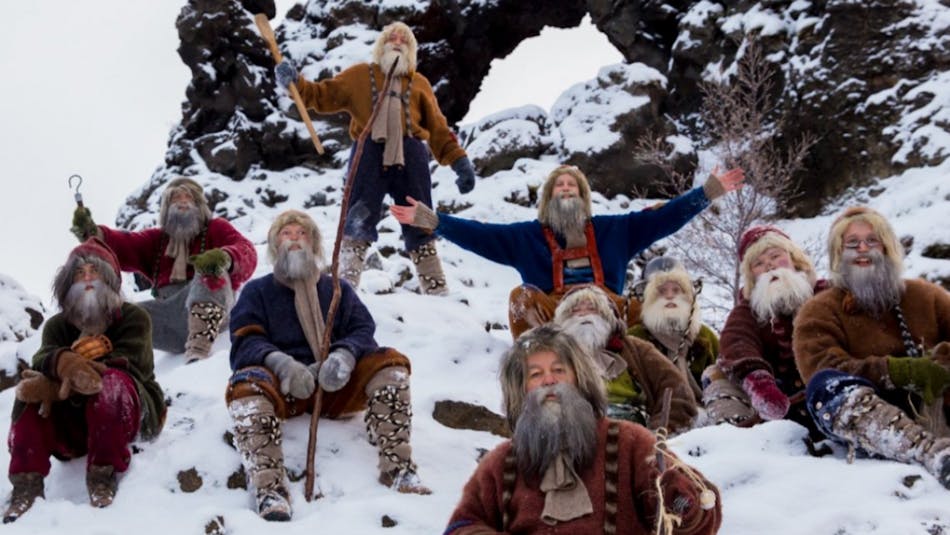 13 MISCHIEVOUS BROTHERS
For the uninitiated, Icelandic Christmas tradition eschews the more internationally-known Santa Claus or Father Christmas in favor of a rag-tag bunch of mischievous brothers, who wander into town one after the other on the 13 nights leading up to December 24. 
There's Stekkjastaur (Sheep-Cote-Clod), who is equipped with two wooden legs and has a penchant for harassing sheep; Hurðaskellir (Door-Slammer), who will startle you from your slumber by — you guessed it — slamming your doors; Gluggagægir (Window-Peeper), who has somehow managed to become a beloved holiday figure despite being a serial peeping tom; and Gáttaþefur (Doorway-Sniffer), who puts his distinguished nose to work in search of delicious laufabrauð; plus nine other scamps who will lick the scraps off your bowls, pans and spoons, and steal your meat and candles.
But the Yule Lads aren't all about playing pranks and licking crockery, they also leave little gifts in the shoes of Icelandic children. Every night, from December 11 to 23, children place a shoe in their window, and if they've been good, they'll wake up to a present. Naughty children, meanwhile, may find a potato instead.
GRÝLA & THE CHRISTMAS CAT
While the Yule Lads' pranks are (mostly) harmless fun, their mother and pet cat are where Icelandic Christmas tradition gets dark.
The mother of the Yule Lads is Grýla, an angry ogress with an appetite for naughty children. The story goes that she can suss out which children have misbehaved throughout the year, and descends from her home in the mountains each Christmas to snatch them up to add to her stew. So terrifying is the thought of Grýla to younger Icelandic children that play schools have changed the narrative in recent years to tell worried kids that the Yule Lads' mother now only eats fish.
Even if Grýla has become a pescatarian, Icelandic children still have her ravenous pet cat to fear. Jólaköttinn (the Christmas Cat) doesn't have a taste for naughty children, rather it will devour any child who doesn't receive new clothing for Christmas. If you were hoping for a new Playstation under the Christmas tree and find a pair of socks instead, be grateful; you could have been cat food.
ÞORLÁKSMESSA
If you find yourself in Iceland for the holidays, you may notice some Icelanders have hung their jackets outside with the Christmas decorations. In actuality, if you spy people airing out their jackets (or entire homes) around December 23, they were likely celebrating Þorláksmessa. 
The feast day of Saint Þorlákur, Iceland's patron saint, falls just before Christmas and to celebrate, Icelanders gather to indulge in a traditional meal of kæst skata — that's fermented skate and it is pungent stuff. 
The aroma will waft out of homes and restaurants throughout the country in the days leading up to the 23rd and those who have spent any amount of time in close quarters with the ammonia-scented delicacy will surely be running their washing machine or dashing out to the dry cleaners afterwards — or hanging their clothing out with the Christmas lights — lest they're followed by an aromatic reminder of their Þorláksmessa feast through to the new year.
But Þorláksmessa isn't just another excuse for Icelanders to eat putrefied or fermented foods
But Þorláksmessa isn't just another excuse for Icelanders to eat putrefied or fermented foods, it's also the final day of preparation for Christmas. In Reykjavík, shops will be open late and Icelanders will wander up and down Laugavegur and Skólavörðustígur, buying last-minute presents, offering yuletide greetings to one another and enjoying the holiday cheer.
THE BIG DAY
Christmas Eve is the main event for Icelanders, or, more specifically, December 24 at 6 p.m. sharp. That's when Icelanders are expected to be dressed up in their holiday garb and gathered with their family for Christmas dinner. 
On the menu in the vast majority of Icelandic homes is hangikjöt, a smoked leg of lamb, mutton or horse. More often than not, the roast will be accompanied by rauðkál (pickled red cabbage), Ora peas (a specific brand of canned peas that's near and dear to Icelanders' hearts), potatoes and béchamel sauce. 
Icelandic families will enjoy their meal, exchange presents to celebrate the season and perhaps even dance around the Christmas tree — with particular vigour if they were gifted new clothes and avoided the maw of the Christmas Cat for another year.
Gleðileg jól!