Outside an unassuming barn in the scenic rural region of Fljót in North Iceland – between the tall mountains of Tröllaskagi and the wide and blue Skagafjörður fjord – a group of curious goats demands our attention. They're waiting to be milked. This is Brúnastaðir, a guesthouse, petting zoo, and dairy farm. 
 Donning hair nets, white protective robes, and shoe covers, the photographer and I enter the farm's tiny cheesery. In a large pot, goat milk has transformed into curds. They swirl about in a hypnotizing fashion as they're stirred by master cheesemaker Guðni Hannes Guðmundsson. Then he drains the whey, collects the curds, places them in a mold, and presses them. "This is Brúnó," he says, explaining, "It's the original cheese which I named after Brúnastaðir. When fully matured, it tastes a bit like parmesan." Brún also means "brown." The cheese has a slightly brownish tinge, for it is bathed in beer from Segull 67 microbrewery in Siglufjörður, 30 km (19 miles) to the north. The goats also enthusiastically eat the brewery's spent grains.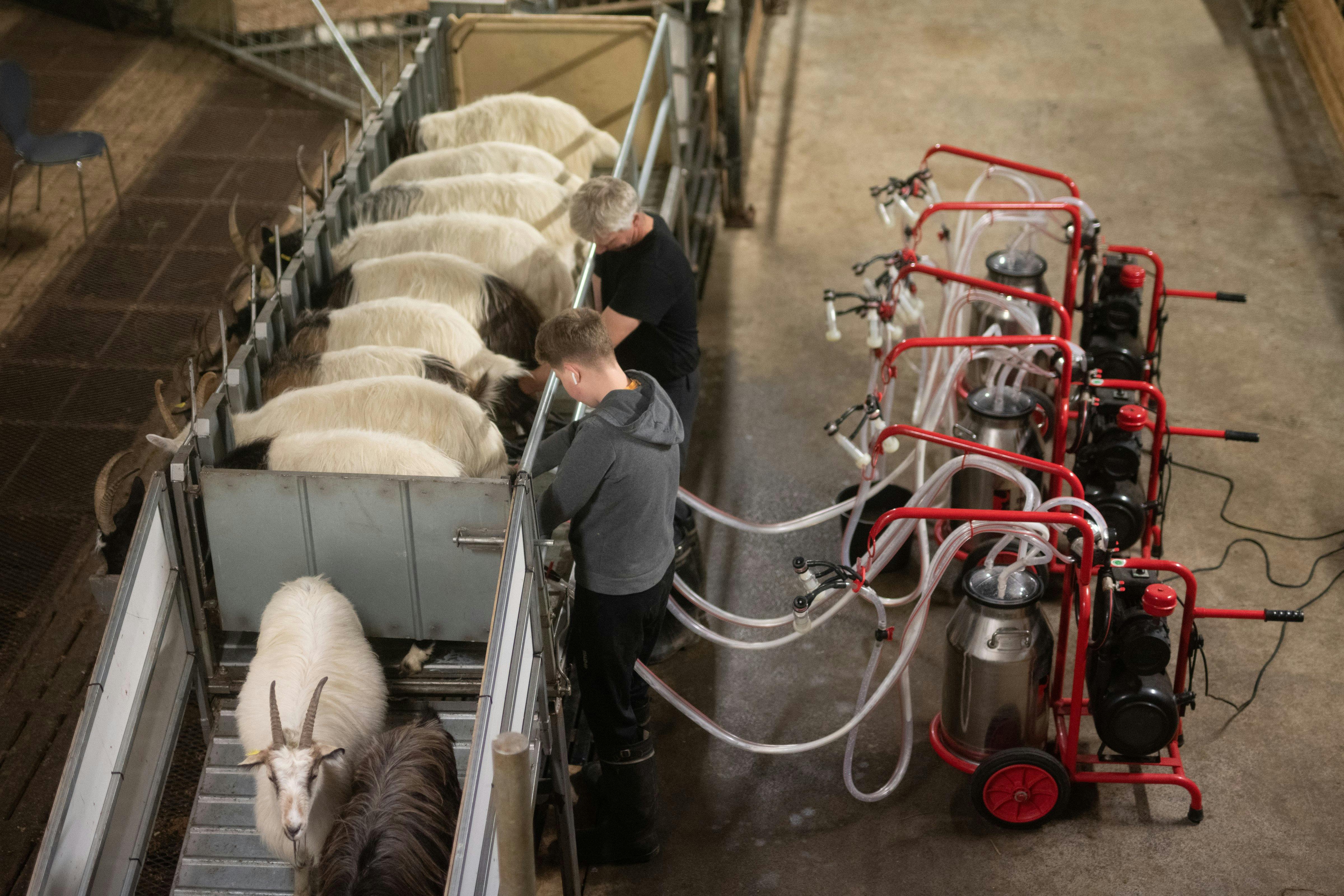 Milking the goats at Brúnastaðir Cheesery.
Guðni was hired to Brúnastaðir in 2020 to develop cheeses from the farm's ewe (sheep) and goat milk. In addition to Brúnó, he makes five other kinds of cheese. These include a soft white cheese with a distinct goat milk flavor – a French chef bought it in bulk – a Danish Havarti, a feta-like cheese, and blue cheese from ewe milk. Interestingly, Guðni's blue cheese was picked up and delivered by helicopter to the yacht of a Russian billionaire. "I received a phone call from the chef at Deplar (a luxury lodge nearby) who asked whether I had any ewe cheese left. By coincidence, I had saved a few – because they sold well," says Stefanía Hjördís Leifsdóttir, the farmer at Brúnastaðir. "He was making dinner for the Russian client, and his client's sole request was to have Icelandic ewe cheese. He probably thought that with all the sheep around here, we would have lots of ewe cheese." However, that is not so. Traditionally sheep were milked in Iceland, but that has generally not been the case over the past century. Today, Brúnastaðir is Iceland's only producer of ewe cheese. 
Goat cheese is also rare. In fact, there are very few goats in Iceland. In 2021, they were 1,672, to be exact. It's a special breed – known as the Icelandic Settlement Goat because its ancestors were brought over by the original Icelandic settlers in the 9th century AD. Yet its number dwindled to the extent that its days appeared to be numbered, to only 220 in 1980. Fortunately, farmers like Hjördís and her husband, Jóhannes H. Ríkharðsson stepped in, helping to save the Icelandic goat from extinction.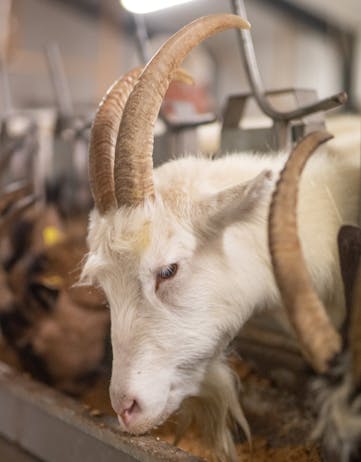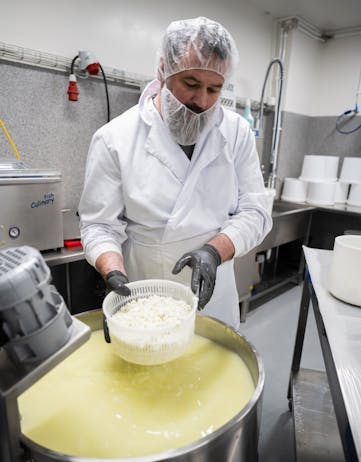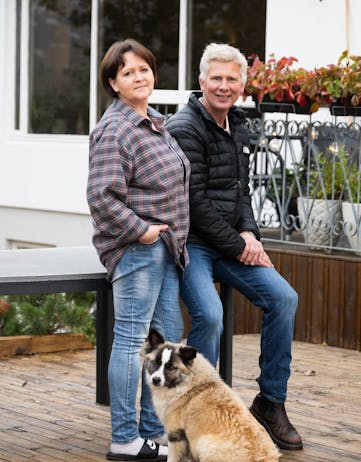 (L to R) Icelandic goats feeding on the spent grains from Segull 67 microbrewery, master cheesemaker Guðni Hannes Guðmundsson, and Stefanía Hjördís Leifsdóttir & Jóhannes H. Ríkharðsson owners of Brúnastaðir Cheesery. All images: Joe Shutter DARE TO FLY®
At Brúnastaðir, there are about 70 milking goats and 20 ewes. Hjördís and Jóhannes had dreamt of starting a cheesery for a while. Then, during the pandemic, they decided to take a course at Vörusmiðja, a workshop where farmers can seek assistance in developing new products and seeing their dream through. The cheesery is innovative but is also about upholding traditions. "Goats were the poor man's cow in Iceland because they needed less grass," explains Jóhannes. "They're funny characters, the goats, independent and strong-headed. Different from sheep."
In Iceland, there are currently about 385,200 sheep, according to Statistics Iceland. While they still drastically outnumber the country's 1,672 goats (notably the Icelandic human population of 376,000), their number has decreased significantly from over 800,000 in 1980. The goat stock has never reached such heights. In 1930, there were 3,000 goats in Iceland, but their number gradually dropped because of urbanization, changes in farming methods, isolation of territories, and depopulation due to scrapie. Additionally, after the first industrial cow's milk dairy was established in 1927, goat milk production lost its appeal, while sheep continued to be bred for their meat. Now, the future of the Icelandic goat is looking brighter than ever. People are becoming increasingly aware of the importance of safekeeping this special breed – and are rediscovering their appetite for goat cheese.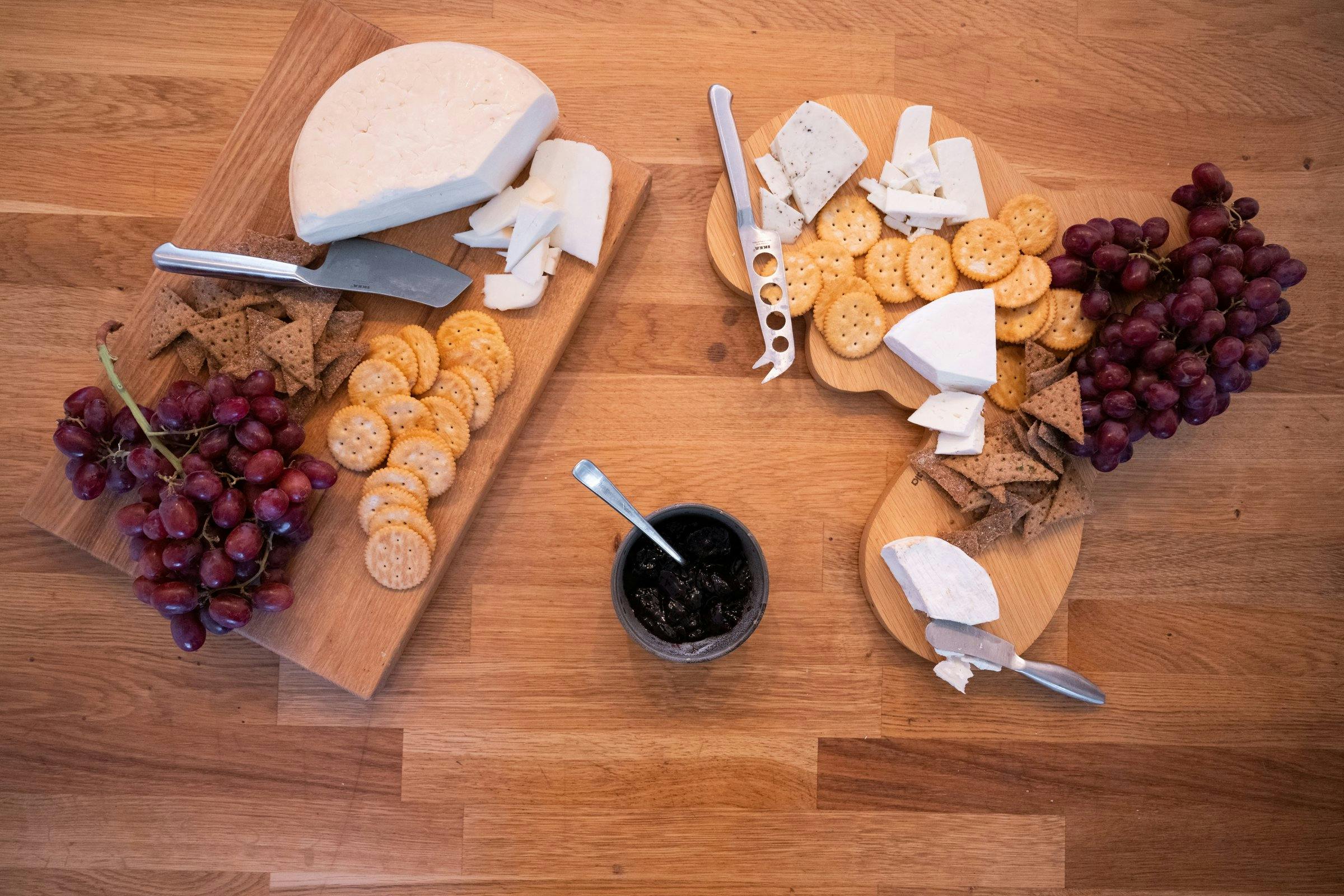 Icelandic goat cheese. Photo: Joe Shutter DARE TO FLY®
The cheesery, the petting zoo, and the little farm store attract visitors to Brúnastaðir from far and wide. As I catch up with Hjördís some time after our visit, she tells me that even though the weather wasn't amazing last summer, they saw a rise in visitors. "Our daughter, Ríkey Þöll, finished her master's in environmental social sciences from Stockholm University last spring and was available to us for a couple of months before she started a new job. She worked as a project manager on intertwining tourism and cheese making. It proved incredibly successful."  
Their farm store sells homemade cheeses and other farm products: eggs from free-range Settlement Hens, pork from free-range pigs, kid meat, lamb, mutton, and beef from specially bred Angus cattle – all of which are free-range as well. "Our animals are never given imported food, only spent grains from Segull, fresh grass, and hay," stresses Hjördís. They've also expanded their range of cheeses, recently adding a white cheddar cheese. "We think the future is bright, filled with opportunities in home production and home sale. We love seeing how happy our visitors are, which leaves us in high spirits."
For more on Brúnastaðir, to book a stay, or buy their products, check out their website below.