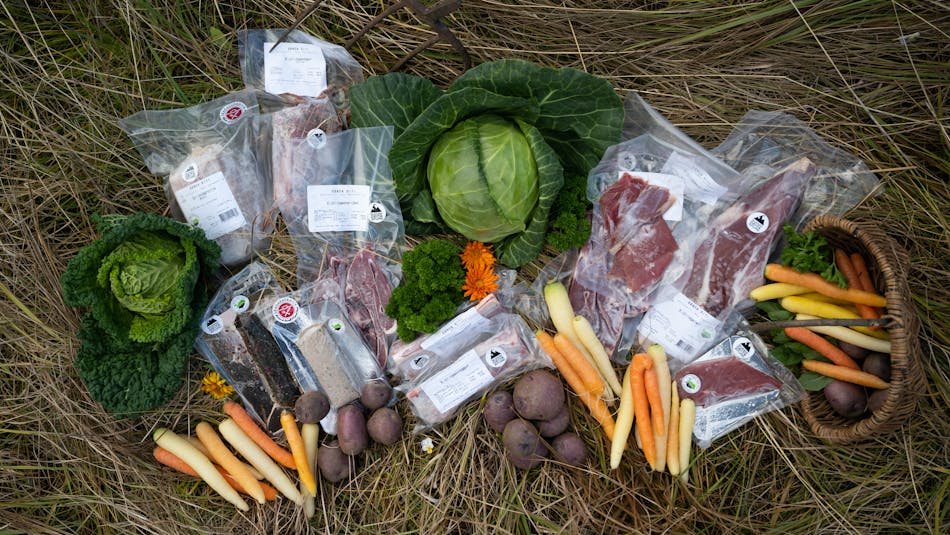 Elínborg Erle Ásgeirsdóttir, Sigrún Helga Indriðadóttir, and Eydís Magnúsdóttir are neighboring farmers and innovative food producers in Skagafjörður, North Iceland, developing new recipes at the Vörusmiðja BioPol food lab in Skagaströnd.
Colorful carrots and cauliflower
"I've always been interested in horticulture – in growing vegetables outside," says Elínborg Erla Ásgeirsdóttir, who grew up on a sheep farm in Skagafjörður. She knew she wanted to be a farmer, but not on a "traditional" Icelandic farm with animals. After working with a vegetable farmer and realizing the potential opportunities, she enrolled in the Horticulture School of Iceland. Luck was with Elínborg when Breiðargerði, an abandoned farm near where she grew up, was advertised for sale; she jumped at the opportunity. 
Elínborg now makes the most of the soil, growing colorful carrots, cauliflower, all kinds of leafy vegetables, and potatoes. After a lot of hard work, Breiðargerði farm qualified for organic certification. All her vegetables are grown outside. "I have some polytunnels (fabric structures to protect gardens from the elements), which aren't heated, but I can use them for pre-growing vegetables, which means I can harvest earlier," she explains. 
"I started small, and I mainly sell locally. Even though I produced a small crop, I was stunned at the quantity of second-class vegetables that went to waste – the crooked carrots or the lettuce with discoloration. So, I wanted to do something about that and create more value. I could make compost, but that's also waste because that's not why I am growing vegetables," states Elínborg.
"I like creating new recipes. Developing and testing new products." Elínborg's greatest hit is a carrot chutney that works well with cheeses and meats and tastes delicious on lamb burgers. She also makes kale salt and jellies from the crowberries that grow on her land and from yarrow, a persistent weed. 
"The yarrow takes over the carrot garden, so I decided to use it for jelly. If you can't beat it, create something out of it! Elderflowers don't grow easily in Iceland, but yarrow does, and it has been used for spices and medicinal purposes in Iceland for centuries. So, I figured, maybe yarrow could be our elderflower." Elínborg is passionate about her work and says, "It's both a hobby and a profession. I couldn't imagine making a living doing anything else."
Champion for the Icelandic goat
"Goat meat is low in fat and high in protein and very healthy. Of course, the cashmere wool is very warm," says Sigrún Helga Indriðadóttir, a sheep and goat farmer at Stórhóll in Skagafjörður. The Icelandic goat – like the Icelandic sheep – is a distinct breed that Iceland's first settlers brought with them before 900 AD. However, while sheep outnumber people in Iceland, the goat was on the brink of extinction. 
Fortunately, the Icelandic goat breed is growing again, slow and steady, with farmers like Sigrún finding more uses for goat products and reintroducing Icelanders to one of their heritage breeds. She likes experimenting and creating recipes, including smoked and cured goat meat and kid shoulder stuffed with cheese and herbs. Sigrún also enjoys being creative with the wool from her sheep. She has designed a knitting pattern for gloves and sells it in a ready-to-knit package with her yarn.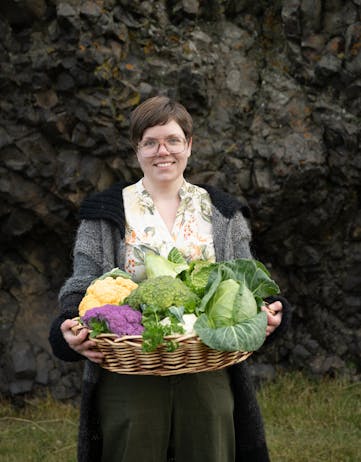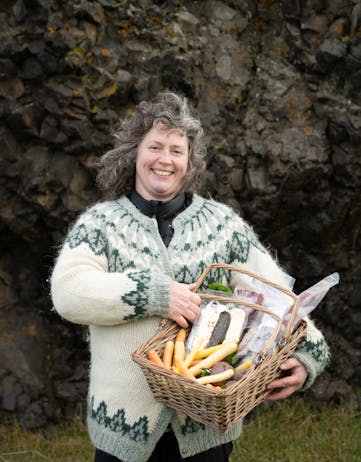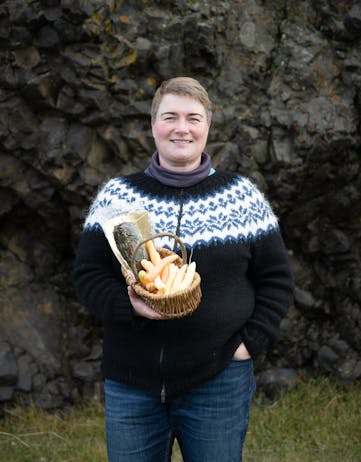 (L to R) Elínborg Erla Ásgeirsdóttir and a sample of vegetables from Breiðargerði Farm, Sigrún Helga Indriðadóttir of Stórhóll in Skagafjörður, Eydís Magnúsdóttir of Sölvanes in Skagafjörður. All images: Joe Shutter
Organic sheep farm
Husband and wife team Eydís Magnúsdóttir and Rúnar Máni Gunnarsson run their sheep farm, Sölvanes in Skagafjörður, where they raise about 200 sheep. They also offer farm visits upon request, along with farmhouse accommodations.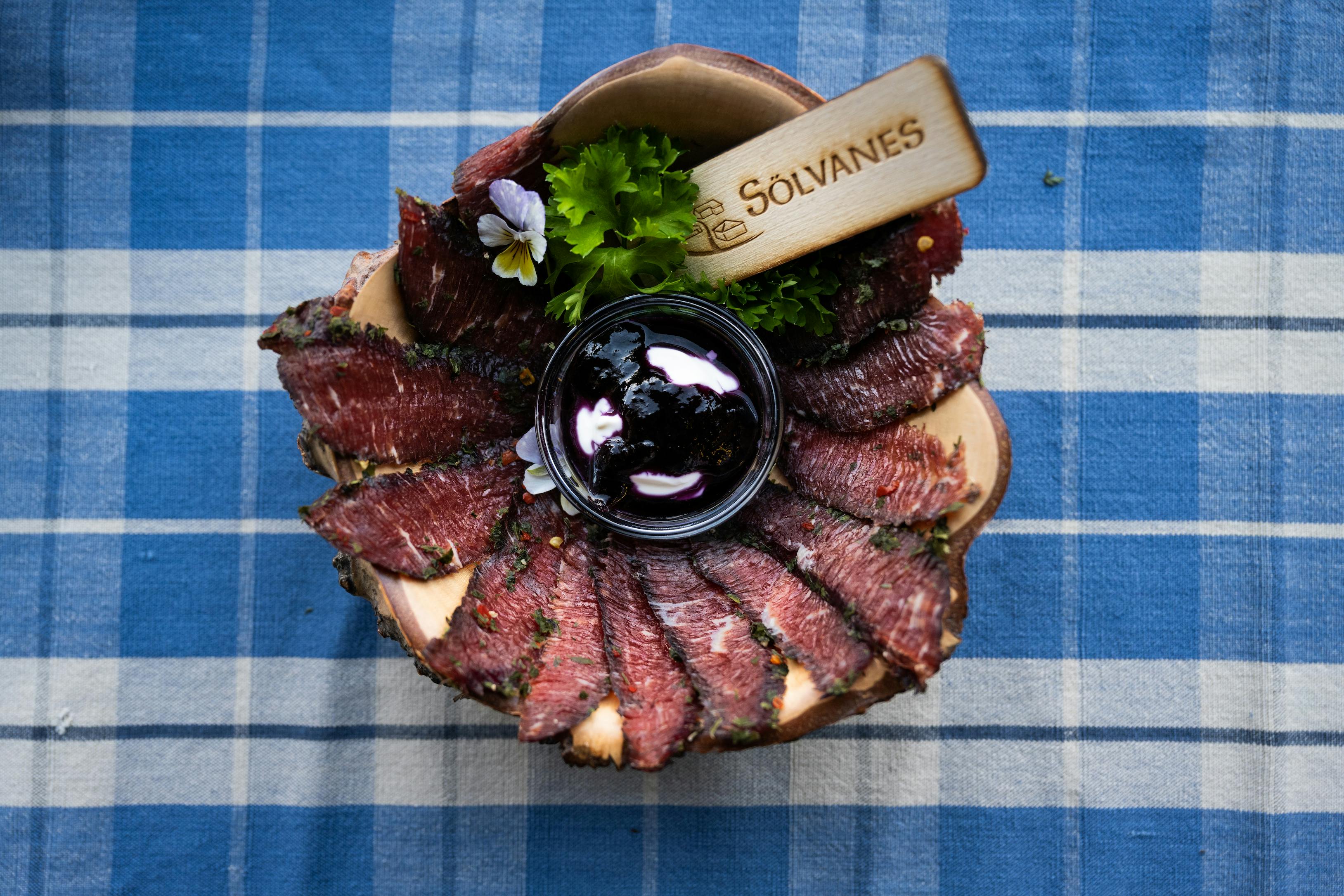 A taste of Sölvanes
"We recently received an organic certification for our sheep farm," Eydís declares proudly. To be certified as organic, the couple had to fulfill strict requirements regarding animal welfare, sustainability, the origin of the hay, contamination, chemical-free production, and more. "I first heard about it when I worked at an organic farm in Germany 25 years ago. At that time, I did not think organic methods were necessary for Iceland. But I have certainly changed my mind about that." Consumers welcome the growing variety of local and organic products. Markets are shifting, and Eydís is glad that "People are becoming more concerned about the environment and animal welfare." 
To increase the value of their products, Eydís and Rúnar have created a range of foodstuffs from lamb and mutton, experimenting with different products at Vörumiðja, including smoked and cured mutton. "We also make old-fashioned Icelandic sausages, bjúgu, which have been very popular. We thought no one ate them anymore, but they've been a huge hit. They contain less fat and fewer grains than the bjúgu you'll find at supermarkets."
If you find yourself in North Iceland, keep your eyes open for the Vörusmiðja's touring food truck. Products from Breiðagerði, Stórhóll, Sölvanes, and other local farms are available from the truck along its route. Enjoy the best of Icelandic agricultural traditions and innovations straight from the farms.