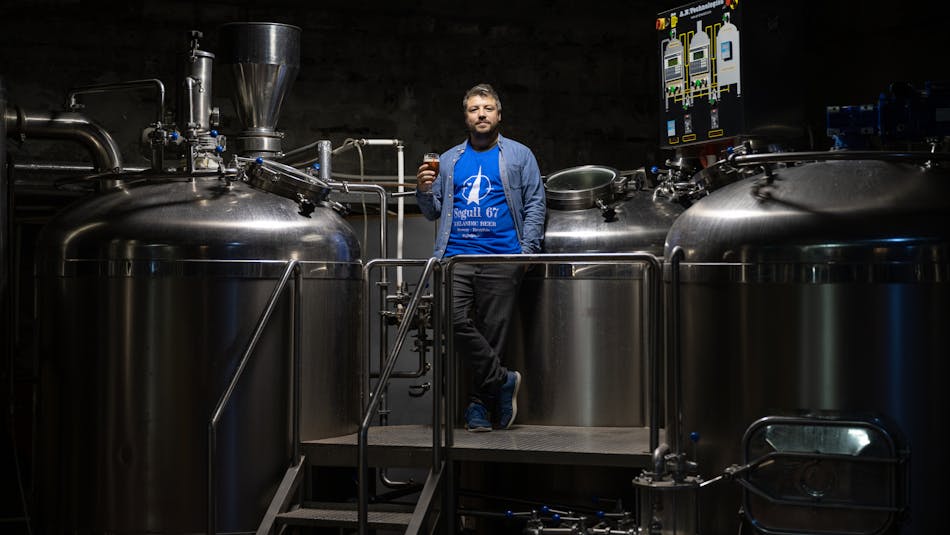 Segull 67: Iceland's Northernmost Brewery
Down by the docks in Siglufjörður stands a massive concrete building that was once a freezing plant.
"It was shut down in 1984, and it had stood empty since then," says Marteinn B. Haraldsson, who started the Segull 67 microbrewery with the help of his family in the abandoned building six years ago. Today, it is Iceland's northernmost brewery. "I wanted to breathe new life into the freezing plant," he explains. Inside, the wheels of employment have obviously started turning again. People pop in for beer tastings at the bar while Marteinn and his dad, Haraldur, pack cans of seasonal beer. "It's a family company. My dad and grandma are co-owners," explains Marteinn. 
Segull 67 is one of Iceland's many microbrews that have popped up in recent years. The first one, Bruggsmiðjan, in nearby Árskógssandur, opened in 2006 and started the craft beer craze in Iceland. Until then, only a couple of larger-scale breweries existed in Iceland. From 1915 until March 1st, 1989, beer was illegal while, most interestingly, wine and spirits were not. March 1st is now fondly celebrated as Beer Day.
"I've always been interested in beer. I traveled a lot and got to know different beer cultures."
Marteinn grew up in Siglufjörður but moved to Reykjavík and later Akureyri, where he worked as a programmer. "I started running Segull from there but have now moved back to Siglufjörður with my family." Marteinn smiles. "My third son was born recently." He still holds a 50% programming job working remotely from Siglufjörður.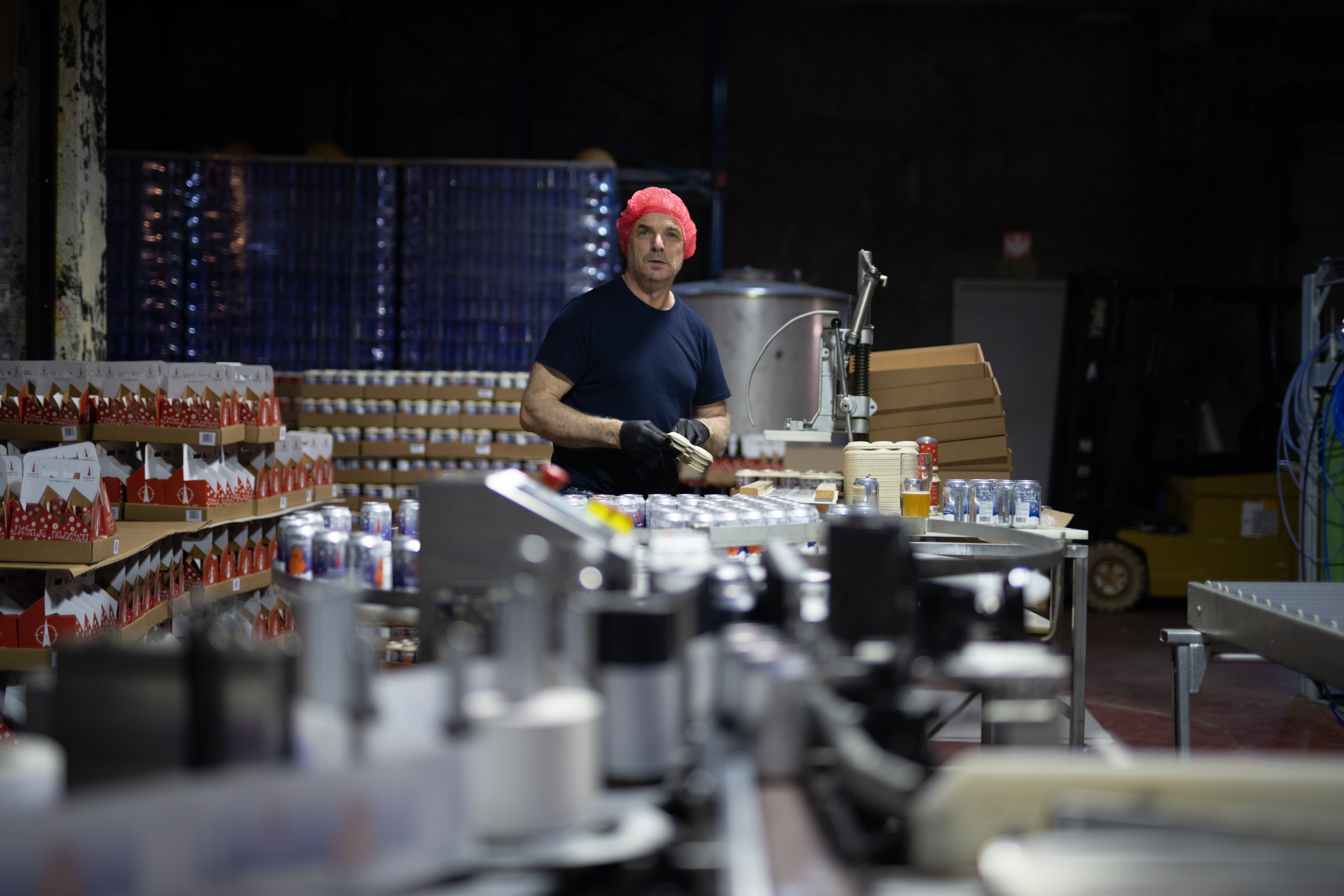 The Segull 67 canning line. Image: Joe Shutter
As for his motivation for opening a brewery, Marteinn says, "I've always been interested in beer. I traveled a lot and got to know different beer cultures." So began his journey brewing as a hobby. He produces four types of beer: Original, an amber lager; Sjarmör, a light lager; Sigló, an IPA, and Naggur, a session IPA, plus a variety of seasonal beers. The 2022 Easter beers have arrived in Vínbúðin (state-run liquor stores) around Iceland. Hérastubbur, is a blonde ale, and Skíðastubbur, a lager. Segull 67 also produces four types of Christmas beers, one midwinter "þorri" beer, four summer beers, and one October beer. Segull 67's beers are sold on draft in choice locations around Iceland, including Le Kock in Reykjavík and 59 Hótel in Borgarnes—and naturally in its hometown of Siglufjörður. The beers are not available outside of Iceland, and Marteinn says he's focusing on the domestic market.
All the beers are unpasteurized, with no added sugar and no preservatives. Segull is Icelandic for "magnet," and 67 is the family's lucky number. "It keeps popping up. It was on the license plate of the truck my granddad drove and the number of the boat my grandfather worked on."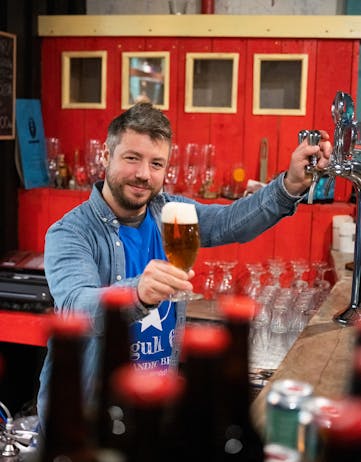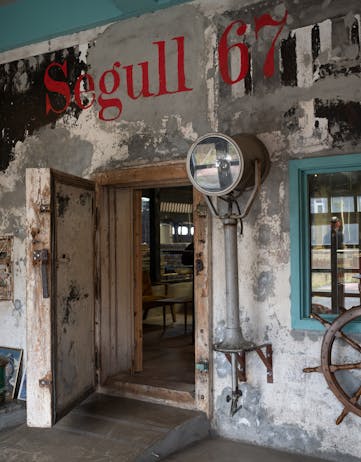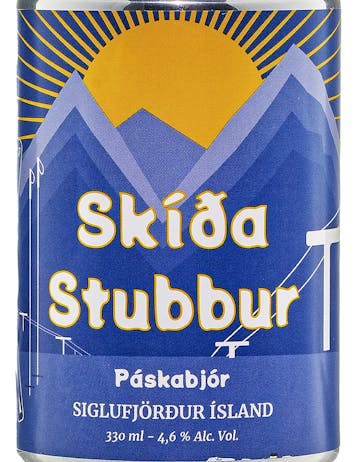 (L to R), Brewer Marteinn Haraldsson working the bar, & the old freezing plant. Images: Joe Shutter DARE TO FLY®. One of Segull 67's Easter beers. Image: Segull 67
The barley and the hops are imported, Marteinn says, but "the water is Icelandic!" He explains that the barley grown in Iceland is too rich in protein for brewing beer, at least as the main ingredient. "A friend of mine who runs a farm in Eyjafjörður (near Akureyri) and I have discussed experimenting with a different type of barley that would be better suited for beer and applying for grants." He is excited about the possibility, although it will probably be a long way into the future.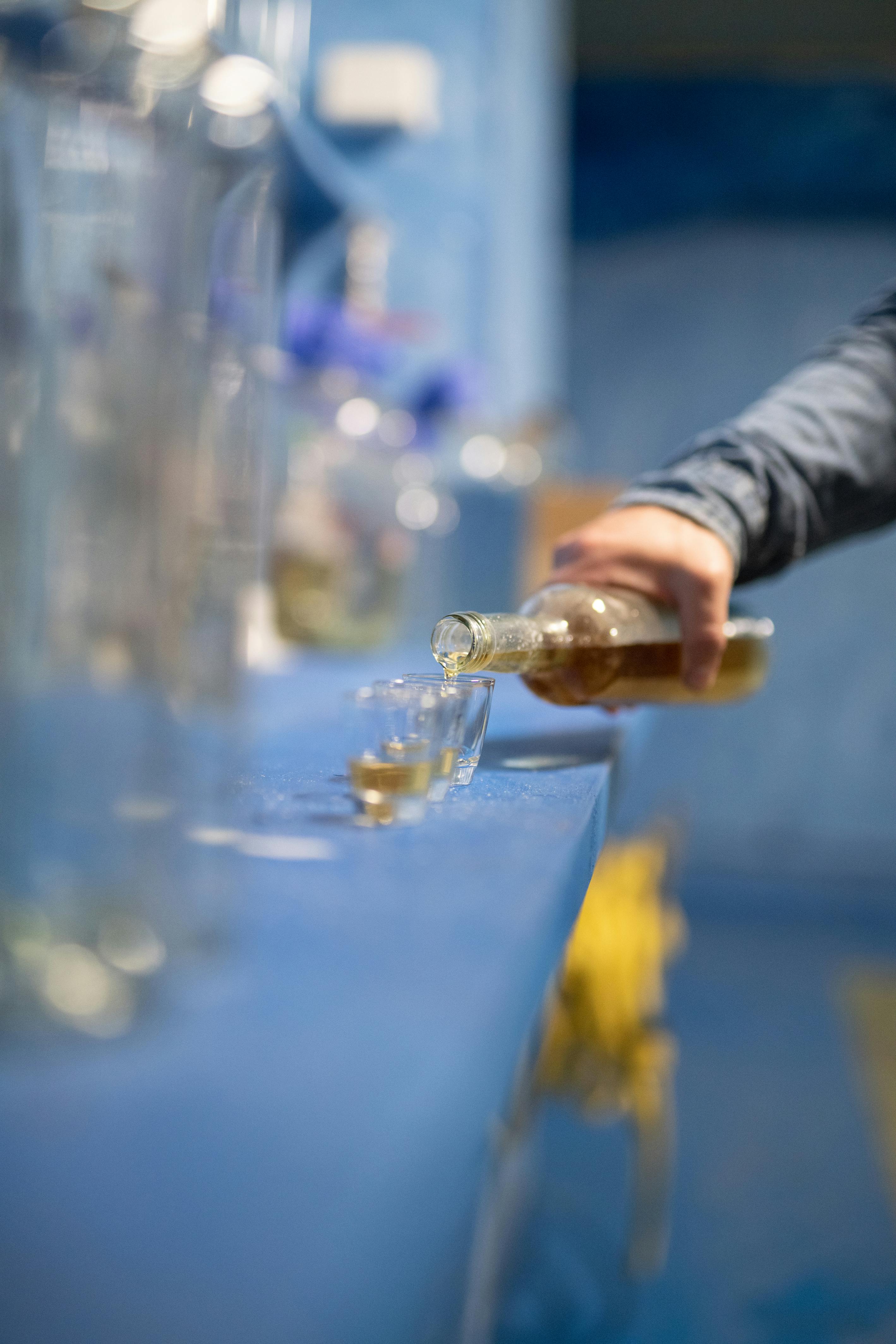 Segull 67's upstairs distillery. Image: Joe Shutter
The innovation at Segull 67 isn't limited to brewing! In 2019, they received the environmental certification Bláskelin, which recognizes solutions to promote less plastic use and waste. They designed new six-pack rings (yokes) made from biological materials. The building's top floor is Íshaf 67's distillery, where the family is experimenting with liqueurs, preparing to make gin and maybe rum. They've also created a space for concerts, large gatherings, and group beer tastings.  
The building has maintained its raw fish factory atmosphere, while old furniture and maritime memorabilia add a rustic charm. Segull 67 is a magnet for locals and visitors to Siglufjörður, a popular stop on scheduled tours and for cruise ships. The brewery was recently featured on the popular television crime-thriller series Trapped, set mainly in Siglufjörður. "Bar scenes from Trapped 3 were shot here," reveals Marteinn.