Iceland is well known for its stark, rugged, and treeless landscapes with glaciers and black sand beaches. But in June and July—and even later the further north you go—Iceland reveals its colorful side.
Lupine (Lúpína in Icelandic, and sounds like loo-peen-nah) takes hold and blooms spectacularly in the seemingly inhospitable and desolate volcanic soils. Across black beaches and up the rocky mountainsides, the lupine looks beautiful as it transitions the landscape in shades of purple, pink, and blue, creating an incredible natural tapestry. While the lupine seems as much a part of the Icelandic landscape as wandering sheep and Toyota Land Cruisers with super-sized tires, they, too, are recent imports to this island. In this article, we will dig up the lupine's history in Iceland, why it was introduced, and the top three best places to see the lupine bloom in Iceland.
History of the Lupine in Iceland
As mentioned, sheep, Toyotas, and lupine are not native to Iceland. When the first settlers to Iceland arrived in the year 874, they brought with them in open boats sheep, goats, cattle, pigs, and all kinds of domesticated animals popular at the time. The succulent grasses and undergrowth were a boon for livestock animals which quickly denuded the land. While Iceland never had vast forests of large trees, the available wood was cut and used for making charcoal, for homes, and of course, for warmth. The settlers quickly felled most of the trees, and the free-ranging livestock would nibble away any re-growth. Add in the country's harsh and unforgiving climate and steep terrain, and it did not take long for Iceland's fragile volcanic soils to wash away.
To prevent further erosion and help heal Iceland's barren lands, lupine (Lupinus nootkatensis) was brought over from Alaska in the 1940s for its soil-enhancing properties. The lupine has deep roots that help to bind the soil together, preventing the soil from being washed away by wind and rain. Moreover, the plants thrive in sandy and salty soils, which are abundant in Iceland. It quickly spread and now covers vast areas like a beautiful carpet. While some will remark that the non-native lupine has no place in Iceland, their arrival is a much-loved and welcome sign of Iceland's summer landscape by tourists and locals alike. Whatever your position on introducing Lupine in Iceland, it has indeed alleviated soil loss around the country. In reality, there is no way to get rid of the plants. What makes them so good at preventing soil loss makes them impossible to eradicate. Since no animals in Iceland eat vast quantities of lupine—sheep will nibble on it—lupine will continue to spread, especially with climate change and retreating glaciers. 
Are you Visiting Iceland from the beginning of June through July? You will surely see plenty of lupines on your travels, which make for beautiful photographs. Anyone who gets married during this period, I believe, is required to do at least some lupine couple shots. Small children and pets also make for memorable lupine photos.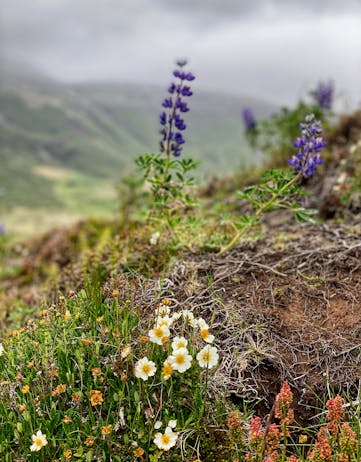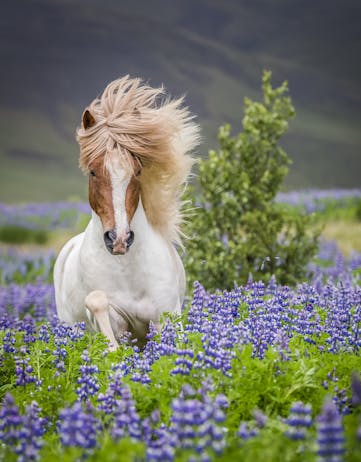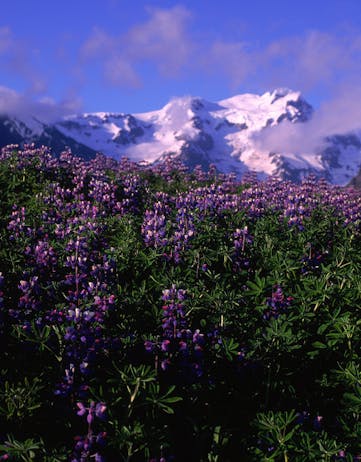 (L to R) Lupine is a non-native species taking root across Iceland. Photo: Parker O'Halloran. Horse prancing through field of lupines and a purple carpet of lupine with a stunning mountain backdrop. Photo: Ragnar Th. Sigurðsson/Arctic Images
A few of the best places to see the lupine bloom in Iceland
The South Coast Selfoss to Vatnajökull National Park - Along the Ring Road on the South Coast of Iceland, you will see waterfalls galore, glacier-capped volcanoes, and fields of lupines. Just when you think you have found the perfect shot, the next bend reveals another stunner.
The Westfjords - Head to the Westfjords region if you missed the peak lupine season in the south. The bloom in this remote and sparsely populated area is generally one or two weeks behind. The scenery in the Westfjords is breathtaking, no matter the season. Still, the lupine bloom adds an extra layer of magnificence to an already incredible landscape. 
The Snæfellsnes Peninsula - The Snæfellsnes Peninsula is located on the west coast of Iceland and has some of the most picturesque landscapes in the country. This area is well-known for its dramatic coastlines, Snæfellsjökull National Park, and brightly colored fishing villages. The lupine bloom in this area is a sight to behold, with fields of flowers undulating in the sea breeze.

Combine the lupine bloom with the midnight sun in Iceland, and you are in for a treat of spectacular natural phenomena! While most everyone has probably seen some type of lupine, the sheer abundance makes them unique in Iceland. While sheep and horses still free-range graze across the country, lupine is helping to curb the rampant erosion that Iceland experienced in earlier centuries. No matter where you travel in Iceland, the lupine will take your breath away.