National Nordic Museum, 2655 NW Market St, Seattle, WA 98107
Taste of Iceland Seattle
66°North Fireside Chat with Chris Burkard
50 times and counting; because once wasn't enough! A conversation with artist, photographer, and filmmaker Chris Burkard about his adventures in Iceland. Moderated by award-winning artist, entrepreneur, best-selling author, Emmy nominated director, and Seattle local Chase Jarvis.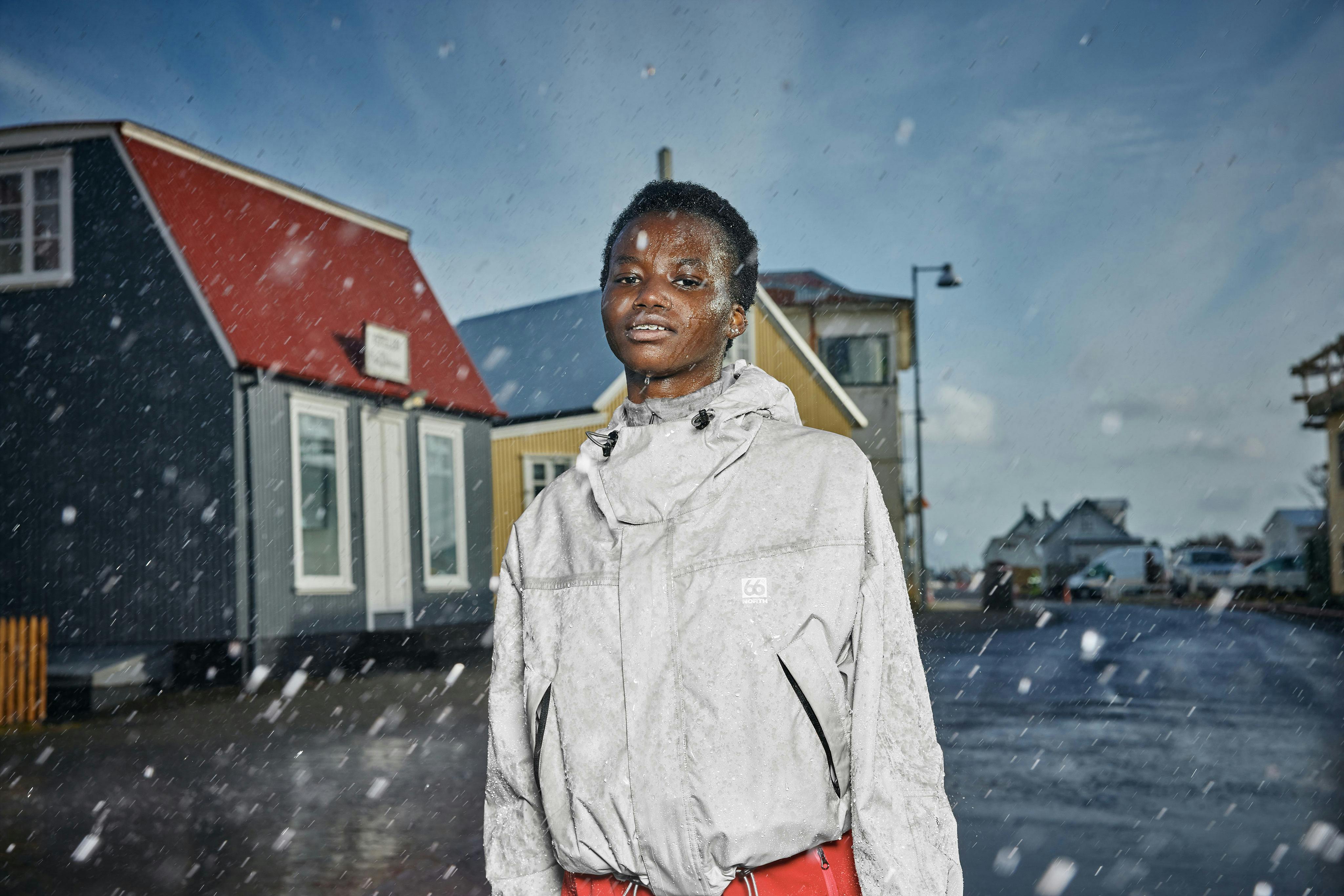 Adventure photographer Chris Burkard shares his experiences and stunning images taken in Iceland
Join renowned adventure photographer and 66°North Brand Ambassador Chris Burkard on a journey through Iceland as he shares his experiences and stunning images. The National Nordic Museum will host the photo exhibition titled 50 times and counting, because once wasn't enough! Burkard's photos capture the essence of Iceland and the stories of his incredible travels throughout the country. Burkard is renowned for capturing stunning landscapes and moments of bliss, adventure-seeking lifestyle, movement, and intuitive light-working capabilities. The exhibition will showcase a selection of his finest work captured in Iceland.
The FireSide chat with Chris will be about 45 minutes, followed by a 15-minute Q&A session and an hour of socializing where Chris will mingle with attendees and chat.
Now through October 31, enjoy 20% off your purchase at the 66°North online store with the coupon code: iceland66
Icelandair's Wheel of Prizes will be on-site at the National Nordic Museum during the 66°North Fireside Chat. Several lucky ticketed attendees will be randomly selected for an opportunity to spin to win a round-trip flight from Seattle to Iceland and assorted goods from Iceland.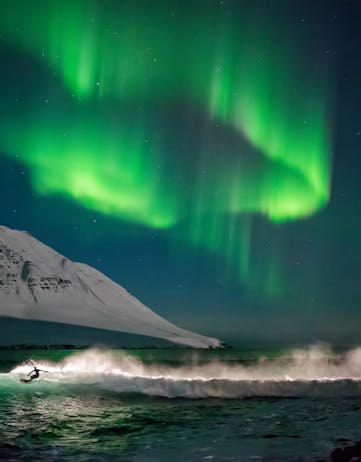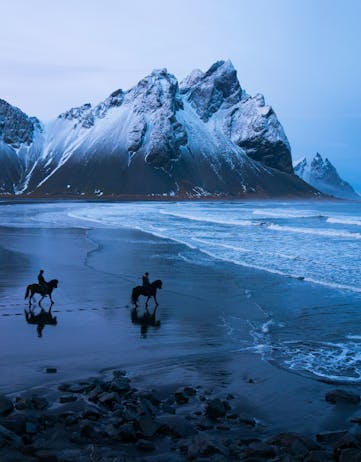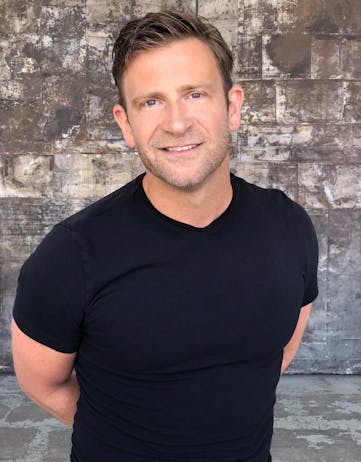 (L to R) Surfing under the Northern Lights, horseback riding on a black sand beach in Iceland. Photos: Chris Burkard. Seattle local Chase Jarvis will moderate the 66°North Event.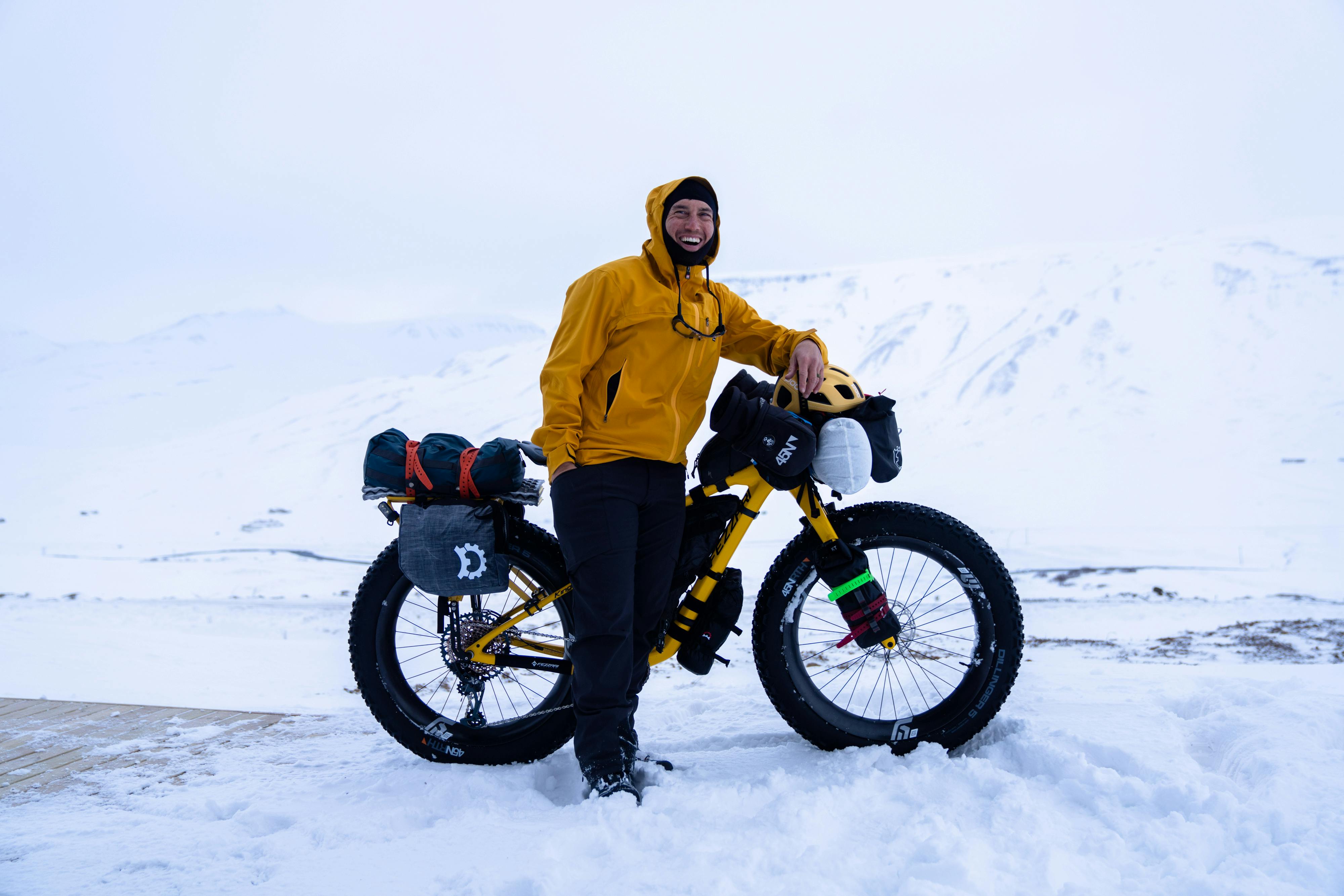 Chris Burkard
Chris Burkard is a self-taught photographer and artist based in Central Coast California, whose work is layered by surf, outdoor, lifestyle, and travel subjects. Burkard's images are punctuated by energized landscapes and moments of bliss, by adventure seeking and the lifestyle that ensues, by movement and intuitive light-working capabilities. With the ocean as his main muse, Burkard has consistently captured this subject in timeless and expansive photographic impressions, utilizing the tool of surfing to approach the ocean's intricate personality and then extending out to include the human personalities that draw meaning from this same source. Searching for wild, remote destinations and offbeat landscapes, Burkard portrays the humble placement of the human in contrast to nature.
At the age of 30, Burkard has established himself as a known name in the surf and outdoor industries, accomplished a deep body of work, held staff and senior photographer positions, and has been recognized continually for his distinct creative compositions. Burkard serves as Senior Staff Photographer for Surfer Magazine, contributes regularly to various international publications, and is a project photographer for several respected brands. Burkard has completed multiple book projects, one with friend and co-author Eric Soderquist, titled "The California Surf Project" (2006), and the other, "Plight of the Torpedo People," accompanying Patagonia body surfing film, "Come Hell or High Water" (2012).  Russia: The Outpost Vol. 1 (2013) from a surf adventure in Russia and Distant Shores (2013), a comprehensive look at Burkard's career through images from 10 of his favorite countries. In 2015, Burkard published The Boy Who Spoke to Earth (2015), a children's illustration book, and also High Tide (2015), a compilation of all his surf photos.
Burkard joined the Instagram online community in 2012, and over the course of 3 years, he reached a following of over 1 million people in September 2015.
Burkard and his wife, Breanne, have two sons, Jeremiah and Forrest. They live in their hometown of Grover Beach.
Awards
PMDA Visionary Photographer Award (2016)
TED Talk – Vancouver, Canada (2015)
Red Bull Illume Spirit Award (2012)
The World Open of Photography- Open Category Winner (2012)
Red Bull Illumination Winner I (2010)
Red Bull Illume Image Quest Overall (2010
First Annual Follow the Light Award Winner (2008)
Flame Grant Award for Best Emerging Photographer (2006)
Morro Bay Art Society Award (2005)
Chase Jarvis
Chase is an award-winning artist, entrepreneur, best-selling author, and one of the most influential photographers of the past 20 years. His expansive work ranges from shooting advertising campaigns for companies like Apple, Nike, and Red Bull to working with athletes like Serena Williams and Tony Hawk to collaborating with renowned icons like Lady Gaga and Richard Branson. As a fine artist, he's had solo and group gallery shows in the USA, Europe, and the Middle East. In 2013, Chase contributed to the Pulitzer-Prize-winning New York Times story Snowfall, and in 2014 earned an Emmy nomination for his documentary Portrait of a City. He also created Best Camera – the first photo app to share images to social networks and is the Founder of CreativeLive, where more than 10 million students learn photography, video, design, music, and business from the world's top creators and entrepreneurs which was acquired by Fiverr - a public company listed on the New York Stock Exchange - in 2021. His recent book Creative Calling debuted as an instant National Best Seller.
He's long been an advisor to Fortune 100 brands and a guest at the White House, the United Nations, the Library of Congress, 10 Downing Street, Buckingham Palace, and the DIFC in Dubai. Chase lives with his wife, Kate, in Seattle and serves as a volunteer board director for several non-profits.
66°North – Keeping Iceland warm since 1926
66°North is an Icelandic outerwear company creating multipurpose pieces for everyday use, made to last since 1926. The brand initially produced garments to keep Icelandic fishermen and coastguard sailors warm and still does to this day. Iceland has a spirit of people living an extraordinary, everyday life connected to nature and meeting impossible challenges with optimism, joy, and humor. 66°North brings the power and beauty of the North to the world through its products.
Through a holistic approach to circularity, 66°North is a certified B Corporation, a neutral business with a mission to minimize harm, mitigate its impact, and make a net positive impact on the world. For the full selection of 66°North gear, check out the 66°North online store and enjoy 20% off your purchase through October 31 (online store only) with the coupon code: iceland66