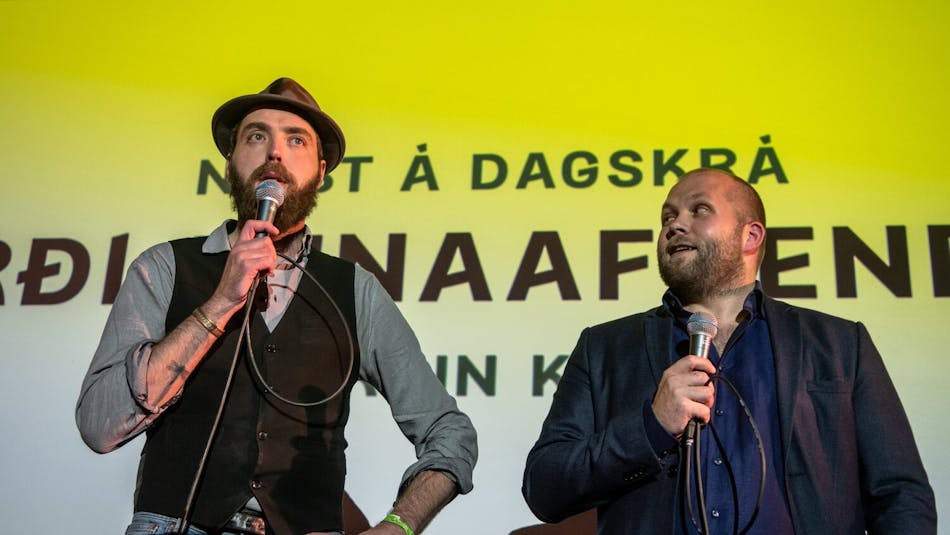 Iceland Comedy Film Festival 2022
Iceland Comedy Film Festival is one of the world's most offbeat, entertaining, and remote film festivals. The Iceland Comedy Film Festival is celebrating its 5th year and will run from the 23rd-25th of September 2022.
Iceland Comedy Film Festival takes place in the small fishing village of Flateyri, located in Iceland's gorgeously off-the-beaten-path Westfjords. The festival is inspired by its surroundings with outdoor screenings framed by fjords, breathtaking nature, and showings in unique spaces such as a renovated fish oil storage tank. Yes, you read that correctly!
Founded in 2016 by filmmakers Eythor Jovinsson and Arsaell Nielsson, the festival showcases comedy films from around the world and hosts comedy theatre, stand-ups, and concerts, along with traditional Icelandic food with plenty of humor and tasty punchlines. Eythor and Arsaell started the Comedy Festival in response to their successful festival runs with themes full of doom and gloom and too many heavy dramas. The absence of light-hearted fun set them on a path to create their own festival with the sole purpose of entertaining and making people laugh.
In its short time, the Iceland Comedy Film Festival has screened a hundred comedy films to thousands of attendees. It is here to stay as the funniest festival in the world's funniest fishing village.
The festival will present awards and prizes in the following categories: :
Best Icelandic Comedy Film
Best Short International Comedy Film
Best Full Feature International Comedy Film
Best 48-hour Comedy Film
Lifetime Achievement Award for Comedy
If you want to have fun in the Westfjords, click on the link below (Note: this link directs you to the Facebook page as the festival's website is only in Icelandic):