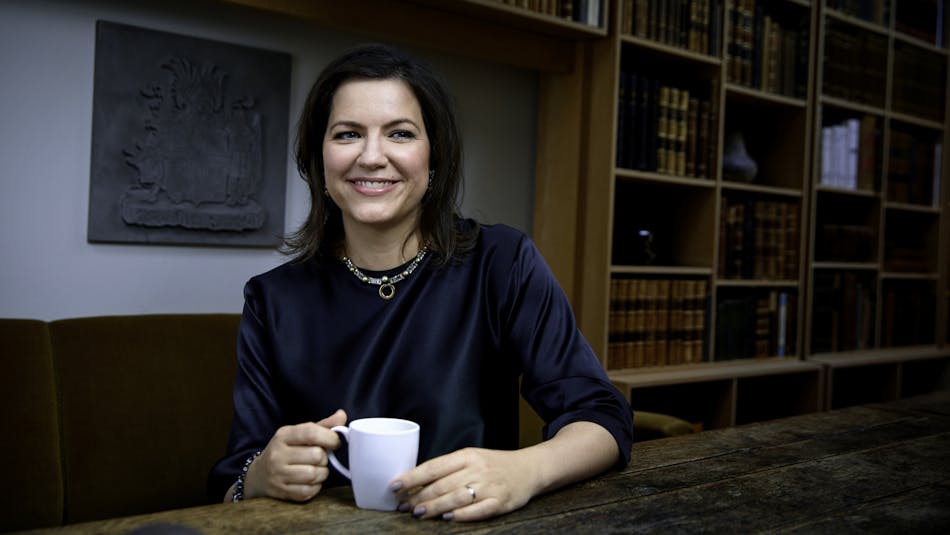 Iceland's First Lady tells the stories of pioneering Icelandic women
Canadian-born Eliza Reid moved to Iceland in 2003. Like so many cross-border relocations, hers was inspired by love. In 2004 she married an Icelandic historian and scholar named Guðni Th Jóhannesson, whom she met while studying at Oxford. Twelve years later, that same historian was elected as the sixth president of the Republic of Iceland. Reid, working as a freelance journalist and editor, suddenly found herself the First Lady of Iceland. 
Reid has been a vocal champion of gender equality in Iceland and abroad and made headlines in her role as First Lady in a New York Times opinion piece in 2019. In it, she criticized assumptions made about the unelected and unpaid spouses of heads of states, who are too frequently considered window dressings to the affairs of the state.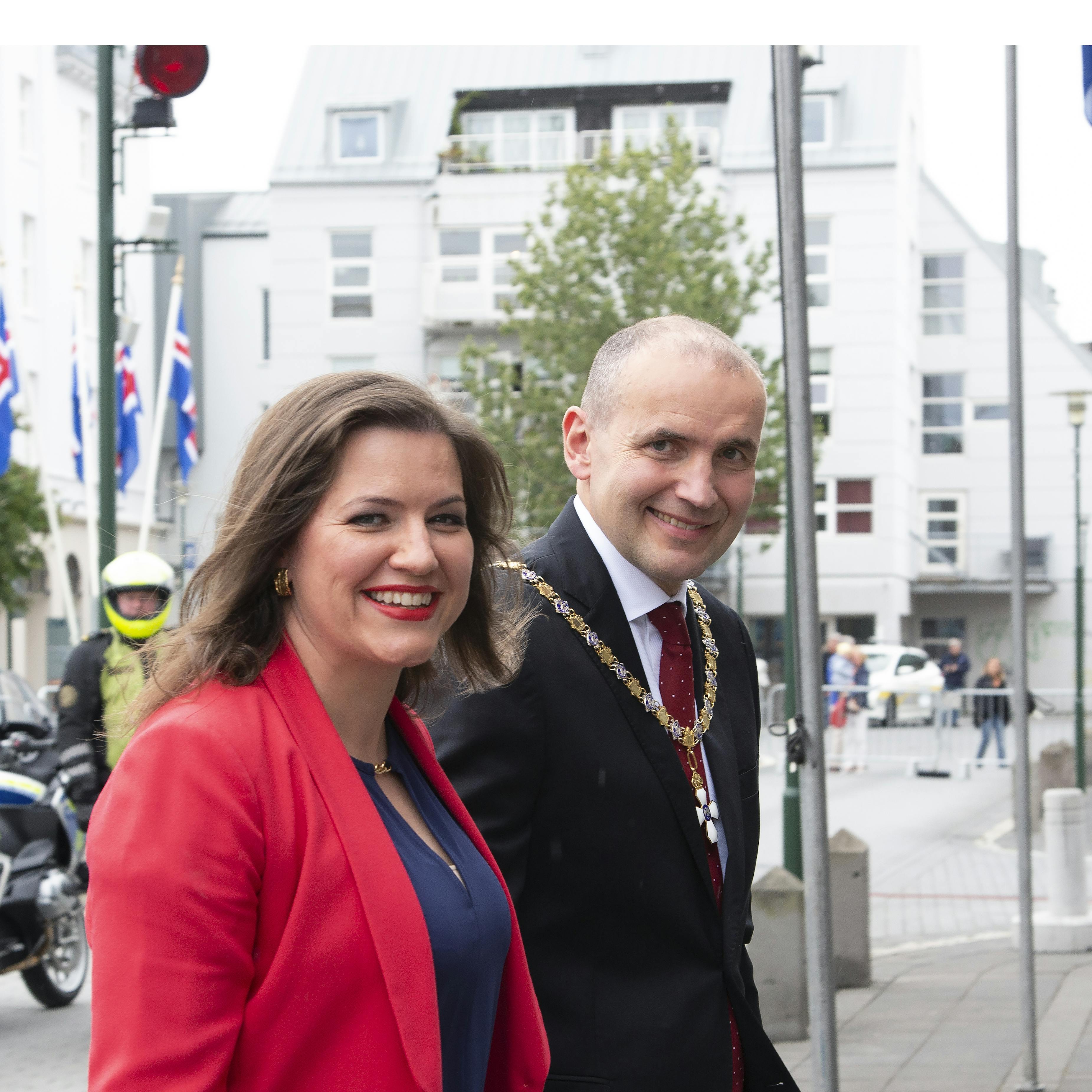 Eliza Reid & Guðni Th. at the inauguration in 2020
A lover of literature, she has built a business around the Iceland Writers Retreat, a literary event consisting of workshops and panels with acclaimed authors. Reid now has a book of her own called Secrets of the Sprakkar: Iceland's Extraordinary Women and How They Are Changing the World. It is a diverse collection of interviews with Icelandic women who have blazed their own paths in Iceland. It might be described as inspirational stories from the forefront of Iceland's struggle for gender equality. 
We spoke recently with Reid about her book. 
How did you come up with the name for the book? I don't think I am wrong in saying that this is not a common word—and I'd venture to say that most Icelanders do not use it or even recognize it in the meaning you imply in the title of the book?
I wanted to incorporate an Icelandic word into the title to make it more memorable and intriguing. The word "sprakkar" is Icelandic for "extraordinary women" (the singular of the word is "sprakki"), and it is indeed very obscure. I even called the head of the Árni Magnússon Institute (Icelandic language experts) to make sure it was legit. It is, and I hope that using this old word in the title will help to bring it back into everyday usage, both abroad and in Iceland.
Another interesting thing about this word is that it only describes women. In English, I can think of a lot of words that primarily describe women, and they are not positive! I think it's great that Icelandic has a descriptor for women.

What inspired you to write this book? Or if you allow me to go a little deeper, do you remember the moment, or the story, that first made you think, "I should write a book about Icelandic women."? 
I had the idea for the book at the beginning of the pandemic. Former president Vigdís Finnbogadóttir, who was the world's first democratically elected female head of state, turned 90 in April 2020. She is widely admired here in Iceland, but it occurred to me that not many people know about her achievements outside of the country. Iceland has topped the World Economic Forum's Global Gender Gap Index for the past dozen years, and not many people know that either. So, I thought it would be interesting to paint a portrait of what life is like for women in "the world's best country" for women. In doing so, hopefully, these stories will inspire people to work towards further gender equality.
Many of the book's heroes are not well known, at least not outside Iceland. What did you look for in selecting the subjects for the book? 
I interviewed almost 40 women for the book. I tried to have a diversity of voices represented, from ages to geographic location, to background and experience. I deliberately tried not to select necessarily the most obvious choices because I wanted the book to seem relatable to everyone. Achieving gender equality is not just about listening to the first people to achieve things—though these role models are very important—or the spokespeople for specific topics. 
Some of the people I knew personally, because there is a memoir thread to this story, while others I had never met before. 
"I certainly hope that people find inspiration in these stories and realize that Iceland doesn't have a patent on outstanding women."
Most people in Iceland would consider you a "sprakki." Besides being a writer, you are also our First Lady. Your Op-Ed in the New York Times in 2019 sparked some international interest. In many ways, it reflected an attitude towards gender and equality that I believe is most prevalent in Icelandic society, which is the rejection of double standards. How much of your thinking in this book is based on the same ideological background as the Op-Ed or influenced by the world's reception to it?
There are definitely themes in the book of defying expectations and making the most of unexpected opportunities. I think a lot of people, especially women, can relate to the idea of being known primarily in some spheres as someone's spouse and what that can mean for one's own identity. I explore that as well in this book. The fact that I am even writing it while serving as the First Lady, I think, is a testament to the state of gender equality in Iceland.
You are a founding partner of the Iceland Writers Retreat, a literary event pitching authors together for workshops here in Iceland. I can only assume that your interest in literature goes well beyond writing this book. Was it always your intent to become a writer? 
I have a background in working as a journalist here in Iceland, although this is my first book. I can't say that becoming a writer was my goal growing up, even though I was—and am—an avid reader. I never had the ambition of writing a book either, but once I got the idea, I was really excited about it and have enjoyed the entire process.  

Have you established a unified theory of "Sprakk-dom "?
I don't know about that, but I certainly hope that people find inspiration in these stories and realize that Iceland doesn't have a patent on outstanding women. We can find them all over our beautiful planet! Hopefully, the stories of these Icelandic sprakkar will encourage readers to elevate and support each other's voices.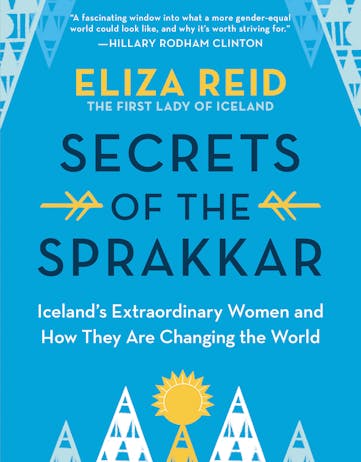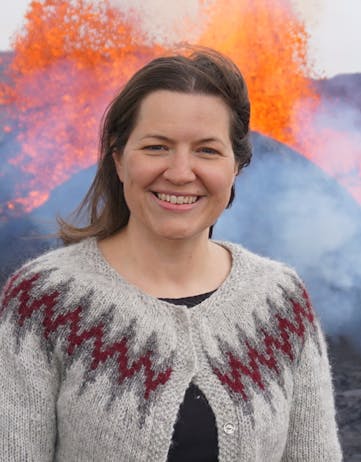 Book Excerpt
Secrets of the Sprakkar: Iceland's Extraordinary Women and How They Are Changing the World.
Eliza Reid kindly shared a passage from her book Secrets of the Sprakkar:
Really, in many ways, this book is my love letter to Iceland—an appealingly imperfect country, a society that is constantly working to improve, where debate thrives but solidarity and empathy envelop us when crises occur. A nation where women persist in seeking equality and where most of us feel supported in that ambition most of the time. A country I am proud to call my home, where I have succeeded as an entrepreneur and learned to use my voice when fate handed me a platform, and one where I believe our achievements today will lead to even more equal futures for the generations to come as well as serve as inspiration to people around the world.
But my story alone does not paint a complete picture of the joys and challenges of female existence on this North Atlantic island. I wanted to explore what it is about Icelandic society that makes it so conducive to improving life for girls and women—and therefore men, boys, and nonbinary people too. Because surely these lessons can be applied elsewhere, to inspire people in Vancouver and Vermont, in Dundee and Dallas.
Do the ingredients for success stretch back to the time of the epic family feuds that were chronicled in the centuries-old tales collectively known as the sagas, which featured numerous tenacious women, or more recently to the 1980 election of Vigdís Finnbogadóttir, the world's first democratically elected female head of state? Is it a matter of crediting government-imposed policies, such as heavily subsidized child care and government paid parental leave for both parents, or should we look more to why this society pushes for new laws to be created, like the recent legal amendments to codify the rights of trans and nonbinary individuals? How about the liberal attitude toward single parenthood and sexuality in general, or a broader definition of masculinity? How much can we attribute to the small, cohesive, family-centric society where everyone needs to wear a lot of professional hats in order to have a thriving country? And what can we learn from the recent influx of immigrants, who bring new experiences and backgrounds to Iceland but who face their own unique challenges once here?
Certainly, the independent, stalwart, determined women who have left their marks on this society over the centuries have inspired their descendants today, not least through a confidence and belief that we can each play a role in improving our communities. Iceland is a storytelling nation, and many living Icelanders have been raised on a diet of the heroics of women in the sagas, the gumption of those who avenged wrongs, and the grit of those who fought against the odds for their principles.
For this book, I spoke to dozens of extraordinary women in Iceland. These sprakkar, to use an ancient Icelandic term, come from all ages and walks of life and regions of the country. Many of them fly under the radar, but their lived experiences nevertheless help portray a society that values the ambition of gender equality and is endeavoring to elevate it. They are women like you and me and the women we know. Together, they form a portrait of life in a country where gender equality is within reach—tantalizingly close to an unfixed finish line—yet also where frequently demoralizing and damaging challenges persist. Whether First Lady, sheep farmer, immigrant, soccer star, comedian, mayor, or sex advisor, we are all Icelanders sharing our stories and insights about what makes this land so equal for so many. And we are revealing the secrets about how we can nurture, support, and elevate the sprakkar who live within us and in our communities so we can all do our part to achieve gender equality, no matter where we live.
Excerpted from Secrets of the Sprakkar by Eliza Reid. © 2022 by Eliza Reid. Used with permission of the publisher, Sourcebooks, Inc. All rights reserved.