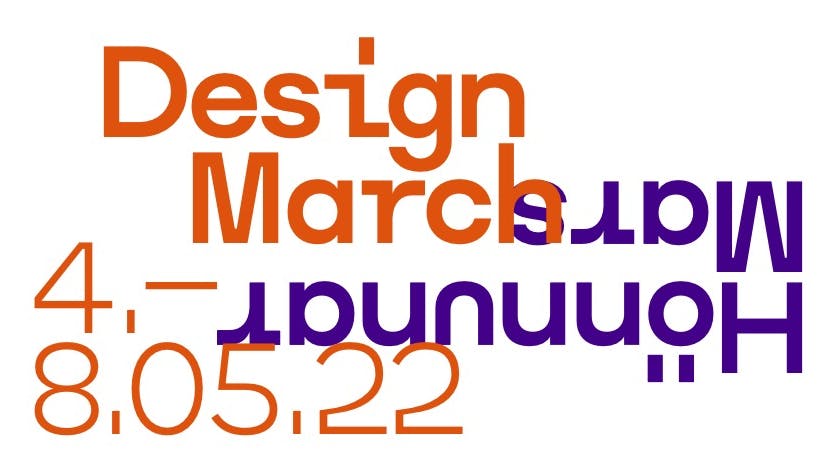 DesignMarch 2022 highlights
Ready to celebrate March in May – again? 
Spring is finally upon us, so it's yet again time for Iceland's largest annual design festival, DesignMarch. As the name suggests, the festival used to be held in March every year, but for the past three years, it's been held during or around summertime for the past three years. This change has been applauded by attendees and exhibitors alike, as walking between exhibitions, taking in the Icelandic culture and architecture is a big part of the experience - and the experience is just as good, if not better, without the chance of being hit by a snowstorm on the way. 
DesignMarch, which this year is held May 4th – 8th, 2022, covers all aspects of design and architecture with over 100 exhibitions and more than 250 events altogether, which is a rather astonishing number when taking into account the size of Iceland's design community. It's a festival where everybody in the field participates and shows off what they've been working on for the past year. And because I'm not participating for the first time in a decade - I got to write this short article. Everybody participates in one way or another.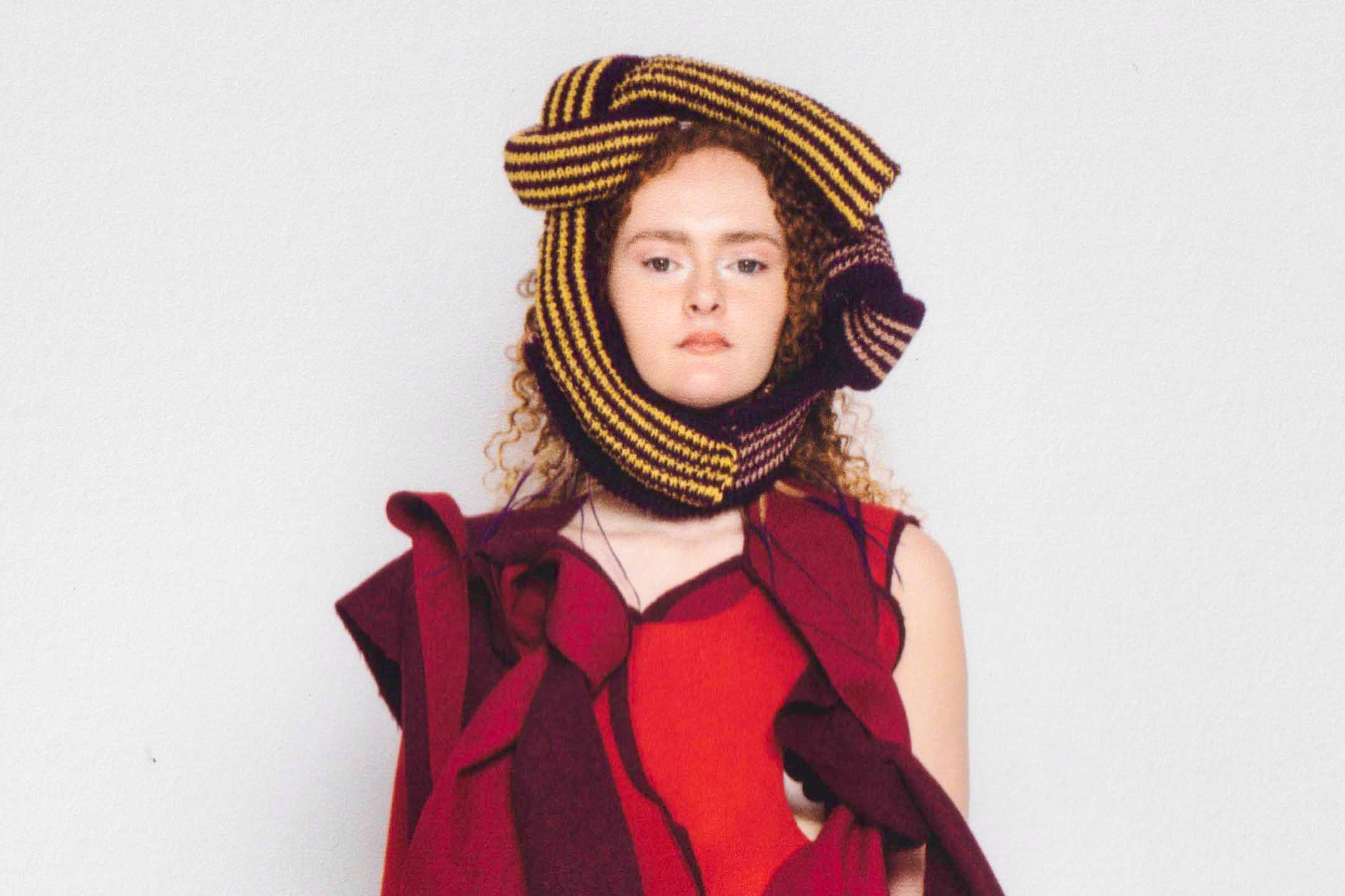 Iceland's up and coming designers such as Sól Hansdóttirs's debut collection
The Icelandic design scene is relatively young but that might be one of its strongest points. Iceland is sort of like the new kid on the block, without deeply rooted design heritage and culture, and still figuring out how to fit in - or if it even wants to fit in. This means Icelandic designers tend to do things their own way, which in an innovative field like design, most would agree, is extremely exciting. 
Icelanders grow up surrounded by nature and come from generations of people that have had to make a living on this volcanic island-in-the-middle-of-nowhere. They know what nature is capable of, what it can give and what it can take, and that it should be respected. They are generally solution-focused due to scarcity of materials and equipment and instead of complaining or making that stop them from materializing their ideas, they innovate and have fun while doing it. This translates well to Iceland's current design scene, as it could best be described as "playful and experimentation-oriented, with strong ethics towards our planet".
So what should you expect from DesignMarch 2022? Exactly that. It's a festival filled with exciting events, conferences, parties, and overall joy -  everything a design-thirsty attendant could want.
So let's take a look at some of the highlights this year - in no particular order.
1) DesignTalks
I lied, this event is certainly number one for me - the rest are in no particular order. 
DesignTalks 2022 is happening on May 4th – DesignMarch's signature and opening event is taking place in Harpa, curated by Hlín Helga Guðlaugsdóttir since 2015 and this year moderated by Marcus Fairs, editor-in-chief and founder of Dezeen.
2) Experiment - Eider and Farmer
An artistic research project on a symbiotic relationship between eider and farmer by a group of designers and artists from Denmark, Iceland, and Norway. Learning from this sustainable but gradually declining Nordic heritage, the project gives rise to innovation and production of new artworks.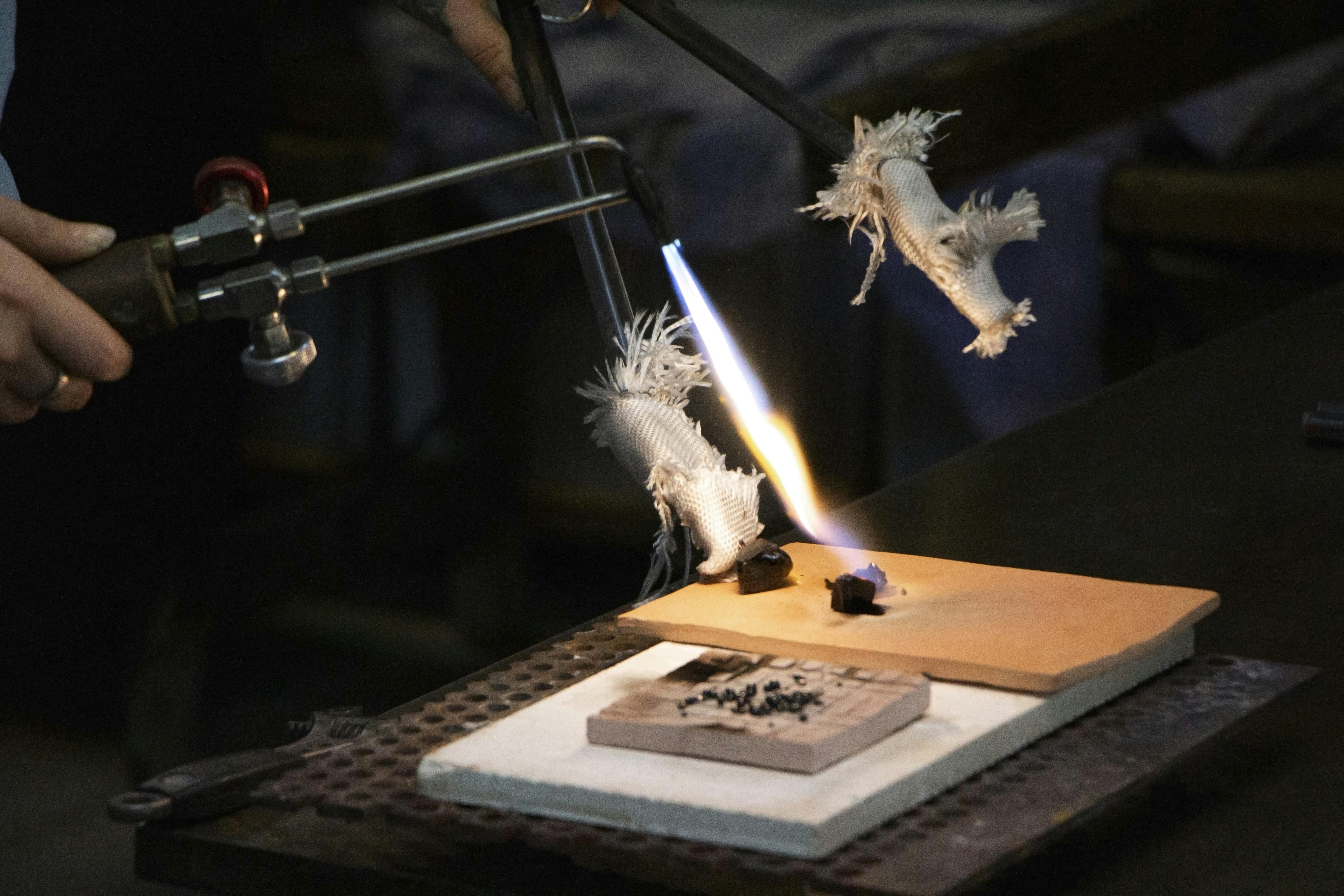 Reshaping Mineral Wool by Flétta and Kristín Sigurðardóttir. Photo: Lucy Gholam
3) Reshaping Mineral Wool
The exhibition Reshaping Mineral Wool provides insight into Flétta and Kristín Sigurðardóttir's ongoing material research where the possibilities of recycling mineral wool and waste materials from its production are explored. The raw material created is black and gleaming similar to the obsidian which is a protected volcanic rock. Mineral wool is one of the few building materials produced in Iceland and it is mostly made out of minerals harvested locally near the factory in Northern Iceland.
4) 66north x Flétta / Valdís Steinarsdóttir / Sleeve
This is actually three individual exhibitions but due to space I'm going to join them as they are all equally as exciting.
Icelandic clothing giant 66° North collaborated with three design teams: 
Sleeve is exploring damaged and non-repairable coats and parkas from 66° North which is given new life as a progressive and unique product line in the form of chairs.
Valdís Steinarsdóttir's project proposes a technique that eliminates excess scraps, just the exact amount of material is used for each garment. Instead of cutting out patterns and sewing, the natural liquid material is molded into a two-dimensional shape. So you would rather measure garments in milliliters than in meters.
Flétta is experimenting with textile offcuts from the production of 66°North clothing, the material has been melted, sewn, and wrapped together in different ways in search of the right context for the textiles.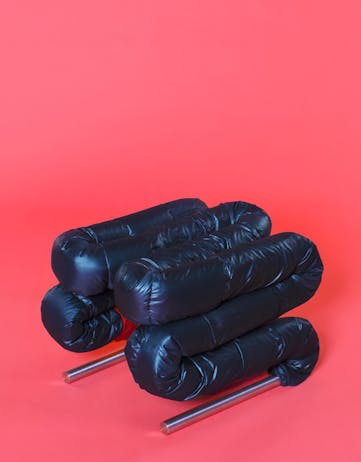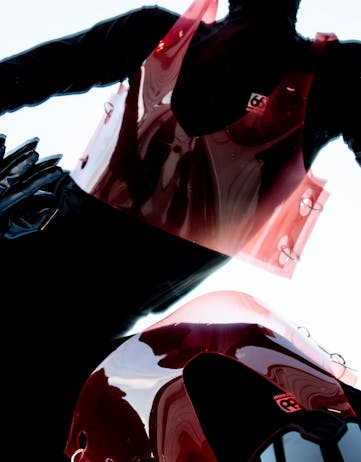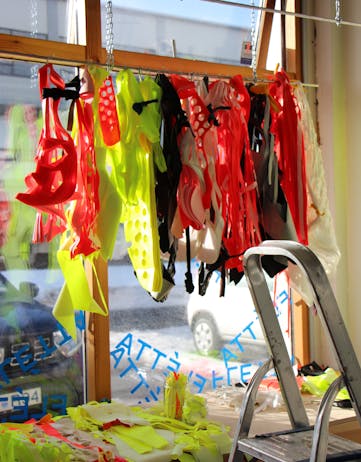 (L to R) SLEEVE turns discarded puffer coats and jackets from 66°North get a new life as chairs, Valdís Steinars' 66°North collaboration, and Fletta's upcycling of textile offcuts from the production of 66°North clothing.
5) Run around Reykjavík: Architecture and observation
Experience Reykjavík in a new way with a slightly faster heartbeat than usual. The Architect Association of Iceland will guide you through the diverse and complex environment of the city on a run, so lace up your running shoes and join in.
There will be a total of four runs where participants will be guided through the diverse and complex environment of the city of Reykjavík. Do not worry if you're not in the best shape of your life. There will be runs for beginners as well as experienced runners. Everyone should be able to experience the city in a new way, with a slightly faster heartbeat than usual.
6) Design Diplomacy
For the fourth time at DesignMarch, local ambassadors are inviting designers from their home countries to pair with Icelandic creatives over a common theme. They will be opening the doors of their residences to host a series of intimate discussions in "living room" settings, offering you a unique opportunity to meet the designers and get inspired.
Design Diplomacy is powered by Helsinki Design Week, the concept owner. Question cards are used in a tailored game to power a design-centric discussion. With an unusual set of questions, the events are set to explore designers' inspirations, daily routines, and work processes.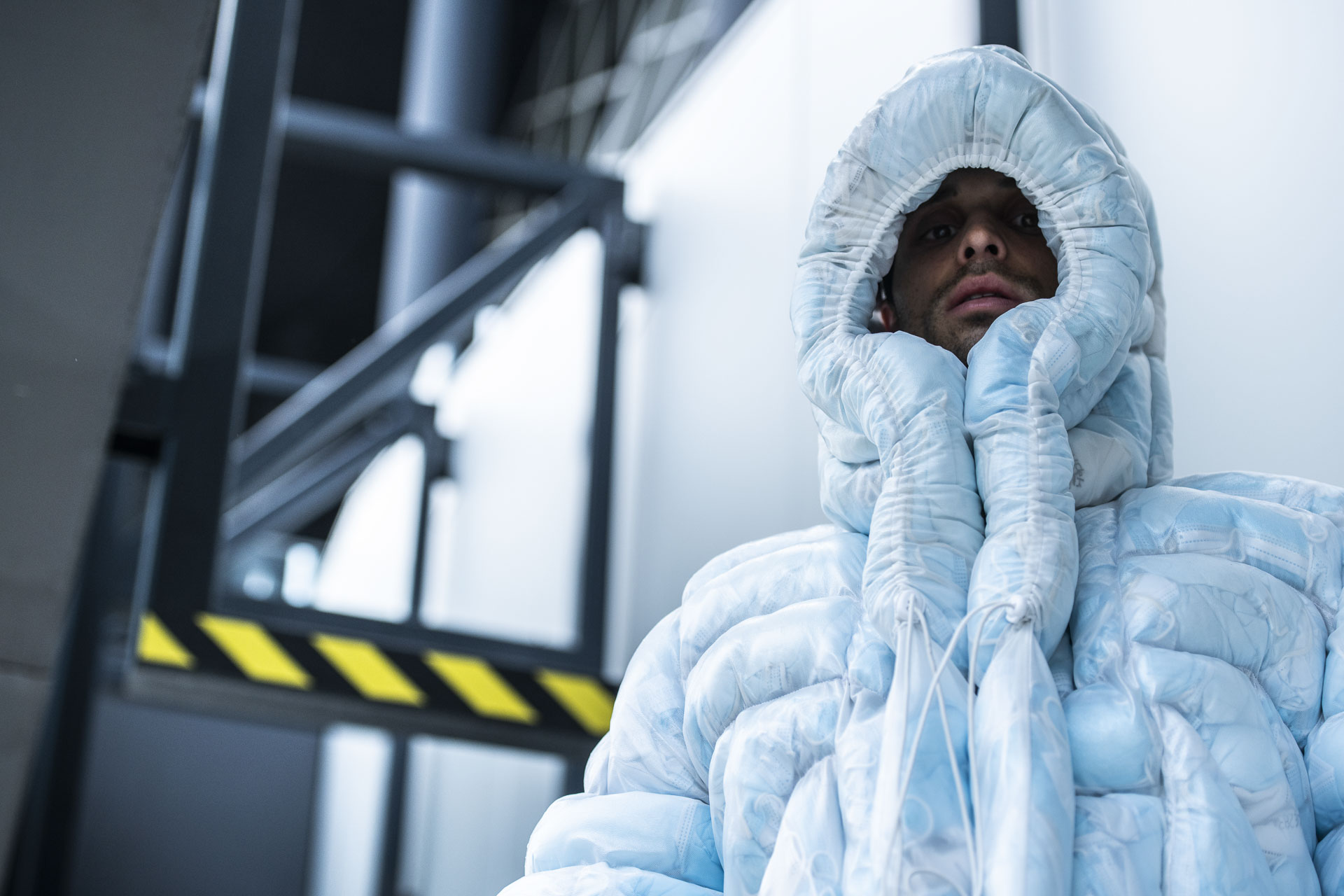 Coat-19 designed by Tobia Zambotti & Aleksi Saastamoinen is filled with 1500 light-blue masks found on the streets of Reykjavík. Image: Luca Ranghetti
7) Coat-19
Coat-19 by Tobia Zambotti & Aleksi Saastamoinen is the puffer jacket filled with disinfected disposable masks collected from the streets that highlight the absurd pandemic-related pollution.
8) IN BLOOM
The Icelandic fashion label Hildur Yeoman is one of the most influential fashion brands in Iceland. The label is known for dreamy and mystical prints, feminine silhouettes, and for creating new adventures for each collection.
A performance will be held on Friday, 6th of May, at Höfuðstöðin, where IN BLOOM will be presented.
9) Hæ / Hi: Designing Friendship
A selection of designers and design teams from the friendship cities of Seattle and Reykjavík exhibit works based on, you guessed it: friendship. How do we introduce ourselves upon the first encounter? Do we reflect our personality and culture from the very beginning? How do we use our senses to acquaint and connect? What do we share and what are we curious to know?
10) Bibi og blabla
There are not many wild mammals living in Iceland but we share our country with countless species of birds. studio allsber wants to research the relationship we have with these birds and how we can make it stronger. Could it be that we can translate some of the things that make our life better to do the same things for birds? Would they enjoy using hot tubs or swimming pools as much as we do during the darkest of winter?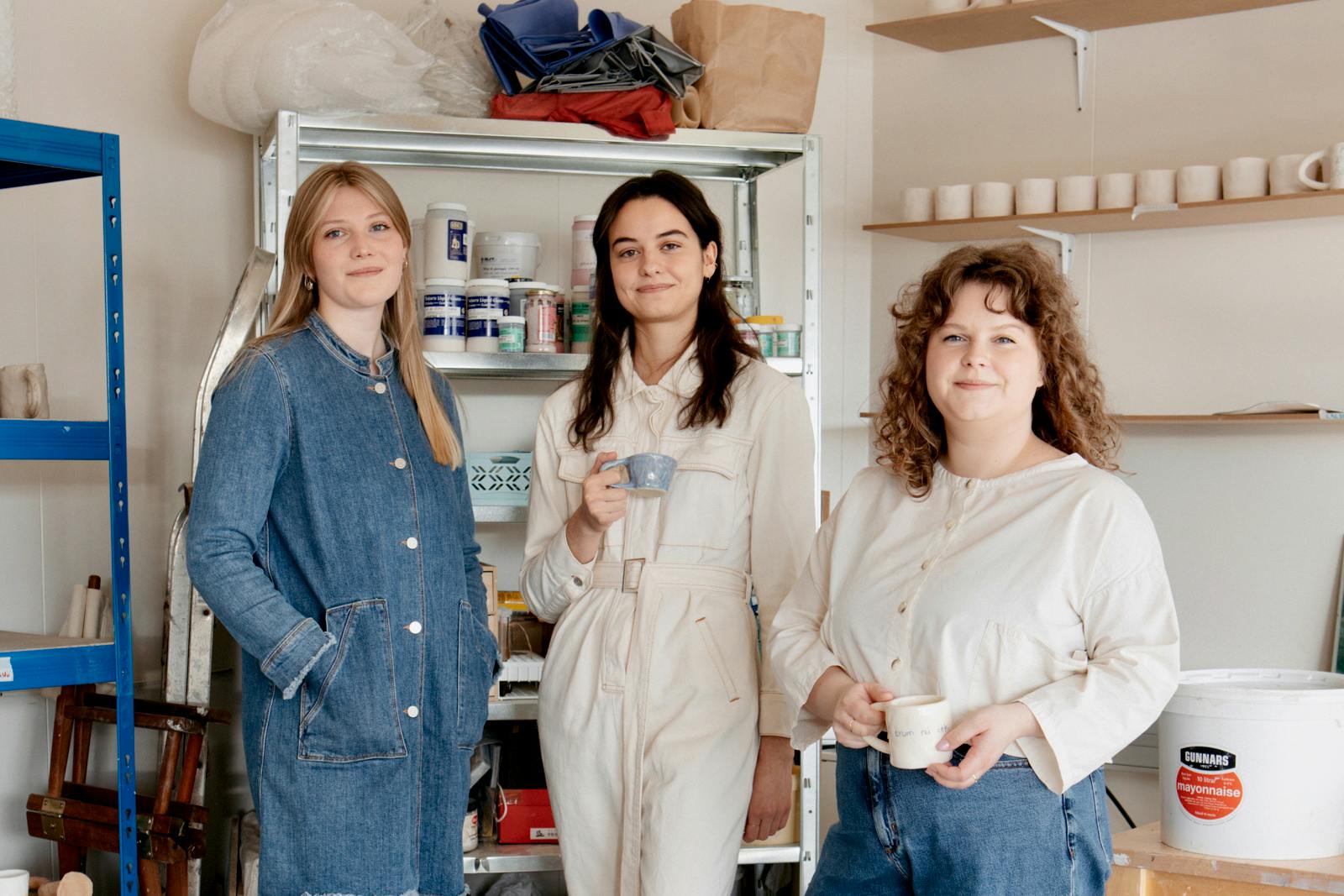 Agnesi Freyju Björnsdóttur, Silvíu Sif Ólafsdóttur, & Sylvíu Dröfn Jónsdóttur are studio allsber

11) FÓLK 2022
Icelandic design brand FÓLK presents two new product lines by Icelandic designers at its pop-up location in downtown Reykjavik. FÓLK also gives insight into the methods the brand and its designers use to implement sustainability, circularity, and reduced CO2 footprint of its products. The EU estimates that 80% of a product's environmental impacts are decided upon in the design phase, so how can designers design us into a more environmentally friendly world? FÓLK has already taken the first steps in this journey and invites DesignMarch's guests to explore it with them.
12) Better City for Children
The show is an interactive experience where guests can have a fun and exciting peek behind Reykjavik City's curtains at the start of a service transformation journey. Join us and see how challenges have been addressed, how we work to solve them, and how we put forth a digital solution that improves the quality of the city's services to its' citizens through the project A Better City for Children (Icelandic: Betri borg fyrir börn).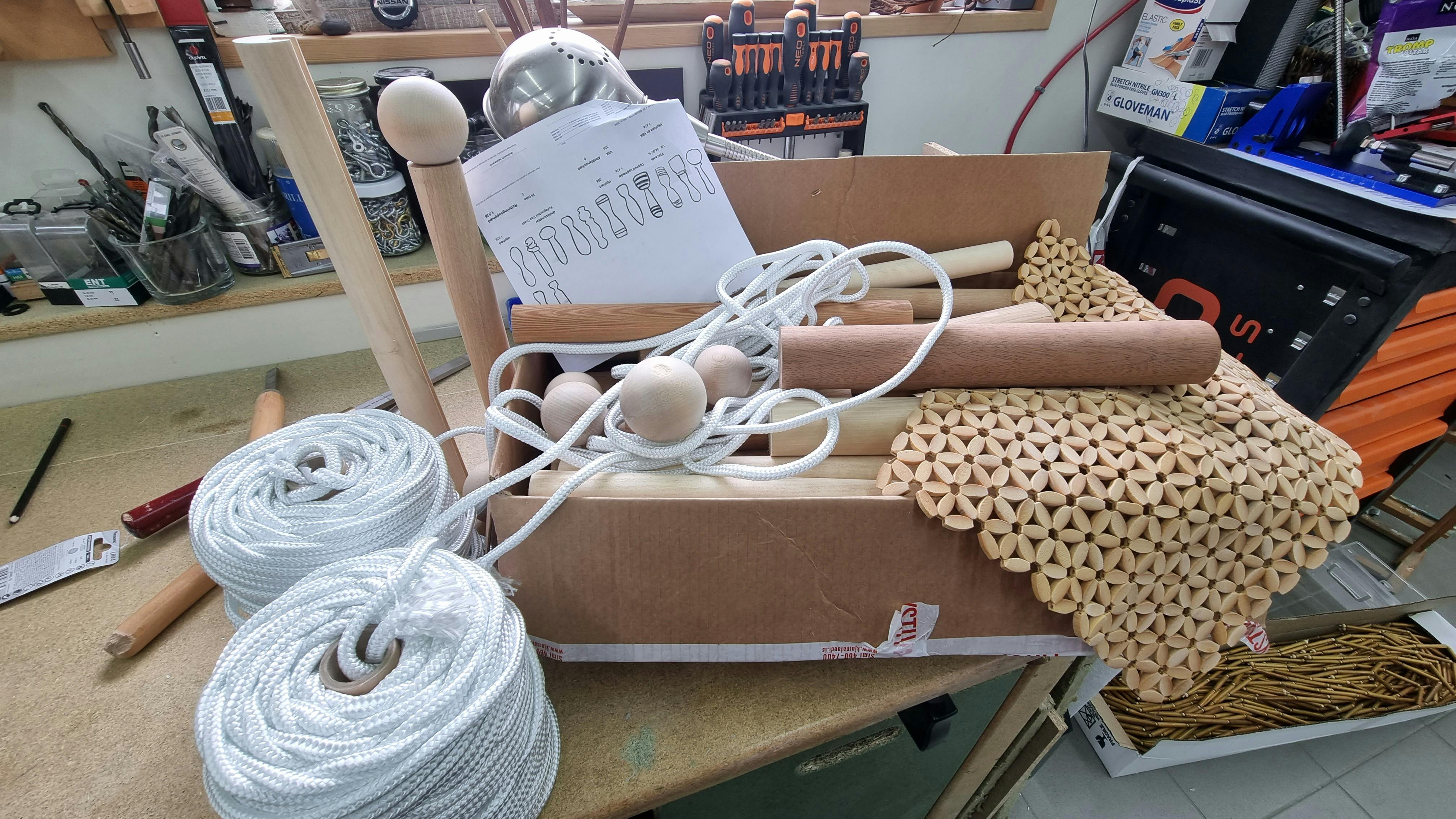 Better City for Children - An interactive experience where guests can look, touch, and move Reykjavik City processes
13) Sustainable Tourism in the North
The May 6th event reflects the projects Design in Nature, Clean Energy, and Nature Conservation that form part of a larger sustainable tourism initiative under the 2019 Icelandic presidency of the Nordic Council of Ministers, entitled Common Path. This is in line with the collective goal of the Nordic countries to develop their tourism sustainably, as they confront different opportunities and challenges with growth in tourism across a region where the natural environment is the main attraction.
14) Hljóðhimnar
Hljóðhimnar is an interactive installation for kids and their families at Harpa. For DesignMarch the ÞYKJÓ design collective shed a light on their design process with the family-friendly exhibition, "Behind Hljóðhimnar". What is it that designers do? Can kids be experts for designers?
15) Elliðaárstöð - Urban Park Design
The Elliðaár Power Station was commissioned in 1921, illuminating our path toward the future. Electricity and the utilities that followed not only revolutionized everyday living conditions in Reykjavík but ushered in an era of knowledge and innovation. With the opening of Elliðaárstöð in autumn 2022, the site will become an indoor and outdoor destination where the language of design relates to both the industrial and societal history of the place, along with its scientific underpinnings.
This list is just the tip of the iceberg! Check out the rest of the program here!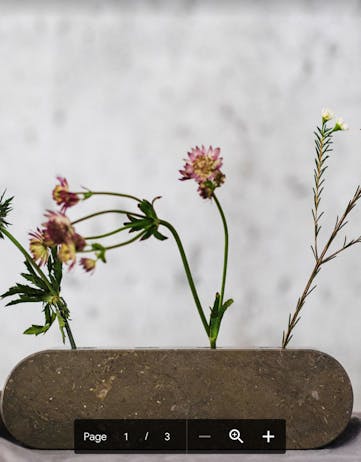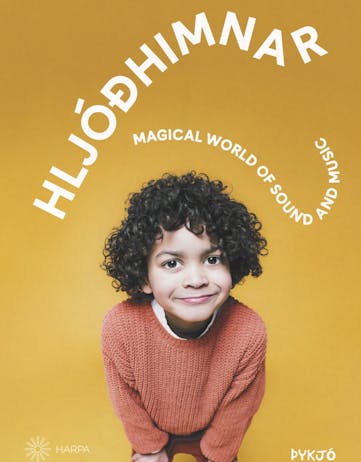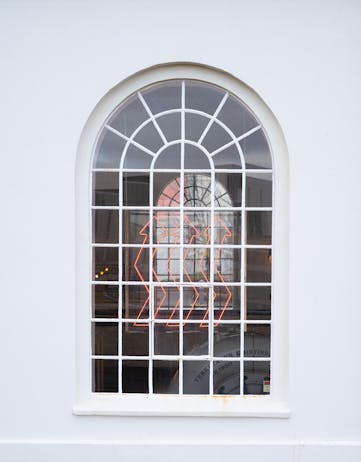 (L to R) DesignMarch FOLK Living Objects 2022, Hljóðhimnar interactive installation for kids and their families at Harpa, Elliðaár Power Station where design meets history & industry