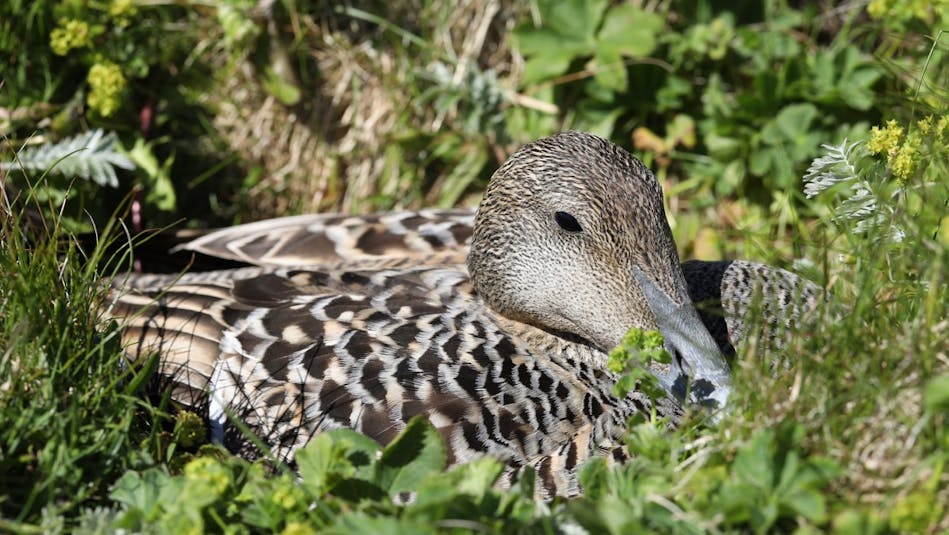 Icelandic eiderdown
It's getting dark. A gravel road slings down a steep hill to a small house next to a large lake named Miklavatn. Outside, the massive roots from driftwood have been erected like natural wooden sculptures.
A large plastic container serves as a makeshift hot tub with a constant stream of geothermal water straight from the farm's borehole. The surroundings may be rustic, but the view of the lake and surrounding mountains is world-class. This is Hraun í Fjótum, the outermost farm in Skagafjörður and one of the largest eider duck sanctuaries in Iceland.
Eiderdown has been collected in Iceland since the first settlers arrived 1,100 years ago. It is a mutually beneficial relationship based on care and respect between man and bird. The ducks shed these practically weightless feathers due to hormonal changes. Interestingly, the eider duck's feathers are so excellent at insulating that they prevent efficient incubation of the eggs. To resolve this, eider ducks—and many other birds—have evolved a brood patch on their undersides to transfer heat (the feathers grow back soon after hatching). People carefully collect the delicate down during this brief period and, in turn, provide shelter and protection for the birds from predators during the spring nesting season. The eiders return year after year to the same nesting grounds. To this day, collecting eiderdown is an activity that unites families, and the knowledge is passed from generation to generation.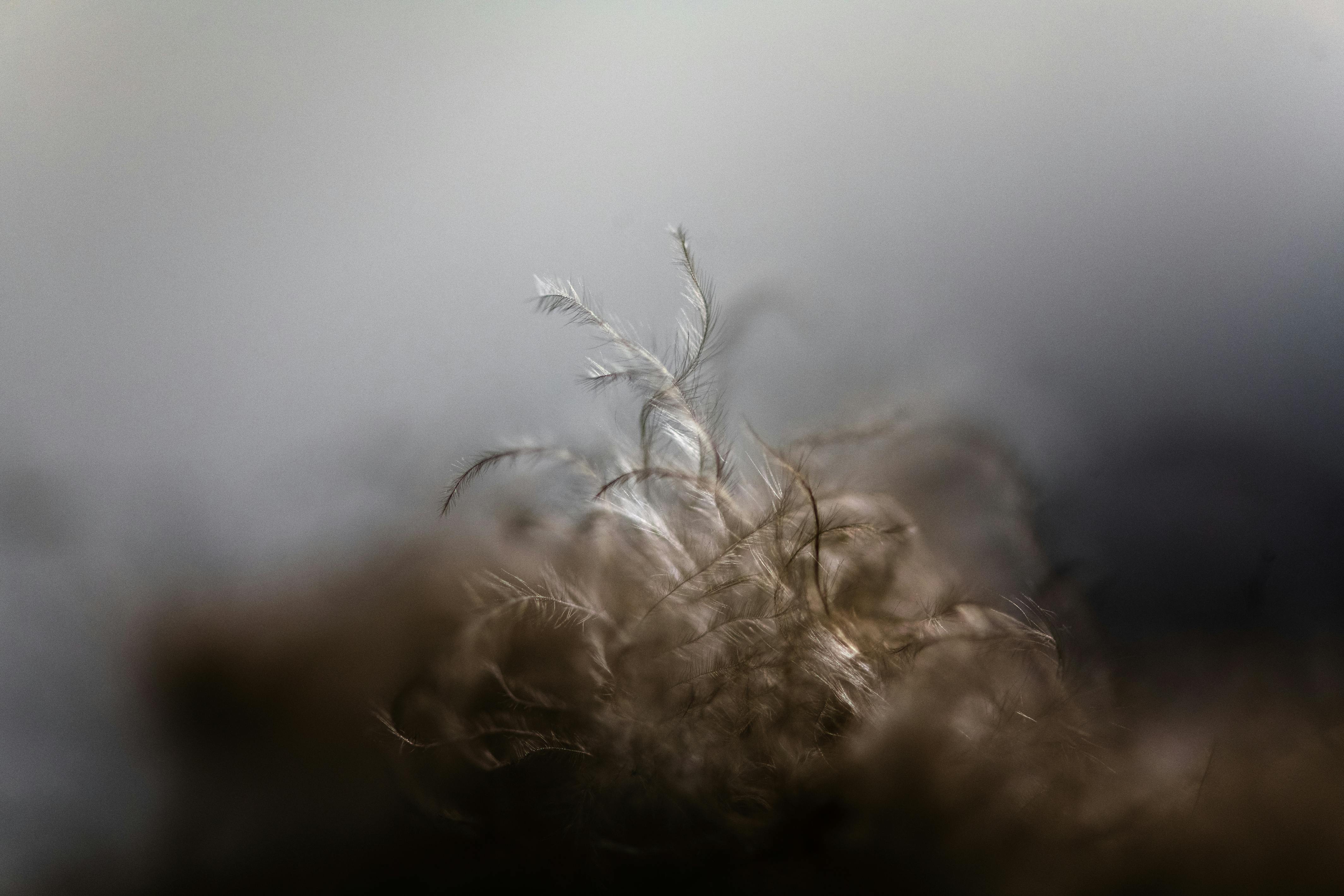 Close-up of eiderdown feathers, Image: Joe Shutter
"Eiderdown has a 75-year-old history here within the same family," says Árni Örvarsson, owner of Icelandic Eider. "We have about 3,500 nests here at the farm and 1,200 in Siglufjörður, where we also collect down," he explains. Árni fell into the business through marriage. "My mother-in-law made products like scarves and duvets but never really advertised." Árni is keen to introduce innovation into the Icelandic eider business. "I created my own brand and company," says Árni. "Eiderdown has exceptional qualities. It compresses up to four times more than less superior down. It's hydrophobic, meaning it doesn't get wet." The down is also super light and has amazing insulating properties. The down is mainly used for duvets – Icelandic Eider has its own designs – but Árni is in talks with an outdoor gear company on exciting new product developments. 
"I often tell people that I'm like a Mafia boss," he jokes. "I protect the eiders that nest in our territory; in return, they give me their down."
Through his products, Árni wants to tell the unique story of eiderdown and the centuries of cooperation between man and bird. The eider duck spends most of its life at sea but, of course, nests on land. At eider sanctuaries like the one at Hraun, safe and comfortable nesting sites are created for the ducks and protection from predators. "We have fences that go deep into the ground so the foxes can't dig their way through," says Árni.
"I have motion sensor cameras and receive instant notifications if a predator has penetrated the fence. Then I can fly a drone over the nesting site to scare it off."
After the eider duck has laid its eggs, hormonal changes cause it to shed part of its down to conduct heat better to the eggs. The eider caretakers gather this down from the nests, and while they do, the ducks remain calm and even waddle off themselves. Árni has an army of helpers and a highly organized system to gather all the down.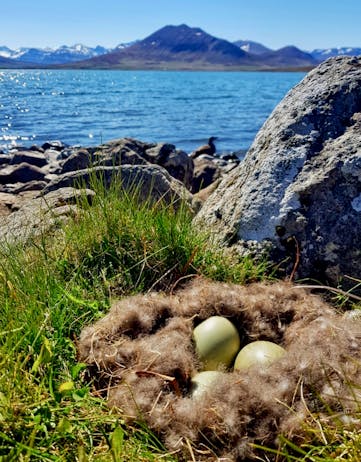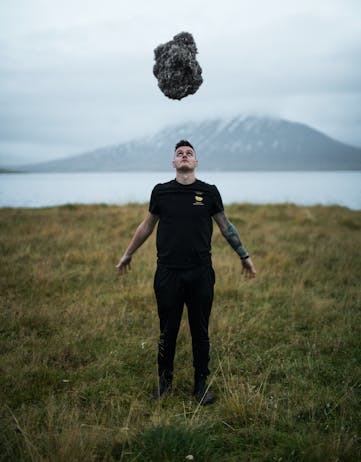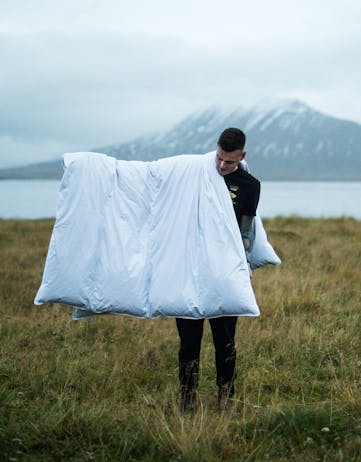 (L to R) Eider nest, Photo: Árni Örvarsson, a ball of eider almost defies gravity, and finished duvet. Photos: Joe Shutter DARE TO FLY®
The down then is brought to the down-house, where a long and detailed cleaning process begins. For that purpose, Árni uses the farm's plentiful geothermal resources. "I came up with a new technique for cleaning and drying the down," Árni explains. He elaborates, "I had an oven specially made for baking the down to eliminate all insects." The down is then run through a series of machines to clean it further. Finally, the feathers are handpicked from the down, and the down is washed. Nothing goes to waste. "We use the feathers for pillows," says Árni, and "Everything is done here on site." He adds that what sets Icelandic Eider apart from other eiderdown producers is that they constantly seek new usages to develop their product range. 
An eiderdown duvet is undoubtedly a luxury item designed to last a lifetime with proper care. The price for a single, regular-size eiderdown duvet from an Icelandic producer may seem eye-wateringly high, ranging from approximately ISK 230,000 to 580,000 (USD 1,770/EUR1,610 to USD 4,470/EUR 4,060), depending on the warmth level, or how much down is in it. However, this duvet's average per night cost over the decades makes the price downright reasonable! 
You can sleep well under your Icelandic eiderdown duvet, knowing all that goes into its production. The unique and ancient relationship between bird and man, the traditions that eider farmers maintain, and the sustainable nature of eiderdown practices make for a world-class product.